Visiting Supporters' Entrance  
Visiting supporters are accommodated in Blocks 114-118 in the North-East corner of the stadium which are accessed via Entrance 11 and 12. Visiting supporters should approach the stadium via Worcester Avenue.
Stadium Map
Arrive Early  
Arrive early to avoid busy public transport times and clear security. The stadium is open two hours before kick-off. The stadium is a public transport destination, so plan your journey using the wide range of transport options available.
Entering the Stadium and Bag Policy
All fans will go through "airport style" security checks and bag searches. We strongly advise supporters not to bring a bag into the stadium - however, the following bags will be permitted into the stadium following a search:
Clear carrier bags with a maximum size of 30cm long x 30cm high (Personal bags that do not meet the criteria must not be put inside these bags)
Personal bags of A4 size or smaller (21 cm long x 30cm high)
Please note, laptops sleeves are permitted provided they are no larger than 37cm x 31 cm.
You may have to queue for longer if you choose to bring a bag.
Medical Exemption to Bag Policy  
If you have a medical condition that requires you to bring a bag or other equipment that does not fit within a personal bag of A4 size or smaller, then please submit a medical exemption certificate request using this form at least 72 hours before the game you are due to attend.
Documents accepted as supporting evidence include DLA or PIP, or a letter from a general practitioner or specialist nurse which outlines your requirements.
Upon receipt and acceptance, we shall issue you a medical exemption certificate to print at home and present on entry to the stadium.
Safe Standing
Tottenham Hotspur Stadium is licensed for safe standing in seated areas, including the visitors' section. Our 'safe seating' design provides the same comfort and leg room as in all other areas of the stadium, with an ergonomically profiled bar set at 900mm for clear sightlines.
Your Club will be offered the option to allocate supporters who would prefer to sit during the match to seats in Block 118. Please contact your Club if you prefer to sit and have not been offered this choice.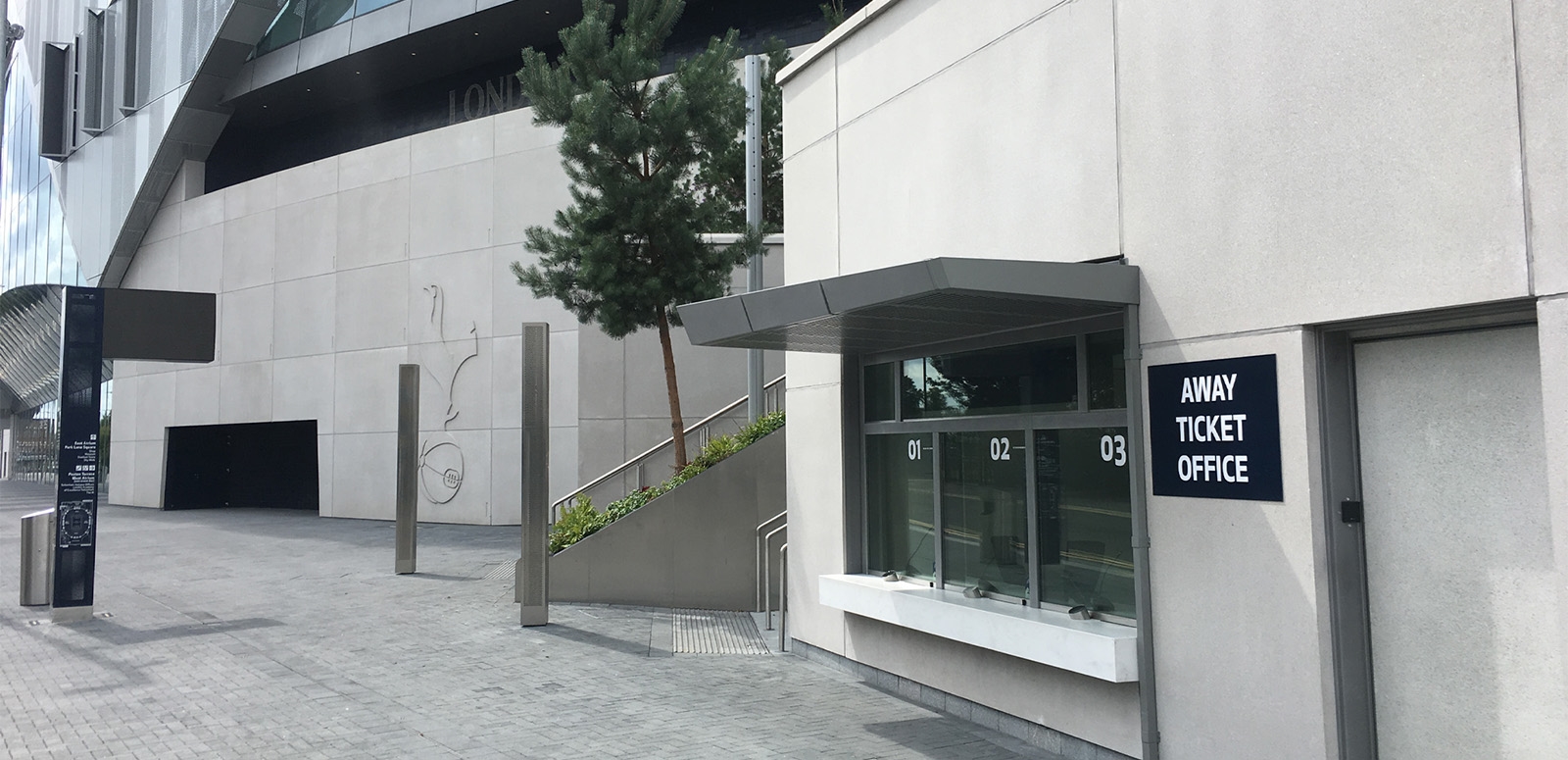 Matchday Ticket Office
If you have any questions regarding your tickets, please contact your Club directly.

All visiting supporter collections and matchday enquiries will take place from a ticket office located by the steps leading up to Entrance 11.
Cashless Stadium
Cash is not accepted anywhere in the stadium or its surrounding campus. Cashless payments increase speed of service and improved hygiene as staff won't be handling cash. We accept all major debit and credit cards and mobile payments such as Apple Pay & Google Pay.
Fanbassadors
Our Fanbassadors are located around the stadium perimeter. They will act as your help and information point so please make use of them and feel free to ask anything.
First Aid
First aid rooms are clearly signposted on the concourses. In a medical emergency, fans should notify the nearest steward for assistance.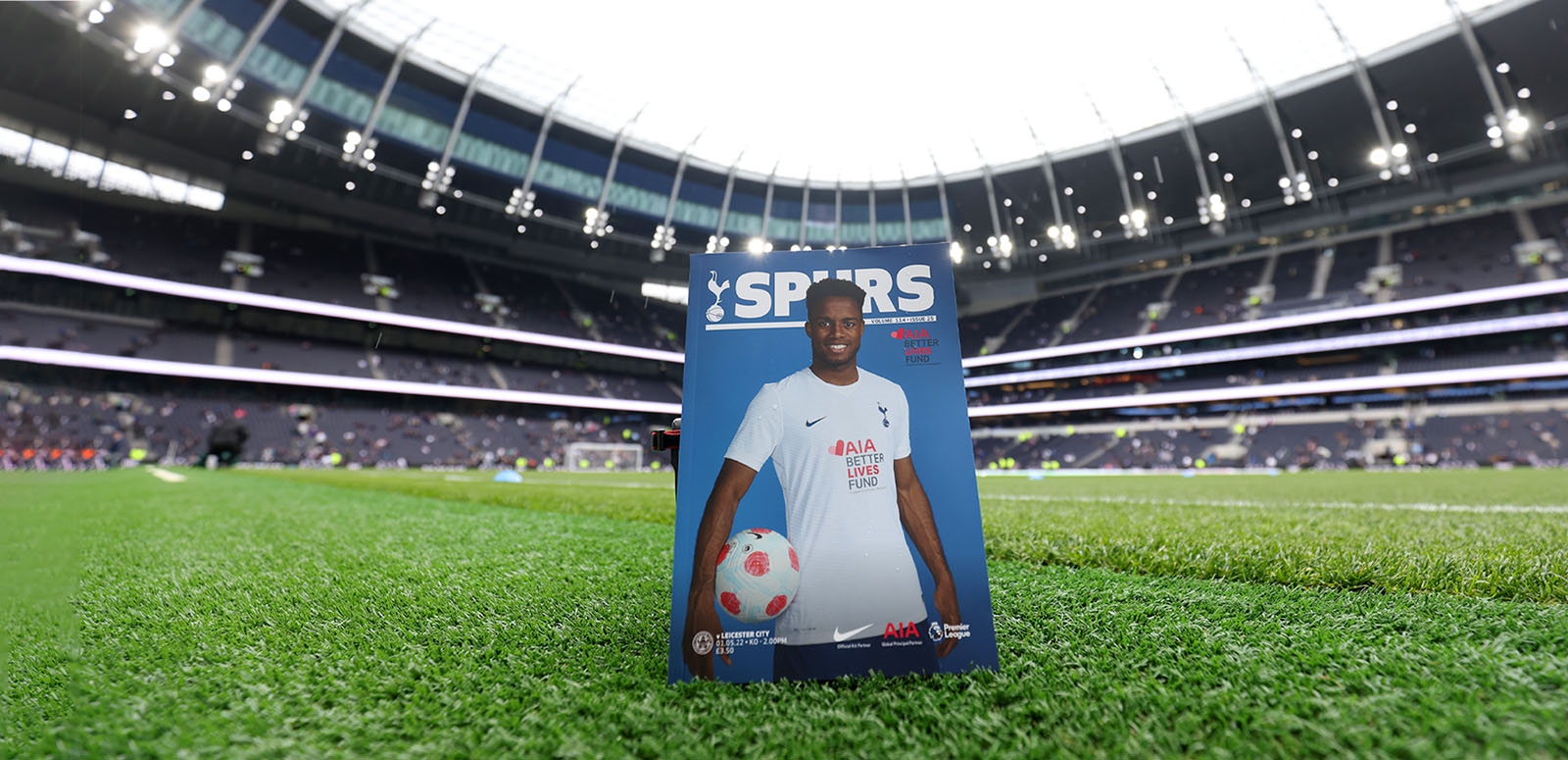 Matchday Programmes
Matchday programmes are available for purchase at dedicated kiosks around the perimeter of the stadium and from Tap Inns within the visitors' section. They can also be purchased online.
Flags and Banners
We welcome supporters who wish to bring flags and banners to matches at our stadium.
Flags or banners should be no more than 250cm in size at their widest or longest section and flagpoles must be no greater than 1m in length.
Flags or banners must not obstruct gangways, access routes, exits and entrances, health and safety signage and stairways. We also politely ask that any flags or banners displayed do not obscure the banner in support of our LGBTQ+ fanbase, positioned above the tunnel in the North East corner of the stadium.
In order to ensure smooth access and display of your flag or banner, we advise that you have it pre-approved. You can do this by completing this form one week prior to the match with a photo of the flag or banner, its fire safety certificate and confirmation of its dimensions.
We reserve the right to deny permission or confiscate flags and banners if they are above an acceptable size, compromise public safety or obscure someone's view or a camera position.
The Club has always considered that a football match is a time to show allegiance to a football team first and foremost. A football match is not an appropriate arena to display flags of any political or religious affiliation or anything that could possibly be considered inflammatory – this can include national flags during times of political conflicts, campaigns or issues.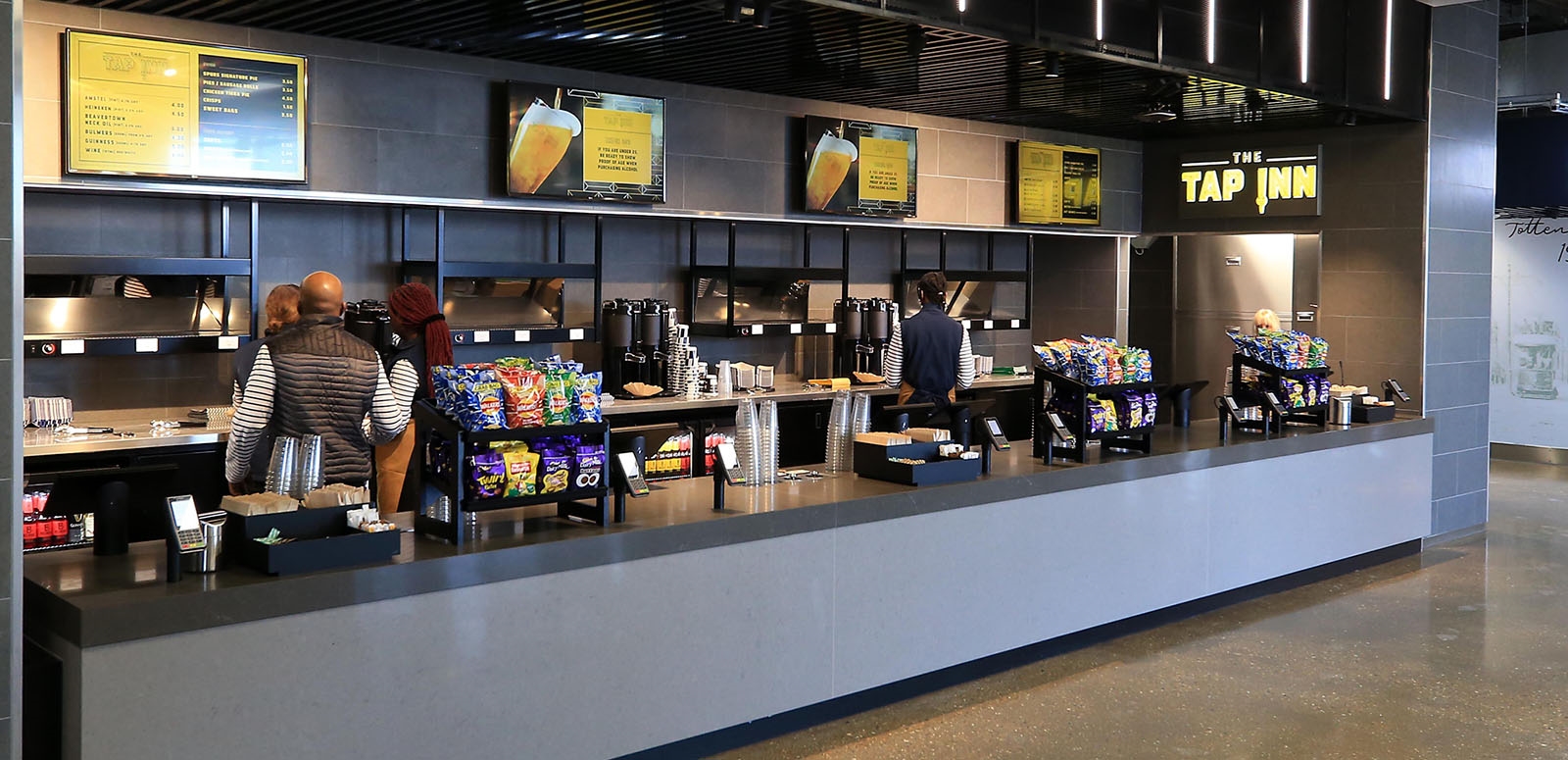 Food and Drink
You will find Touchline Grills and Tap Inns within the visitors' section, open two hours before kick-off. A wide selection of beers, soft drinks and food is available.
Prohibited Items
For a comprehensive list of prohibited items, please visit Ask Spurs for further information.
Lost Property
Any lost property will be held within our 24-hour security office on the ground floor of the North West corner of the stadium.
Attending with Children
All supporters who enter the stadium are required to have an individual ticket and seat. For avoidance of doubt, this includes babes in arms. Any persons under the age of 14 must be accompanied by a responsible adult.
Lost Children
If you become separated from your child, please notify the nearest steward immediately, providing as much detail as possible (name, age, appearance, place last seen).
Baby Changing
Baby changing facilities can be found on Level 2 of the visitors' section on the concourse outside Block 234.
Push Chairs
There are no facilities within the stadium for storing push chairs.
Spurs Respects
Please ensure you use one of the toilets located in the stadium before heading home. Should you require use of a toilet after leaving the stadium, the Club has installed public toilet blocks throughout the local area. Please note, there are no public toilet facilities available at local train stations.
As you are arriving at or leaving the stadium, please be considerate to our neighbours. Information on our recycling bins located in the stadium will help ensure you correctly dispose of your rubbish.
Reporting Anti-Social or Discriminatory Behaviour
The Club treats anti-social behaviour seriously and expects all supporters to treat everyone with respect.
If you witness any of the following, please send a text anonymously to 07537404821 - within your message please identify the location in which the bad behaviour is taking place (BLOCK, ROW, SEAT) in order for the safety officer to view the incident via the extensive cameras around the stadium, a team may also attend:
FOUL (language & behaviour)
ABUSE (abusive behaviour)
RACISM (racist chanting & shouting)
SEXISM (sexist comments or chanting)
HPH (homophobic chanting)
DRINK (drinking alcohol in view of the pitch)
SMOKE (smoking in the stadium)
STAND (persistent standing)
PYRO (use of or intended use of any pyrotechnic or smoke bomb)
Other (please specify)
These messages are monitored during a match and reported to the stewards in the corresponding areas and appropriate action will be taken. 
After a match, we value feedback which helps us improve the stadium operations for the next match, to make suggestions for improvement, please head to our: Feedback form.
Smoking
Smoking and the use of e-cigarettes is not permitted anywhere within the stadium and its surrounding campus.
Emergency Evacuation 
In the unlikely event that we should have to evacuate the stadium, please adhere to the advice given by front line staff and on our public-address system.
To Care Is To Do
The Club is dedicated to minimising the environmental impacts of all our activities.
You can help us ensure all waste is recycled by simply choosing the right bin when you dispose of your rubbish.
Throughout the concourses, you will find two different bins at each location – one is for General Waste, the other for Dry Mixed Recycling.
The only waste items that should be placed in the Dry Mixed Recycling bins are as follows:
Empty plastic and glass bottles
Empty cans
Paper
Small cardboard
These items should not contain any left-over food or liquids if being placed into the Dry Mixed Recycling bin.
A reusable cup scheme is also in place within the visitors' section. Mounted to our recycling bin units throughout the concourses, you will notice bespoke units where cups are to be disposed of after you have finished your drink.
Cups are collected and taken off site after matches to be washed and then returned for further use. Any single-use plastic cups provided on event days are fully recyclable.
Water fountains are also available in the visitors' section – so if you buy a bottle of water from one of our concessions, ensure you do your bit for the environment by refilling the bottle rather than purchasing another one.