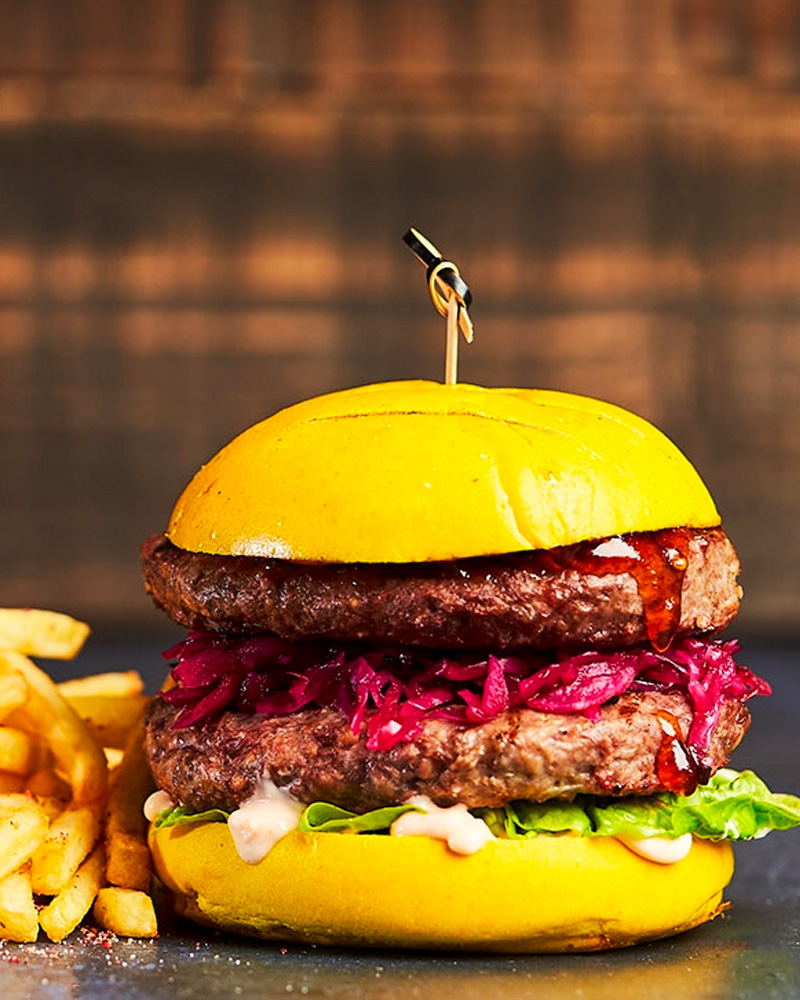 New for the 2023/24 season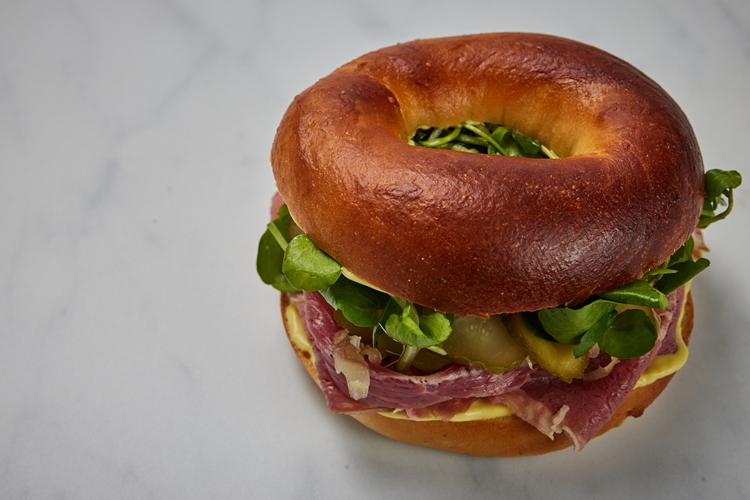 A revamped and expanded food and drink offering awaits fans
You will see a range of brand-new, mouthwatering dishes that further enhance the unparalleled choice available, taking on board valuable feedback we have received from our fans.
This includes, back by popular demand, the reintroduction and trialling of the beloved bagel bar which many fans will fondly remember from White Hart Lane – the first one will be sited on Level 1, Block 101.
In addition, we have opened new kiosks for our two most popular offerings from The Market Place – Chicken House and N17 Grill – on both Level 1 and Level 5.
As the Premier League's greenest club, we take pride in using high-quality, locally sourced ingredients for our dishes. This season, we are pleased to offer an even greater selection of plant-based options, with exciting plans to introduce new carbon-neutral dishes.
To further reduce waste, we'll be introducing new eco-friendly food packaging and replacing all sauce sachets over the course of the season, having already removed all single-use plastic bottled water.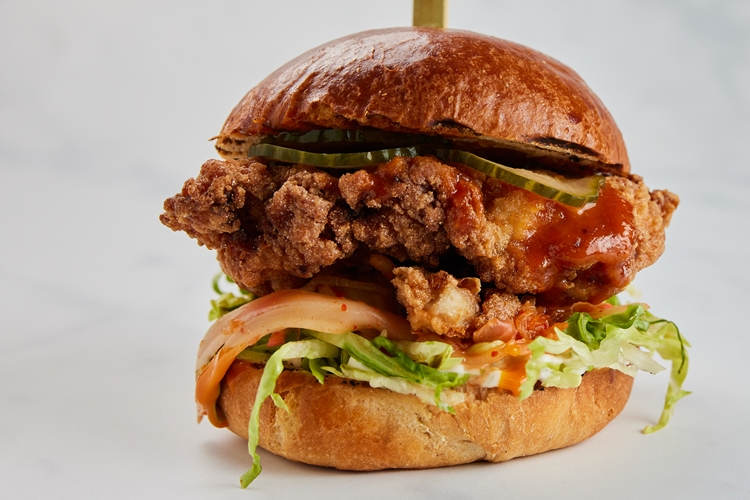 What's New
• Waffle Fries – available stadium-wide, including loaded options, offering a deliciously satisfying twist on traditional chips.
• The NEW Club Burger – made with new and improved ingredients – we're excited about this one!
• Plant-Based Burger – served in a delightful beetroot bun, we believe this is the shining star of our new menu.
• Vegan Merguez Sausage Roll – they're all the rage and now available at our Tap Inns.
• Vegetable Samosas – another addition to our delicious homemade pastry items, alongside pies and sausage rolls, at all the Tap Inns.
• Fish Fillet Sandwich – everyone's favourite guilty pleasure now available at The Linesman, with beer-battered fish goujons, tartar sauce and mushy peas, served in a soft brioche bun.
• Birra Moretti – our new premium lager offering available at The Goal Line Bar, The White Hart and The Dispensary.
And it doesn't end there – for the first time, we're introducing Autumn, Winter and Spring menus, with new options added throughout the year to suit seasonal tastes.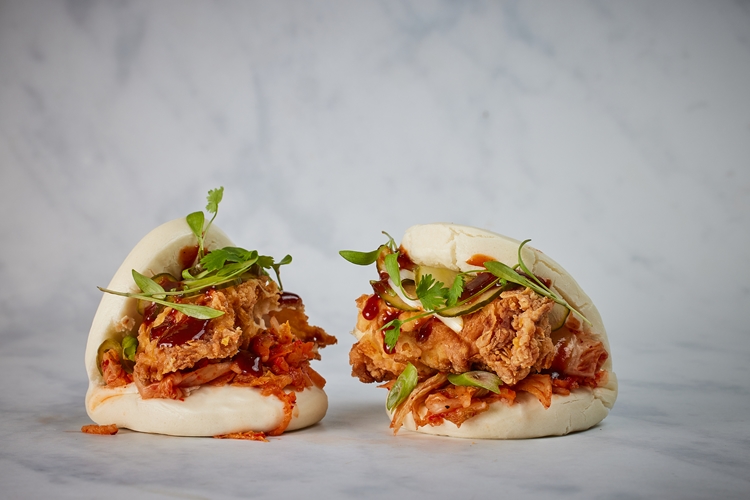 Pricing remains the same from last season on our fan favourite items
Including:
• Kids' meal deals
• Spurs Signature Beef and Onion Pie
• Fish and chips
• Amstel
• Guinness
• Carton water
• Hot drinks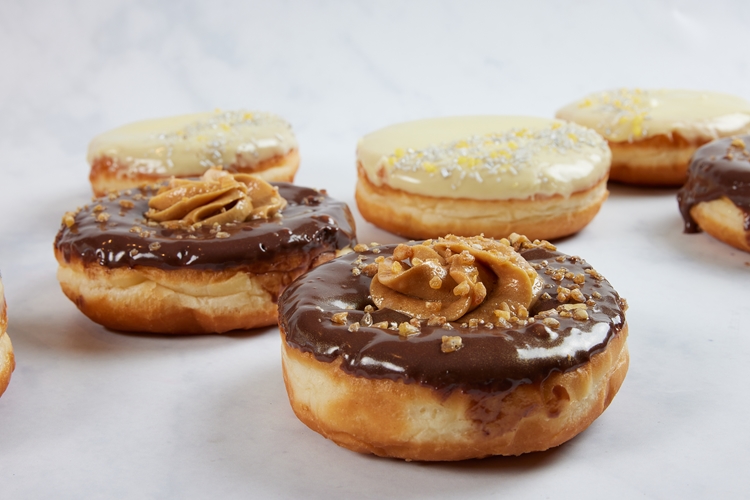 Pricing Updates
Due to continued pressures placed on our supply chains, rising tariffs on goods and higher labour costs, we have made marginal increases to some items. Given food inflation is currently at 21 per cent, the Club continues to absorb the majority of the extra costs. Beer pricing remains comparable to the high street and lower than at any comparable London venue. As the supply chain eases and inflation lowers, the Club will look to adjust pricing accordingly.
We thank fans for their continued support and understanding on this matter.
Remember, the stadium remains open up to 90 minutes after the final whistle with live bands performing at our Shelf (Level 1 East) and White Hart (Level 5, East) destination bars – the perfect place to meet up with friends and family for a post-match drink or snack.
Park Lane Square will remain accessible to all general admission ticket holders up until one hour before kick-off and again post-match, with mobile units serving additional food options, draught lager, spirits, soft drinks and coffee, with a big screen showing any live football action on the day.
Get those tastebuds ready – we can't wait to welcome our fans to the stadium and to hear your feedback on our revamped food and drink offering.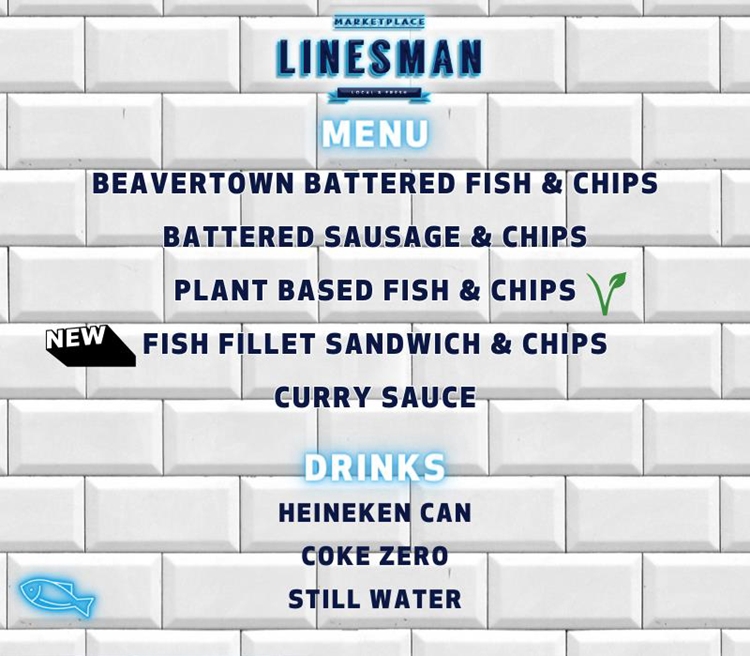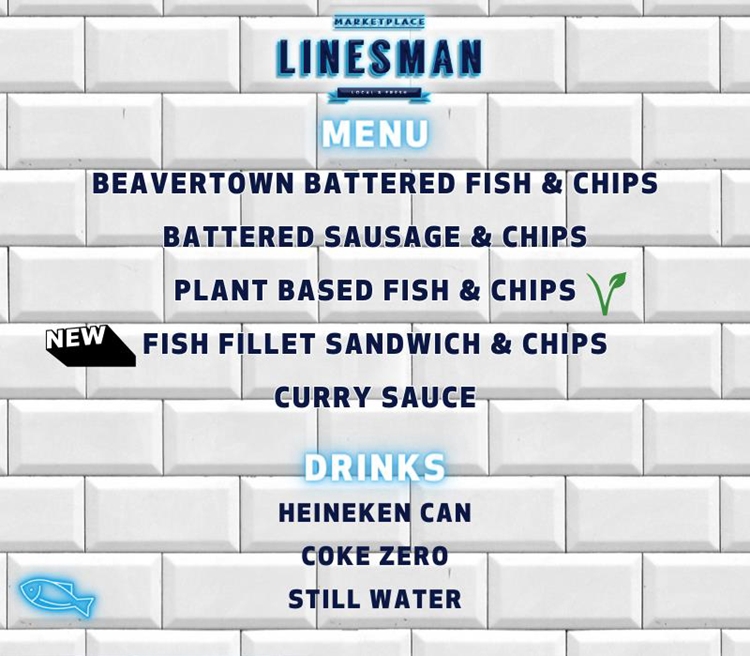 The following food retailers can be found at the Marketplace, in the South Stand
Classic British fish and chips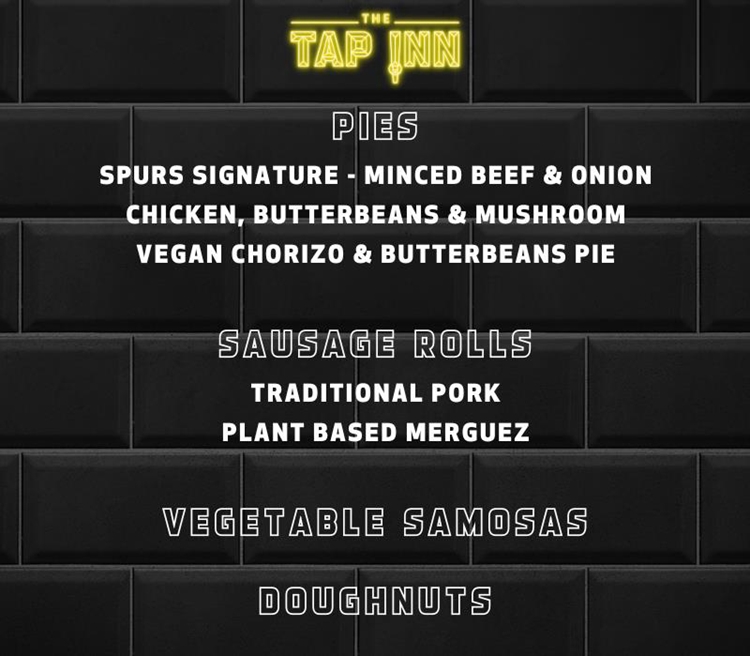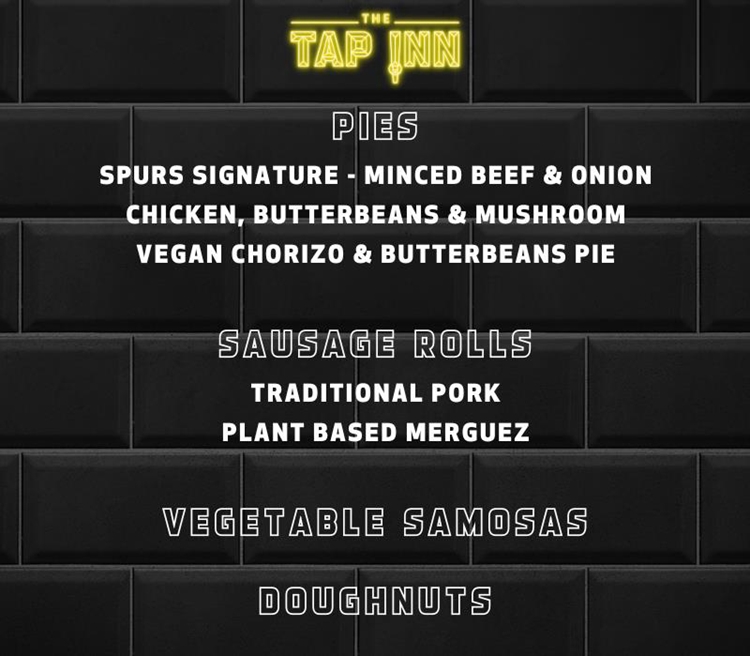 The Tap Inn
Pie and a pint, all pastry items are handmade and baked in the stadiums own bakery
The Tap Inn all serve the same food & drinks menus, found at blocks: 101, 108, 111, 114, 116, 232, 235, 249, 250, 251, 256, 257, 258, 323, 324, 417, 419, 421, 423, 451, 453, 503, 506, 509, 510, 515, 516, 520, 521, 524 & 528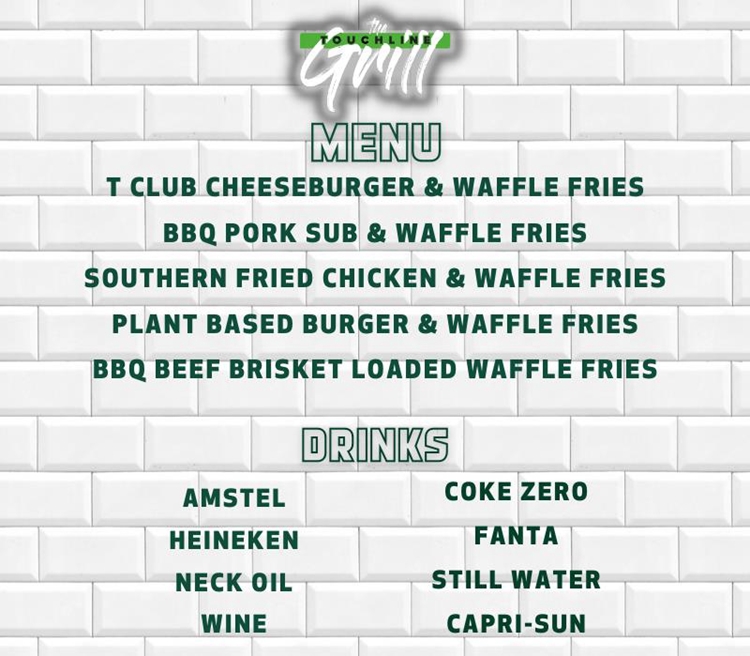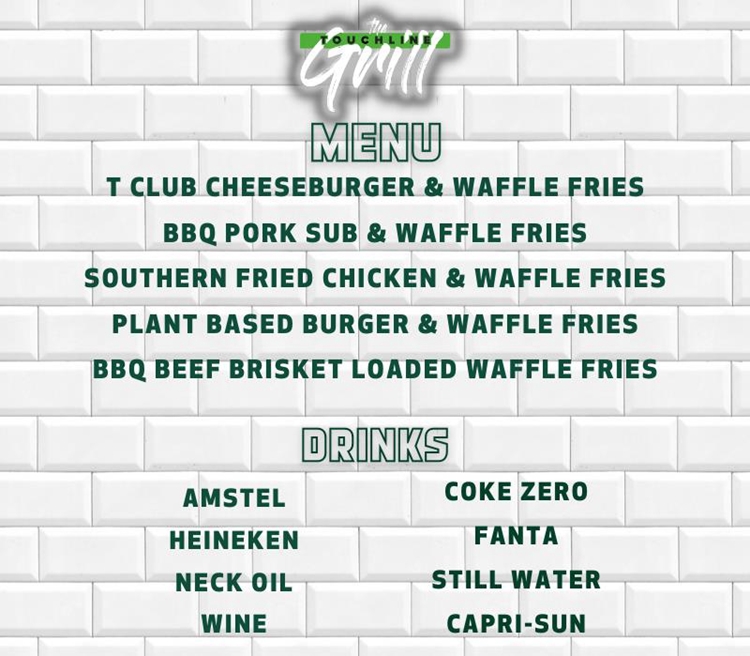 The Touchline Grill
A variety of classic regional British food, all cooked fresh in open grill kitchens. This menu is served at the Touchline Grill in the following blocks: 102, 112, 118, 322, 504, 525.