4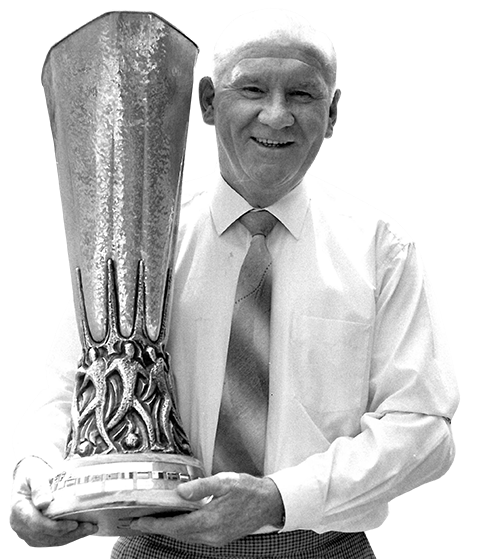 Bill
Nicholson
Born: 26 January 1919 (Scarborough, England)
Join Date: 01 August 1938
Bill Nicholson
1938-1954 - player
Appearances: 314. Goals: 6.
Division Two champion, 1949/50
Division One champion, 1950/51
1958-1974 - manager
Division One champion, 1960/61
FA Cup winner, 1961, 1962, 1967
League Cup winner, 1971, 1973
European Cup Winners' Cup winner, 1963
UEFA Cup winner, 1972
Bill Nicholson's contribution to the history of Tottenham Hotspur will surely never be surpassed. Arriving as a teenage member of the groundstaff in 1936, he served as player, coach, assistant manager and manager over the next 38 years, during which time he won nine major honours, one as a player and eight as manager.
After a near two-year break, he returned 'home' in 1976 to add a further 21 years to his tally, this time working behind the scenes to help unearth future talent for the Club. One of those finds was Gary Mabbutt, who went on to captain the Club for 11 years, lift the FA Cup in 1991 and make 611 appearances in all competitions.
Bill continued to live just down the road from White Hart Lane until 2003 before sadly passing away in hospital at Potters Bar on October 23, 2004, aged 85.
Put quite simply, he is 'Mr Tottenham'.
Moving down to London from his Scarborough home in 1936, Bill spent two years on our groundstaff and played for our nursery team, Northfleet United, until turning professional in 1938. He made his debut against Blackburn on 22 October, 1938.
A tough-tackling half-back, Bill helped us win back-to-back titles in 1949/50 and 1950/51 - the Division Two title followed by our first Division One championship - under manager Arthur Rowe and his renowned 'push and run' style.
To underline his importance to the team, Bill played 80 of a possible 84 league matches in those back-to-back title triumphs between August, 1949 and May, 1951, missing just one game as we lifted the First Division title for the first time in 50/51.
In total, Bill played 341 times for us between 1938-54 and won one England cap when he scored with his first touch against Portugal at Goodison Park in May, 1951.
Always interested in the coaching side of the game - he passed his FA badge and coached the Cambridge University team during his playing career - Bill was appointed coach when Jimmy Anderson replaced Rowe as manager in 1955.
Bill took over as manager on 11 October, 1958 and put together our greatest-ever team, the FA Cup and Division One title double-winners of 1960/61. Trophies followed in the 'glory, glory years' with the FA Cup retained in 1962 and then more history as we became the first British club to win a European trophy, the Cup Winners' Cup landed in 1963.
We lifted the FA Cup again in 1967, the League Cup in 1971 and 1973 and the UEFA Cup in 1972 - all under Bill's leadership.
During that time, Bill signed some of the greatest players to pull on our famous white shirt - the likes of Dave Mackay, John White, Jimmy Greaves, Alan Mullery, Pat Jennings, Alan Gilzean, Steve Perryman, Martin Peters and Martin Chivers all snapped up by the great man.
These feats brought many firsts - the first Double of the 20th century was followed by the first European trophy win by a British club, the first British team to win two different European competitions and the first to win the League Cup twice.
Alongside it all, Bill's team played with bravado, style, skill and grace. His players performed with a flourish, entertaining all along the way. His team of the early 1960s thrilled our supporters crammed into the Lane and football fans everywhere.
He was the rock on which this Club was built and was an inspiration to us all. His legacy lives on.
Bill Nicholson, 'Mr Tottenham', never forgotten.