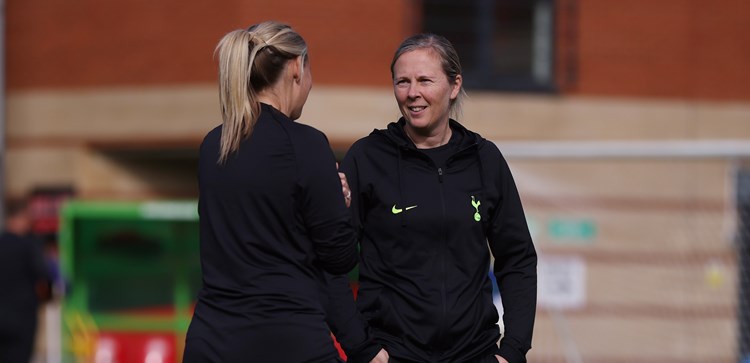 Rehanne: "We're ready for the challenge"
@SpursOfficial
Fri 21 October 2022, 16:00|
Tottenham Hotspur
Tottenham Hotspur Women Head Coach Rehanne Skinner sat down for her pre-Manchester City press conference at Hotspur Way on Friday afternoon.
Here's what she had to say on the following subjects...
Team news
"We've picked up a few little minor injuries going into the game - not something that's going to be putting players out for any extended periods of time, but the squad's a little bit modified following on from last weekend, but Chioma [Ubogagu] is back on the pitch this week, so that's positive and Kerys Harrop is close, so we're getting nearer with some and just managing a few.
"Chioma's been training with the team for the period that she's been allowed to, which has been a couple of months, so she's in a good place from a fitness perspective, but for any player it's the match sharpness. We've played internal games in international breaks but the competitive element to it, the speed of it and and decision making - you do need a little bit of time to get back into that. There's absolutely no pressure on Chi coming back into the squad.
"She's available tomorrow, which is great, and if we're in a position to get her on the pitch, we absolutely will. We just want to build her back again to a place where she gains confidence in her own ability, which she's got bags of. She's capable of scoring goals. A lot of players in the squad are, we just need to take those moments when they come. Regardless of how many we get, you just need to make sure you finish them when you get them, so it's not about creating a high volume all the time, it's just about being a little bit more clinical when they arise. That's something we've got to keep working on."
Drew Spence and Angharad James settling in
"They're really enjoying it. They're fantastic people who work really hard and have a lot of experience in the game. They bring a lot of value in terms of their understanding of the tactical side of things and their technical ability on the ball, which helps our midfield. Naturally, for Drew in particular, when you've been away for a period of time, it takes time to adjust into a new Club setting and I think that's a challenge for any player when they come in, but when you've been somewhere for a long time it's just a little bit more, but I thought she was fantastic last weekend and so things have evolved really positively for her and also for Haz. She's a good leader within the group as well so that's definitely helped her influence within the team."
What to expect from Manchester City
"I think it's going to be a difficult game. They're an experienced team in terms of Club structure. They've got a lot of new younger players, so they'll probably be similar in terms of bedding people in to what we are. For everybody in the early part of the season, especially with the international breaks that are quite frequent, it disrupts a bit of the flow that you're able to get, but ultimately I think it will be a good test for us and we're ready for the challenge and we want to keep working hard and improving game on game ourselves this season.
"They're always a side that you've got to be really mindful of. They've got a lot of experience. If you look at what happened last year, they didn't win a lot of games at the start but then did really well as the season went on. We can talk about lots of teams in lots of different ways and ups and downs, but it's football. They're going to be a test who make it difficult for us. We're prepared and want to make sure we make it as difficult for them as possible going into our home game. We need to focus on doing our job to be able to capitalise on anything that they're not quite right with. They're an established team and we've got to make sure we're ready."
Threat of Bunny Shaw
"We're aware of it, but both of our centre-backs are physical in their nature as well, so they're capable of competing and we've played against her before, so it's not really a surprise for what it is. The players have got experience in handling what she's about. She is in good form, absolutely, and we need to be ready to deal with that, but I just think across the board it's a really good awareness of where she is and what she's trying to do on the ball and making sure that we're in a position to minimise what she's capable of doing. That's ultimately the goal."
Season tickets sold out
"It was fantastic. The jump from the number that we had last year to this year was significant so it's been amazing for the fans to get hold of those season tickets and for us to make it much more of an experience that we were hoping for. Leyton Orient have been great in terms of how we manage the stand and the fans coming in and all the rest of it. For us, when we played Liverpool in our first home game, it was only last week which seems weird because we're into October, but I could hear the fans all the way through the game. The players could hear them, so that support was absolutely invaluable to us. If that's our first game, it's only going to get better the more we play at home and really make it our own stadium.
"It's a real football stadium, so when you walk in you just feel different. That makes a massive impact, that it's a football functional building. Everything is football within the building. That definitely helps you to feel more at home within your surroundings. For us, the quality of the pitch is superb, so that's helping us to keep growing and moving forward in the things that we wanted in place as a football club to be able to help the team to perform even more moving forward."
Whether Ashleigh Neville should play for England
"It's a question for Sarina. Ultimately, we've got to understand what she's looking for in full-backs. She's been outstanding for us in terms of everything I've asked her to do, I know exactly what she's going to give to us, whether she plays as a full-back or a winger. That's a real testament to the type of person and personality she is and what she brings to the team. She's just continuing to go from strength to strength. She's improved dramatically over the last couple of seasons and there's a lot of hard work and dedication that's gone in from her side to help her achieve that, so if that's what you're looking for in an England player - someone who will wear their heart on their sleeve and give you absolutely everything and be consistent with that week in, week out - I think that's where you look isn't it?"
Reflections on win against Liverpool
"I thought we were superb in the first half. In possession, we made it really difficult for Liverpool, alongside our high press. We got absolutely spot on and made it difficult for them to get out. We were in a position to punish them and had 10 shots in the first half, so you'd like to think that you'd put the game beyond them at that time. All the players were very open about if it was them that had had the opportunity to do that and they were sort of kicking themselves a bit, but that'll come. We're creating very good quality chances and we'll get there with that, so I'm not worried about that.
"In the second half, the thing that we were disappointed with was the last 20 minutes where we absorbed a lot of pressure, so we showed that we can handle that and be resilient, which is important, but we probably could've taken care of the ball better in those moments to manage the regains after set plays. We were giving too many away that could've helped us to get back into the game and take control, so I think there are pros and cons. We showed two sides to our game and that's important, we'll need to do both going into tomorrow's game, but we just want to be a bit more consistent over 90 minutes."
Boosting squad numbers with younger players
"It's really important, whenever you're dealing with young players, that you look at where they're at technically, tactically, and psychologically to ensure that they're in a position to make that step and it doesn't end up being something that's detrimental. You've got to look at each one of them as an individual to see if they're ready to do that. We've got players that we're monitoring within the Academy and if the time is right then they'd come into the team. We took Lenna Gunning-Williams away with us on tour to the US and she worked really hard in that setting, but it's also a balance of not taking them out of a setting where they're getting minutes themselves. If the squad was very light and we had players that were ready, we would bring them up and we've done that in the past. It's just about the right timing for everybody."
Brisbane Road
"Our intent with any home ground is to make it our own and make sure that our fans, first and foremost, are seeing something week in, week out that they really want to be a part of and keep coming back to support us. There's been loads of work done from the Club's side behind-the-scenes that have made it really Tottenham branded, inside moreso than outside. We're trying to grow the fanbase and engage the community to increase the number of people that come into the ground to tap into the aspects off the back of the Euros and us being in closer proximity to our fanbase that attends men's games. The wider piece around it is that we want to make it a place that's really difficult to come to and we want to keep doing performances and winning games for our fans and keep them coming back and supporting us like the twelfth person."
Evolution of the team since beating Man City last season
"We're evolving every game. I don't think we've had a quick of a start as we did last season in terms of the way that we performed in the first couple of games, but we're finding our feet much better now, so we're in a positive place in terms of how we're evolving. On our day, we'll be in a good position to create a test for everybody in this league. It's just about us getting a complete performance to be able to manage that tomorrow and make life really difficult for City. There have been spells where we've been fantastic and then just dropped off a little bit, so that's got to come together tomorrow. We're in a very good place and training has been excellent this week. Other than the depth in the squad at the moment, which is the only area going into tomorrow that's a little bit more of a challenge, I know that any player on the pitch for us will always fight until the very end of the game."
Long term ambition to reach the Champions League
"It's the number one ambition. That's where we want to get to and where a club the size of Tottenham should be performing. We want to be equal with what the men are doing on their side to promote that overall in the wider Club. It's really important for us but we all know there's a process that's got to be put in place to get to that point, so our ambitions are really high and we're working incredibly hard behind the scenes to get all of the pieces of the jigsaw together, including evolving the squad over transfer windows. There's been massive steps taken to keep shifting us towards that, which is one of the things that enabled us to be more successful last season. We're in a positive place and on a journey with it, but make no mistake, it's a tough place to get to and it takes time. It's taken other clubs within our league time to get to a point where they can be really competitive within that setup. It's not an easy environment to go into in the Champions League, but we're aspiring to that and we're working hard every day to figure out what the gaps are and find ways to bridge that gap so that we can be successful when we get there."