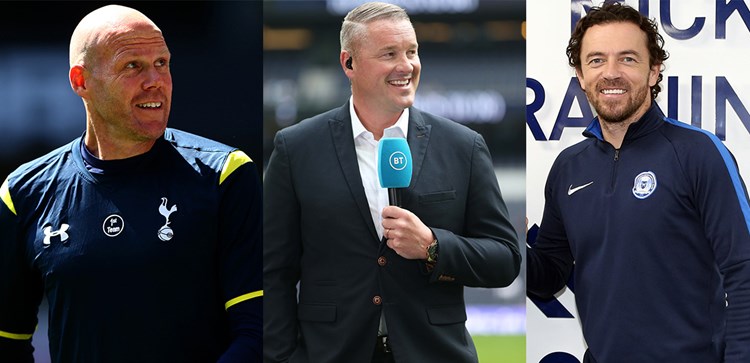 Spurs legends preview the World Cup - Paul Robinson, Brad Friedel, Simon Davies on Group B
@SpursOfficial
Mon 14 November 2022, 14:45|
Tottenham Hotspur
The greatest football show on earth kicks-off this weekend as Qatar hosts the World Cup.
The first match sees the hosts up against Ecuador at the Al Bayt Stadium on Sunday (20 November, 4pm). That begins a run of 48 matches across eight groups until Friday 2 December. The knockout stage begins the next day, 3 December, with the final on Sunday 18 December.
With the tournament looming, we've called on a number of Spurs legends - players and managers - to preview the groups, with an eye on their respective country.
Next up, Paul Robinson, Brad Friedel and Simon Davies on Group B...
Group B
England, Iran, United States, Wales
Match dates
21/11 - England v Iran, USA v Wales; 25/11 - Wales v Iran, England v USA; 29/11 - Wales v England, Iran v USA
Paul Robinson
Capped 41 times, Robbo represented England at the 2006 World Cup, where they lost in the quarter-finals on a penalty shoot-out against Portugal. He began his career at Leeds, became England's number one during his time at Spurs, where he made 175 appearances for us between 2004-2008. He later played for Blackburn and Burnley, retiring in 2017...
"I don't think this group is going to be as easy for England as many people are predicting. For instance, Iran will be a very tough game. They have a reputation of being defensively very strong, robust and tough to break down. Okay, going forward they don't create much, but they are a just a difficult team to play against. Just looking at how England struggled to create chances from open play in the UEFA Nations League recently, that Iran game won't be a 'gimme' and that sets the tone for the rest of the group. The USA have got Brenden Aaronson and Tyler Adams at Leeds, Christian Pulisic, Weston McKennie and a number of good players who will once again want to prove a point against England and on the world stage. The Wales game speaks for itself, really. For Wales, it's all about Gareth Bale, Aaron Ramsey and their fitness and where they are coming into the tournament. The advantage for England here is that this game comes third in the group, so if the likes of Bale is struggling to play 90 minutes for the third time in a week, that could play into England's hands. We all saw the way Scotland upped their game in the Euros (a 0-0 draw in the group stage) and all the home nations tend to do that against England, they all raise their games, particularly in major tournaments. I think England have to get off to a good start against Iran, as I said, that will set the tone."
Brad Friedel
Brad earned 82 caps for the USA between 1992-2005, playing in three World Cups and two Olympics. He made 67 appearances at Spurs between 2011 and his retirement in 2015. During that time, he extended his Premier League record of consecutive starts to 310. Brad also played for Galatasaray, Columbus Crew, Liverpool, Blackburn and Villa, and managed New England Revolution in the MLS from 2017-19...
"We played Iran in 1998. We actually played pretty well, but they had two chances, scored two goals and we lost 2-1. It was one of those games. That made it tough because we had Germany and Yugoslavia, who were very good. Now, in this group, it's a game the US can't afford to lose. I'm not worried about getting a performance against England. The players know they are up against one of the best. I'm a little more worried about the Wales game, because a lot of the US public don't know how good they are, and it's a very level game. If the US have everyone fit, we're pretty good, and we'll be able to compete against anyone, but you have no divine right to win at a World Cup. Weston McKennie is a phenomenally gifted player, really good. In my opinion, he's our best player. When he plays with Tyler Adams, and if Yunus Musah and Christian Pulisic is fit, plus Brenden Aaronson's form at Leeds, it's a solid team."
Simon Davies
Breaking through at Peterborough United, Simon joined Spurs in 2000 and made 147 appearances for us before moving to Everton in 2005 and then Fulham in 2007, where he scored in the final of the UEFA Europa League in 2010, a 2-1 loss to Atletico Madrid. Simon earned 58 caps for Wales between 2001-10, captaining the team in 2010 World Cup qualifying...
"I think the first game against the USA is probably the biggest for Wales in the group. You have to believe that England will win the group, and then Wales and USA are fighting it out to get through in second place. That's my first thought looking at the teams in the group, so the fact Wales meet the US in the first game makes that a huge game. A win there sets it up for the group. If they don't win that, then they'll have to get something against England, which will be tough. Iran as well, they're a bit of an unknown, but they won't be a pushover for anyone… long gone are the days when you play against so-called 'weaker' nations in international football. The development of coaching over the years has brought all nations on. In terms of playing England, you have to be realistic and say that England are favourites, but in any derby game, a one-off, you can never call it. The teams met in the Euros in 2016, Wales went 1-0 up, Gareth Bale's free-kick, then England scored late. I just see Wales being dangerous with Bale, with the pace of Dan James on the break, and it can just go a number of ways. Don't forget a number of this group took Wales to the semi-finals of the Euros in 2016, and they all have that tournament experience, that could be vital in Qatar."
Our World Cup previews...
Next up, World Cup winner Ossie Ardiles on Argentina and Group C...