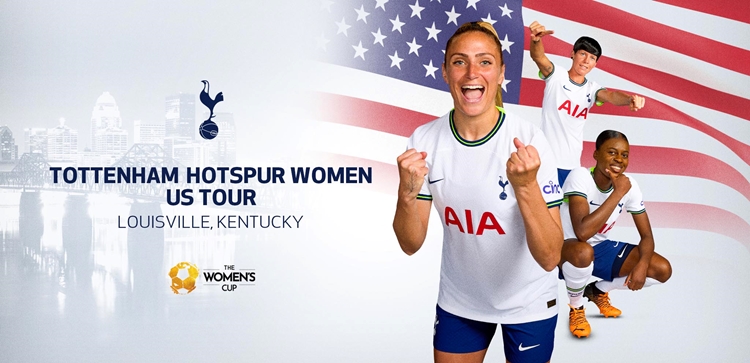 Spurs Women set for historic first tour to the United States
Women's first team to visit Louisville in August
@SpursOfficial
Tue 21 June 2022, 15:00|
Tottenham Hotspur
We are delighted to announce that our women's first team squad will travel to America for a pre-season tour this August in preparation for the 2022/23 season.
Rehanne Skinner's squad have been invited to compete in the second edition of The Women's Cup in Louisville, Kentucky, in what will be our women's team's first-ever intercontinental tour.
Previously contested by the likes of Bayern Munich and Paris Saint-Germain, this year's expanded tournament includes six of the top women's teams from around the world, playing games at Racing Louisville's Lynn Family Stadium.
The competition, which takes place from 14 to 20 August, will see us challenge for the trophy along with AC Milan, OL Reign, Club América, Tokyo Verdy and the hosts in Louisville.
AC Milan and Tokyo Verdy will contest the first match on 14 August, before we face Mexico City-based side Club América in the second game on the same day.
The winner of our tie will meet Seattle-based OL Reign in the semi-finals on 17 August and the winner of the first contest will advance to play Racing Louisville in the second semi-final, while the two losing teams will play against each other for fifth place. The final and third-place matches are scheduled to take place on 20 August.
Fabio Paratici – our Managing Director, Football – said: "Rehanne and the team are coming off the back of their best WSL campaign to date and are looking to build on this going into next season. The Women's Cup will see us tested against top opposition from around the world, giving us ideal pre-season preparation while enabling our passionate fans in the United States to see our women's first team in action for the first time."
During the tour, we are excited to be able to meet our passionate US-based fans – the Club has more official Supporters' Clubs in America than any other Premier League team, with our men's first team having travelled to play pre-season matches in the States on six different occasions since 2010. As with men's first team tours, our women's players will be out and about immersing themselves in local culture and supporting good causes throughout their visit to Louisville.
J.P. Reynal, President and CEO of The Women's Cup, said: "The Women's Cup is the most prestigious international women's club soccer tournament in the world today. Having Tottenham and AC Milan participate will not only provide a glance as to how the best from Europe stack up against teams from the US, but also how they fare against the toughest competition that Asia and Latin America have to offer."
Fans can follow the tour with exclusive content available across our official women's Facebook, Twitter and Instagram platforms and on tottenhamhotspur.com.
Tickets for the tournament are available to purchase now.