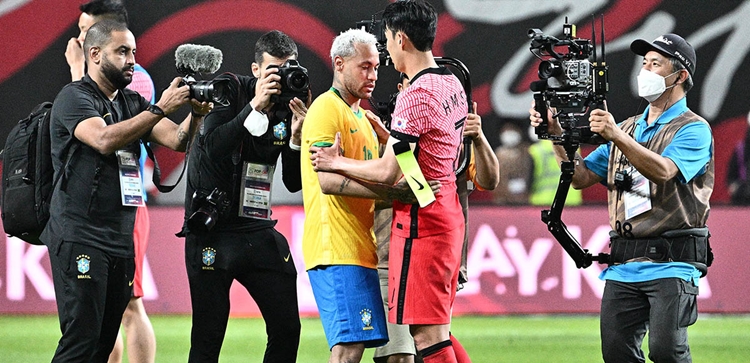 Internationals - Sonny awarded Order of Sport Merit, Dejan on target
@SpursOfficial
Fri 03 June 2022, 09:30|
Tottenham Hotspur
Heung-Min Son was awarded the prestigious Cheongnyong Medal by South Korea President Yoon Suk-yeol ahead of South Korea's friendly against Brazil in Seoul on Thursday.
The Cheongnyong Medal recognises outstanding achievement in sport and comes after Sonny became the first Asian to win the Premier League's Golden Boot last season - he shared that honour with Mo Salah after scoring twice in our 5-0 win at Norwich on the final day as we secured fourth place and Champions League football. Sonny's 23 league goals represented the best tally of his career to date.
The South Korea skipper also moved on to 99 caps, but it was Brazil's night in this high-profile friendly in Seoul - they ran out 5-1 winners thanks to goals from Neymar (2), Richarlison, Philippe Coutinho and Gabriel Jesus. Ui-jo Hwang replied for South Korea. Sonny completed the 90 minutes.
In UEFA Nations League action, Dejan Kulusevski (22 caps) picked up for Sweden where he left off for Spurs with a superb goal to secure a 2-0 win against Slovenia in Ljubljana. Last seen scoring twice in our final day 5-0 win at Norwich City, this time 'Deki' collected a defensive clearance on halfway, drove into the box from the right, cut left, then back onto his right before before blasting into the top corner from the angle. Meanwhile, Maksim Paskotsi (12 caps) came off the bench in the second half as Estonia beat San Marino 2-0 in Tallinn.
Friday's action
Steven Bergwijn - Netherlands away UEFA Nations League match against Belgium - kick-off 7.45pm
Hugo Lloris / Pierre-Emile Hojbjerg - France home UEFA Nations League match against Denmark - kick-off 7.45pm
Bryan Gil - Spain Under-21s away European Under-21 Championship qualifier against Northern Ireland - kick-off 1pm