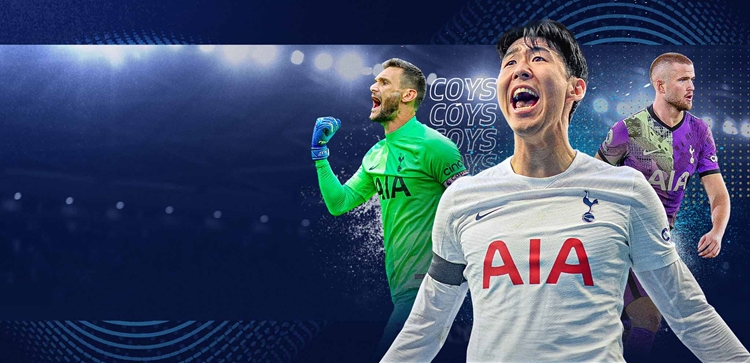 Spurs back on tour!
Club announces Men's first team visit to South Korea in July, 2022
@SpursOfficial
Tue 15 February 2022, 23:00|
Tottenham Hotspur
Spurs' 2023 pre-season tour will see the Club travel to Perth, Bangkok and Thailand.
• Men's first team will take part in an international pre-season tour for the first time since 2019, visiting South Korea in preparation for the 2022/23 season, supported by AIA.
• Antonio Conte's side will play two exhibition matches in the Coupang Play Series, organised and promoted by Pitch International and Coupang – dates, opponents, venues and how fans can watch to be announced.
• Tottenham Hotspur is home to South Korea's Men's and Women's national team captains and is currently the most watched and best-supported overseas soccer team in the country.
• Club also has four Official Korean Supporters' Clubs, bespoke Korean language digital platforms and commercial partnerships.
• During the visit, the Club will be engaging with its Korean fans, supporting good causes, celebrating local culture and delivering its renowned Global Football Development programme.
• Fans will be able to access exclusive content throughout the tour via official Club channels.
We are delighted to announce that our Men's first team will travel to South Korea for a pre-season tour this July in preparation for the 2022/23 season.
As we emerge from the COVID-19 pandemic, we are excited to be able to engage with our overseas fans once again and head back out on an international tour for the first time since 2019.
This will be our third visit to South Korea, having successfully competed in the Peace Cup in 2005 and taken part in a promotional trip in 2017.
During our visit this summer, Antonio Conte's team will play two exhibition matches* in the Coupang Play Series, organised and promoted by Pitch International and Coupang – venues, dates, opposition and how fans can watch to be announced in due course.
Fans can follow the tour with exclusive content available across our official Facebook, Twitter, Instagram, YouTube, Instagram and TikTok platforms, our dedicated Korean website and our live Match Centre on tottenhamhotspur.com. Further details about how fans can watch content via SPURSPLAY will be announced at a later date.
As is tour tradition, our players and Ambassadors will be out and about in the cities that we visit, meeting fans, supporting good causes and immersing themselves in local culture.*
Alongside this, our Global Football Development coaches will deliver our renowned technical programme for local young players and coach education workshops, showcasing the authentic training methods developed within the Club's Academy, helping young players to reach their full potential.
As with recent tours to Asia in 2015, 2017 and 2019, the 2022 Korea tour will be supported by AIA, the Club's Global Principal Partner. The Club and AIA have enjoyed a long-standing partnership which began in 2013, with our relationship going beyond the pitch, providing football development opportunities for young people.
AIA Korea will lead a series of activations with players and other stakeholders throughout the week to promote healthier, longer, better lives. The tour will also give the Club the opportunity to engage with Official Tyre Partner, Kumho Tyre, in its home market.
Spurs in South Korea
Tottenham Hotspur is currently the most watched and best-supported overseas soccer team in South Korea and home to two of the country's most loved players, Heung-Min Son and So-hyun Cho, who are Men's and Women's national team captains respectively.
The Club currently has four Official Supporters' Clubs in South Korea – Boryeong Spurs, Daegu Spurs, Gangwon-Do Spurs and South Korea Spurs – and last year launched @Spurs_KR, a new Korean Twitter account, to sit alongside our dedicated Korean language website.
In addition to our commercial partnerships with AIA and Kumho Tyre, the Club has nine official licensees in Korea – Organica, SJ Trend, Hana Industry, Viva Sports, Xenics Creative, SGO International, Bullsone, Dong-A Otsuka and SK Chemicals – giving our Korean fans access to a range of official Spurs products in retail channels outside of the Club's.
Daniel Levy, Chairman, Tottenham Hotspur, said: "We are delighted to be heading back out on tour after what has been such a challenging time for us all. Being able to take our team overseas during pre-season is always a key part of the preparation for any forthcoming season – I speak on behalf of all players and staff in saying we have missed being able to do so in recent years.
"A trip to Korea, in particular, is long overdue – we are well aware of the incredible support we have there, with many fans travelling to London to watch our matches in recent years."
Heung-Min Son said: "I am extremely excited to be returning home to South Korea this summer alongside my Spurs team-mates – for most of whom this will be their first visit. I can't wait to see their reaction to the passionate Korean fans and the incredible atmosphere in what we are sure will be packed out stadiums for our matches."
Peter Chung, CEO, AIA Korea, said: "AIA Korea is delighted to welcome Tottenham Hotspur for their first visit to play games in Korea during our partnership, which began in 2013. This is a wonderful opportunity for our customers and partners to meet and watch the team live in Korea. This news comes hot on the heels of our recent announcement that Heung-Min Son is now an Ambassador for AIA Korea and brings further support to our belief that working with both Tottenham Hotspur and Heung-Min Son is a great way to encourage people in Korea to live Healthier, Longer, Better Lives. We will announce further details of our activation plans and customer promotions in due course."
Henri Kamerling, Managing Director of Football and Global Partnerships, Pitch International, said: "We know it's been a long-held ambition of Tottenham Hotspur to play in front of all their fans in Korea and to say thanks for the incredible support they have enjoyed there for many years. We are delighted to have played our part in making that ambition a reality and we are extremely grateful to Coupang for their unwavering support, vision and enthusiasm in bringing together this unique opportunity."
Stephen Kim, Head of Coupang Play, said: "Coupang and Pitch International are pleased to invite Tottenham Hotspur, who people are interested in and love, to Korea and offer a chance for fans in Korea to attend Spurs matches. We are grateful to Tottenham for accepting our invitation and we look forward to showing Korea how wonderful Tottenham is during the team's visit in July."
We shall be announcing further Men's and Women's first team pre-season plans in due course.
*Subject to any COVID-19 guidelines in place.
Asia-Pacific Tour 2023
Tottenham Hotspur will visit Perth, Bangkok, and Singapore during this summer's pre-season tour to face London rivals West Ham United, Premier League counterparts Leicester City, and Italian giants AS Roma.