Eagles hand home defeat to Under-18s
Spurs 2-4 Crystal Palace (Under-18 Premier League)
@SpursOfficial
Sat 05 February 2022, 13:15|
Tottenham Hotspur
Crystal Palace's Ademola Ola-Adebomi completed his hat-trick in stoppage time to consign our Under-18s to a 4-2 defeat at Hotspur Way on Saturday.
Having taken an early lead through Alfie Dorrington, we saw the game turned on its head with two goals in eight minutes from Ola-Adebomi, but continued to battle in a physically-challenging contest and drew level mid-way through the first half when Rio Kyerematen bagged a deserved leveller – just reward on an individual level as well after a terrific run moments beforehand.
The frenetic nature of the opening period continued as Victor Akinwale sprinted clean through to make it 3-2 inside 35 minutes despite loud appeals for off-side and from there, although Kyerematen went close with a deft near-post effort from Tom Bloxham's free-kick at the start of the second half, we couldn't meaningfully trouble Palace goalkeeper Owen Goodman, despite some good play with the ball at our feet.
The visitors sealed the win in the 91st minute as we pushed forward in search of an equaliser, Ola-Adebomi bursting through, leaving Luca Gunter stranded at the edge of the area and then capitalising on a defensive error at the near post to roll the ball into an empty net.
It was a harsh outcome after a spirited performance from our players, who stood up well to the challenges posed by the visitors. Indeed, we took the game to them from the off and were in front inside four minutes, Dorrington venturing forward and steering home a cross from the in-form Bloxham. But Palace forced their way back, Ola-Adebomi bustling past Brandon Bryan-Waugh, who was filling in at centre-half alongside Dorrington, and slotting home from the left angle on nine minutes before Jadan Raymond robbed Under-16s left-back Jayden Meghoma on his first Under-18 Premier League start and set up Ola-Adebomi to fire past the diving Gunter nine minutes later.
An entertaining first half swung back in our favour on 23 minutes as Kyerematen embarked on an excellent run into the box from the left which deserved more than the corner it resulted in. Nevertheless, from Bloxham's set-piece, the ball was cleared out to Max McKnight on the other side, his shot was blocked and justice was done as Kyerematen was on hand to scramble home from six yards. Back came Palace, though, Akinwale evading the off-side trap and beating Gunter one-on-one to restore the visitors' lead on 35 minutes.
The second half brought fewer opportunities, although Kyerematen was inches away from bagging a second with a clever near-post attempt from Bloxham's free-kick three minutes after the restart, but Goodman got there in the nick of time to make the save. Ola-Adebomi and Raymond both went close for Palace as the game went on but as we pushed for a third goal, the former ran through on goal right at the end, beat Gunter and then strolled across from the near post to score after two of our defenders got their wires crossed over an opportunity to clear our lines.
'A good performance but a disappointing result'
Under-18s Coach Stuart Lewis was proud of his side's efforts, but was left to rue a couple of individual errors that led to Palace scoring: "I thought we controlled large parts of the game, we were excellent in between both boxes, we looked bright and we looked like we could hurt them at times, but in football you can't make individual mistakes or lose the ball in critical moments, so the individual learning today will be unbelievable because we have to make better decisions defensively. It gives you a tough game if you don't quite make the right decision in those moments but I was proud of how we played, we had two Under-16s playing which is a massive plus and the rest were first-years, so it was a very young team and we showed some brilliant play at times, but it's about learning from those individual moments.
"Credit to the boys because we showed real courage and bravery in possession, we found a way to keep playing forward and we had a real clear identity to our game which is always important. On the last goal, I felt it was coming, the momentum was with us and it was either going to be 3-3 or them catching us on the counter – we've got to learn from that and have a little bit more imagination in the final third to open up a big, physical side. It was a good performance but a disappointing result."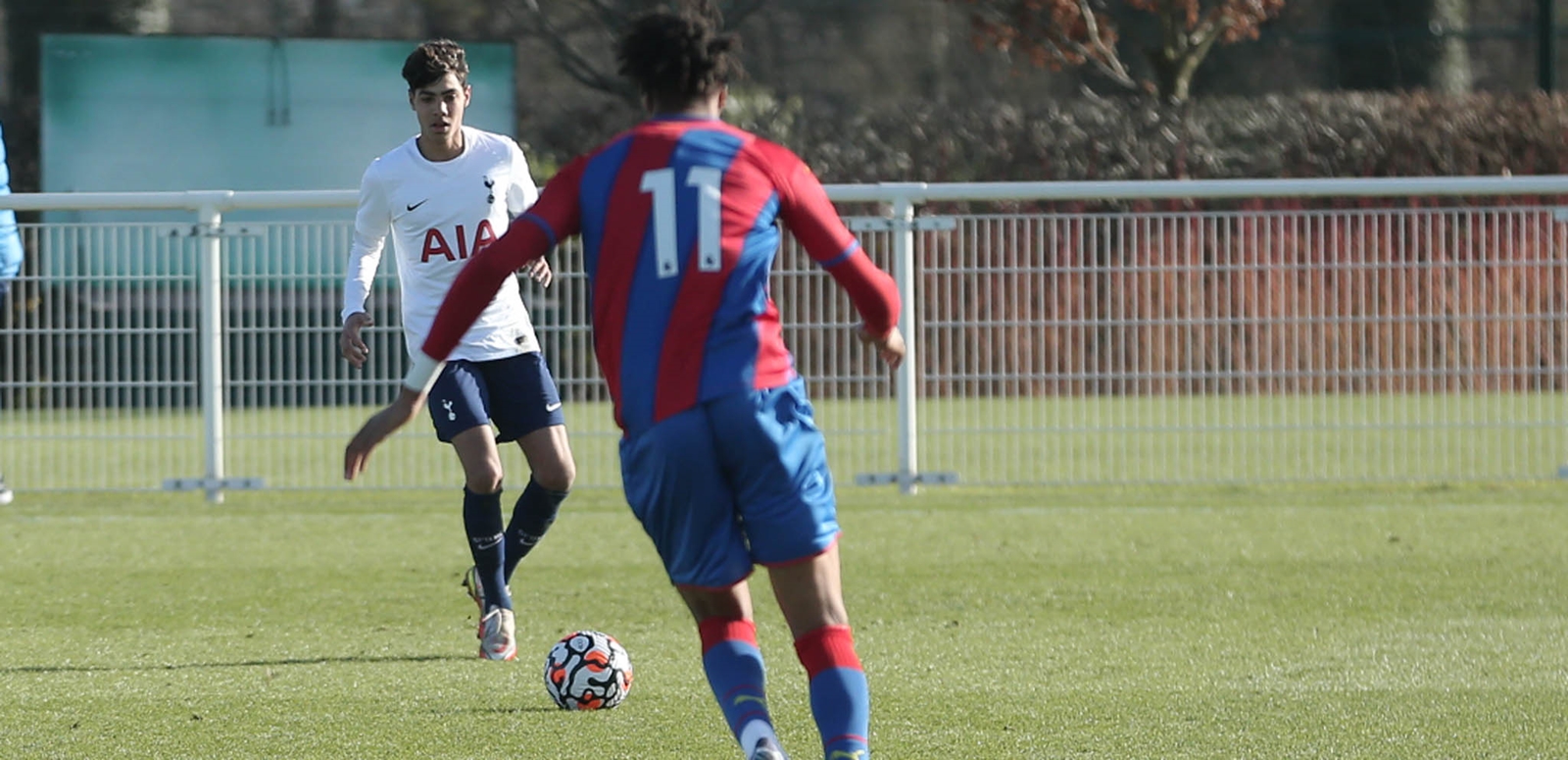 Spurs 2-4 Crystal Palace (Under-18 Premier League)
Spurs: Gunter, Abbott (Linton 78), Meghoma, Willhoft-King, Bryan-Waugh, Dorrington, McKnight, Kyerematen (c), Williams, Donley (Heaps 67), Bloxham (Torraj 78). Substitutes (not used): Maguire, Owen.