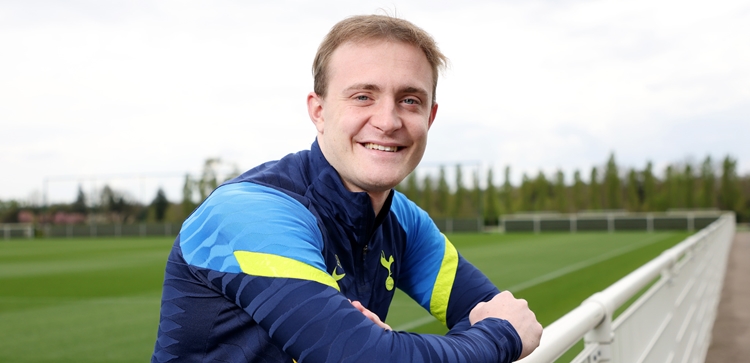 Skipp: "I'm really excited for the next few years"
@SpursOfficial
Wed 20 April 2022, 19:00|
Tottenham Hotspur
Oliver Skipp cannot wait to see what the future has in store for him as he takes the next step of his flourishing Spurs career.
Born locally in Welwyn Garden City and Spurs through and through, Oliver put pen to paper on a new deal with the Club today (Wednesday 20 April) which will run until 2027.
First walking through our doors almost 16 years ago at the age of six, 'Skippy' has enjoyed quite the journey with us so far, rising all the way through our youth ranks before graduating from our Academy and moving into the first team. Now 21 and an established member of our senior squad with over half a century of appearances under his belt, the midfielder is eager to keep progressing in Lilywhite and is excited for the years to come.
"I would never have thought that young boy walking through the doors at six, then signing at Under-9s, would get to this stage," he said in a typically humble manner. "It's been a long journey but (this is) definitely something that I'm really excited for - the next few years.
"I'm delighted to sign this new deal. It's something I'm very grateful for - the support of the whole Club - and I'm just looking forward to the future."
Skippy first made his mark in our colours in the 2018/19 season when he made his first team debut in the Carabao Cup away at West Ham United in the November. That was one of 12 appearances for our number 29 in that maiden campaign, while he was also named as a substitute for seven of our games as part of our fairytale run to the UEFA Champions League Final – including for our semi-final second-leg victory over Ajax in Amsterdam.
With 23 appearances to his name by the end of the 2019/20 season, he then spent the following term on loan at Norwich City where he helped the Canaries to the Championship title, playing 45 of 46 league games and earning a place in the PFA's Championship Team of the Season.
A combative midfielder, confident in taking the ball in any position and moving it on quickly, his progression was clear when he returned 'home' for the start of this season, and by the time injury struck in January, he'd featured in 28 of our 33 matches.
He's been out of action since, and that was the natural next stop for this conversation. How are you, Skippy?
"It's been a really frustrating one for me," he admitted. "I think the most difficult part of it has been the unknown in terms of… like, when I was out before, you knew a set time, two months, but with this one it was about being patient. It's something that is going to happen in football careers, and I'll definitely make sure when I'm back, I'll be right.
"I don't know if you remember the third, fourth game of the season, (I had been) with England, I came back and I think it was the (Crystal) Palace game, so that dates quite far back in terms of I've been having a problem, but I'd been managing to get through it. Then, come the international break, I had an injection - which other players have had in the past – (and) the hope was the original pain would go, but that's not been the case. There have been various times when I felt I was getting there but, with the nature of this injury, it hasn't materialised that I've come back yet."
Antonio Conte has spoken in glowing terms about the England Under-21 international, and he's naturally been soaking up all the information he can not just from a multi-title winning manager, but one of the players of his generation, captain of Juventus and – chiefly – a fellow central midfielder.
"In those few months I had with the boss when he first came in, I think I was really starting to improve and understand his philosophy," said Skippy. "You can see that in the team in the last few games – albeit not at the weekend – but, in the games before that, you could really see everyone implementing his ideas.
"He is a coach who will push you and that really helps me in terms of being someone who always wants to go to the next level, the next target. I feel like I was playing well, but there is still a lot of improvement that can be had, and that's really exciting for the next few years.
"Even when I've been injured, I've been in all the meetings and watching training so, even though you are not out on the grass, you are still understanding the concepts he wants, the philosophy. I think it's almost something I've tried to do, to take on more information, whereas, when you are playing, you try to keep things simple in your mind.
His new contract marks a new chapter in his Spurs story, but what are the next steps for Skippy?
"The obvious thing is to get fit. That will happen and, when I'm back, to push on from the first half of the season I had," he said. "I feel there is a next level I can get to and I'm really looking forward to showing that when I'm back."
More to come? Now, that sounds good!
"Exactly. That's why I'm very grateful," he continued. "I know it's difficult to be in this position where you've been injured for a few months, but I'm certain, when I get back, that I'll continue pushing on and you'll keep seeing improvements in my game, which is really exciting for me."