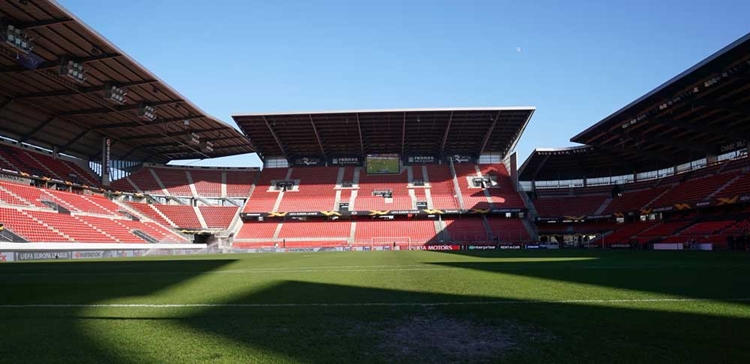 Stade Rennais v Spurs – travel advice
@SpursOfficial
Wed 15 September 2021, 11:01|
Tottenham Hotspur
Supporters travelling to France for our UEFA Europa Conference League group stage match against Stade Rennais on Thursday (16 September) are advised to take note of the following important information.
Kick-off is at 6.45pm local time (5.45pm UK time).
Travel Advice
Supporters are advised to familiarise themselves with the UK government's advice for travelling to France, which includes COVID-19 related requirements of entry and return to the UK.
Supporters over 18 must wear face masks in enclosed public spaces, including on public transport, and will be required to provide proof of their vaccination status to access public services and venues. While some venues may accept the NHS COVID Pass, supporters are strongly advised to download and use the French TousAntiCovid app, information on which can be found below.
Supporters must follow all local COVID-19 guidance.
Travelling to France
The UK is currently on France's Amber list. Fully vaccinated individuals can travel to France without the need to self-isolate providing they can prove their fully vaccinated status at the border using the NHS COVID Pass, and complete a sworn statement regarding COVID symptoms and their exposure to confirmed cases. Fully vaccinated individuals do not need to present evidence of a negative test result before travel.
Supporters are strongly advised to have printed copies of their NHS COVID Pass and sworn statement to save time at the border and to allow increased time for checks to take place. Airlines and other transport providers, such as Eurostar or ferry companies, will not permit boarding without proof of both the NHS COVID Pass and the sworn statement.
Returning to the UK
Fully vaccinated individuals are required to present proof of a negative COVID test taken within the three days prior to arrival in the UK and take a test on or before the second day they arrive. Guidance on booking suitable tests can be found here.
Individuals will also be required to complete a Passenger Locator Form in the 48 hours before arriving in the UK. The form requires a code generated upon booking the second COVID test, so the second test must be booked before completing the form and travelling.
While it is possible to take a COVID test in France, due to limited options in Rennes and major transport hubs where tests are offered requiring advance booking, supporters are strongly advised to book both tests before leaving the UK and, providing they will be returning within three days, take the first test before travelling to France.
Fully vaccinated individuals do not need to self-isolate on arrival in the UK.
Some airlines may require you to present the aforementioned documentation before issuing boarding passes. Supporters are advised to allow extra time at the airport to account for increased processing time and to have printed copies of the documents to reduce time spent at the border.
Visas and Passports
Supporters travelling to France for this match and returning within 90 days will not require a visa.
Supporters are reminded to check their passport is less than 10 years old and is valid for at least three months after the day of departure from France.
TousAntiCovid App
The TousAntiCovid app, available in English on Apple and Android devices, can be used to prove your fully vaccinated status while in France – a mandatory requirement for adults accessing public services and venues, including Roazhon Park, where the match will be played.
Once TousAntiCovid has been downloaded, follow the on-screen instructions to activate the app and add a certificate. Adding a certificate will require scanning the two individual QR Codes generated by your first and second vaccinations. They are available in the Travel section of the NHS COVID Pass area of the NHS App and can be viewed by selecting 'Show details' of 'COVID-19 records found'.
he QR Codes can be downloaded as PDFs, received as offline copies by email, or screenshot on a mobile device and scanned using the TousAntiCovid app. Apple devices offer an Import option where the QR Codes can be scanned by accessing screenshots in the device's photo library. Once the certificate has been validated, select Add to Favourites.
When asked to prove your full vaccination status in France, select 'My favourite certificate' from the Health Pass section of the home screen on the TousAntiCovid app and a QR Code will be displayed for scanning.
Rennes
Roazhon Park is located outside of Rennes city centre.
An administrative order published by French authorities on Tuesday 14 September sets out important information that we ask all supporters to familiarise themselves with and abide by. The Club contacted French authorities regarding these plans and is disappointed that they have been confirmed irrespective of our representations.
The Club thanks Football Supporters Europe and the Tottenham Hotspur Supporters' Trust for their support in this matter. The safety of our supporters remains paramount and we politely ask you to follow instructions provided by local police.
Between 11am – midnight on Thursday, Tottenham Hotspur supporters are not permitted in the city centre of Rennes, unless they are staying at a hotel in the area. Any supporters in the area during this time should not wear any colours or anything that would identify them with Tottenham Hotspur.
For the purpose of this administrative order, the city centre of Rennes is considered to be the area within the following roads, as shown in the map below:
Rue Legraverend, Rue de l'hôtel Dieu, Rue Lesage, Rue du Général Guillaudot, Rue de la Motte, Rue Gambetta, Avenue Jean Janvier, Place de la Gare, Boulevard de Beaumont, Boulevard du Colombier, Boulevard de la Tour d'Auvergne, Place de Bretagne, Quai Saint-Cast and Boulevard de Chézy.
Supporters are also not permitted to drive or park on a public road in the area within the following boundaries that contain Roazhon Park, as shown in the map below:
Western boundary: Ringroad West (RN 136); Northern boundary: Rue de Vezin; Eastern boundary: Rue de Saint-Brieuc and Rue Louis Guilloux; and Southern boundary: the River Vilaine.
Between 11am – midnight on Thursday, the sale of alcohol to take away as well as consume on public roads is not permitted on Mail François Mitterrand, Rue Louis Guilloux and Rue de Lorient, nor in the area within the following roads:
Rue de Lorient at the Rue Moulin du Comte intersection, Rue Moulin du Comte, Quai Eric Tabarly at the Rue Moulin du Comte intersection and Rocade West.
The sale of alcohol in bars and restaurants is only permitted on premises and to supporters who can present COVID certification via the TousAntiCovid app or printed copies of proof of full vaccination.
Recommended Area for Supporters
Supporters are advised to visit the bars and restaurants on Mail François Mitterrand (please see map below) on the day of the match, which is 1.6km from the stadium.
Supporters can walk to the stadium from Mail François Mitterrand, which will take approximately 20 minutes – local police have advised that should supporters wish to walk together to the stadium with a police escort, this will depart the area at approximately 5pm. Alternatively, the Number 11 bus can be taken to the stadium in approximately 10 minutes.
Supporters should not visit any bars on Rue de Lorient outside the stadium.
The official currency of France is the Euro.
The Club's Travel Line – +447917 880445 – will be available throughout the day and evening of the match for any supporters experiencing problems.
At Roazhon Park
Supporters are required to exchange their Tottenham Hotspur voucher for a match ticket at the Visitors' Ticket Office at Gate 14, which will be open from 2pm on the day of the match.
The stadium will open at 5.15pm and the Visitors' Section is accessed via Gate 15. On arrival, supporters should be prepared for the following checks:
- COVID-19 certification check using the TousAntiCovid app (supporters who do not own a smartphone will be able to show the printed version of their NHS COVID Pass used to enter France)
- Match ticket check
- Body search
- ID check (a physical form of ID such as a driving licence is preferred, but if a passport is the only form of ID a supporter has, a photo of the relevant page on a mobile device will be sufficient)
Supporters are advised to arrive in plenty of time to collect their tickets from the Visitors' Ticket Office and go through entry procedures in time for kick-off at 6.45pm.
Accessibility
Wheelchair users will be greeted at Gate 15 and escorted to their area. Accessible stewards from Stade Rennais and Tottenham Hotspur will be on hand to offer any support required.
Comprehensive and tailored travel advice will be sent directly to all supporters with accessible needs.
Alcohol
French law requires that no alcohol is served to any supporters in the stadium.
Bag Policy
Small bags are allowed into the stadium providing they are no larger than 45cm in length, 35cm in width and 30cm in depth. There is no storage facility for larger bags.
Flags
Flags and banners without poles are permitted providing they do not contain any offensive, discriminatory or political content or feature advertising. Flags will be checked by Stade Rennais stewards before admission. Tottenham Hotspur stewards will be on hand to support if necessary.
Payments
Kiosks will accept card and cash payments for food and drinks.
Battery Packs
Supporters will be permitted to bring battery packs for mobile devices into the stadium.
Prohibited Items
The following will not be allowed into the stadium:
- Animals
- Bottles
- Cans
- Fireworks or pyrotechnics
- Glassware
- Helmets
- Lasers
- Motorcycles
- Professional photography equipment
- Rollerblades
- Safety footwear
- Tools
- Vuvuzelas
- Weapons
Leaving the Stadium
Once inside the stadium, supporters will not be permitted to leave until around 20 minutes after the final whistle.
Supporters can walk or use the bus to get back to Mail François Mitterrand and are reminded that they should only visit the city centre if their hotel is in the area. Supporters heading to the city centre should not wear colours.
Public transport will be in operation until midnight.
Spurs Respects
We are proud of our superb and loyal support at home and away. We all have a responsibility to act as ambassadors of Tottenham Hotspur Football Club and act as considerate visitors to those who live and work in the cities and countries we visit. Please respect local customs and traditions by not placing flags or banners on local statues or monuments.
Please respect local COVID-19 measures and wear face coverings at all times when on public transport and in public venues.
We recognise that most supporters want to watch a football match and not to listen to abusive or indecent language from the stands. Discriminatory behaviour which includes shouting, chanting or actions such as racist, sectarian, homophobic, sexist or anti-disability behaviour is unacceptable.
If you witness incidents like these, please notify a steward immediately.
We wish our supporters a safe and enjoyable trip and look forward to seeing your cheer on the team in Europe once again.