Under-23s put four past Everton
Spurs 4-0 Everton (Premier League 2)
@SpursOfficial
Fri 26 November 2021, 21:11|
Tottenham Hotspur
Four goals and three points for the second time in five days - our Under-23s rounded off a fine week's work with a 4-0 victory over Everton at Stevenage on Friday night.
Carrying on from where we left off in Monday's 4-1 triumph at Leicester City, we went ahead inside 27 seconds against the Toffees through Jack Clarke and although visiting captain Ryan Astley nearly got his side back on level terms with a pair of first-half headers, we pushed on to win comfortably in the end.
Captain Harvey White was influential as we scored three goals after half-time, the midfielder setting up Dilan Markanday to sweep home for 2-0 before crashing a shot in off the underside of the bar to put us out of sight with just over an hour gone.
Adding to his two goals against Leicester, he subsequently provided a second assist of the night as defender Malachi Fagan-Walcott powered in his second goal in as many games.
Tom Cannon struck the post late on for Everton but we were well on our way by that point, moving up to third in the Premier League 2 table.
Clarke pounced on a loose ball in the final third to slide past Everton goalkeeper Harry Tyrer and give us the perfect start, while Nile John's low driven cross caused problems for the stopper a few minutes later, Tyrer relieved to see the ball spin beyond the outside of the post as it slipped from his grasp. Opposite number Thimothee Lo-Tutala saved well from Cannon at the other end moments later, with Astley heading Rhys Hughes' resulting corner over from six yards. The same two Everton players combined again from a corner on 36 minutes, with Astley left kicking himself once more as he this time attacked the ball at the near post but planted his header wide.
In between those attempts, Fagan-Walcott's header drifted just wide for us after White's free-kick had deflected off the Everton wall, while Tyrer had to scramble down to his right to keep out John's attempt from the edge of the box in the lead-up to half-time.
Five minutes into the second half, we doubled our lead as White's cross from close to the byline on the left took a deflection at the front post and fell to Markanday in the middle of the six-yard box, who duly swept home his 11th league goal of the season.
Both goalkeepers saved well from Clarke and Hughes respectively before some excellent work from Marcel Lavinier set up our third goal on 62 minutes, the full-back embarking on a great run from deep and shrugging off a couple of challenges before picking out White in the box, who scored with an emphatic finish via the woodwork from the right angle.
Hughes sent a free-kick just wide for the visitors but we continued on the front foot and White's cross was headed home by defender Fagan-Walcott on 76 minutes to make it 4-0 - his second goal of the week, having previously gone more than 18 months without hitting the target. There was more good news soon afterwards as Jeremie Mukendi made his return off the bench after a long absence through injury, the attacker applauded onto the pitch by fans and team-mates alike.
Everton's Cannon had the final chance of note, crashing a shot against the far post from the left side with five minutes remaining, but our second clean sheet of the season ultimately remained intact, another plus point from an all-round positive performance.
'We adjusted a few things at half-time to make us a bit more threatening'
Under-23s Coach Wayne Burnett said: "Everton are never an easy team to play - I know their coach David Unsworth well and his teams are always hard to play against - but I thought tonight we were always in control. We adjusted a few things at half-time which I think helped to make us a bit more threatening and once we did that, we had a number of chances and scored three more goals. We haven't had a problem with creating chances this season, we've got some good attacking players who are very good in one-v-one situations, but we've had more of a challenge trying to keep clean sheets, so I'm really pleased this evening to see the players earn one of those. We worked hard, not only as a defensive unit but also as a team and one of the most pleasing things for me was the work ethic we showed, to see us pressing and trying to regain possession right until the end. Once you start to do that, it becomes a habit, so it was pleasing to see that materialise tonight, based on the work that we do."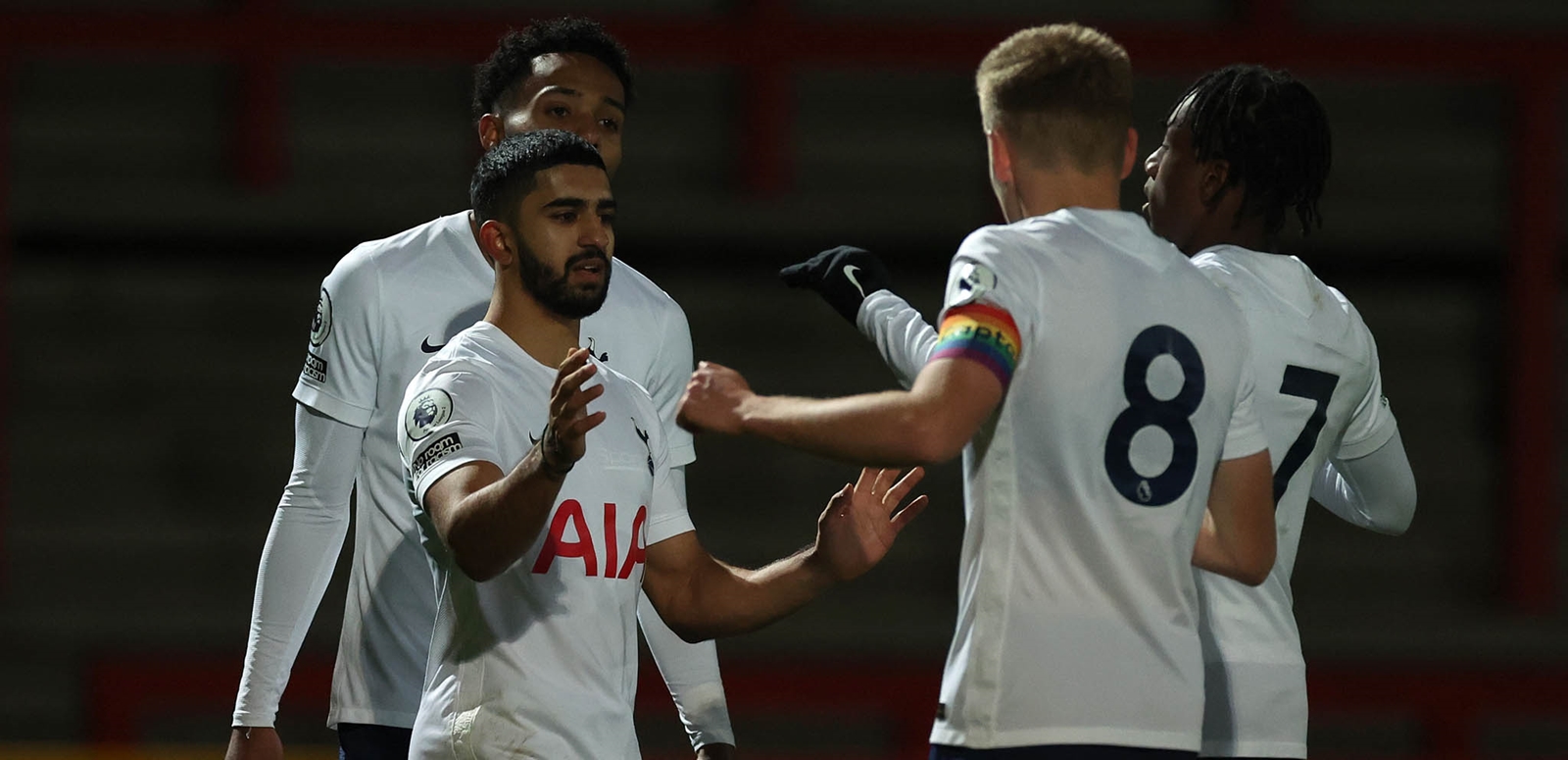 Spurs 4-0 Everton (Premier League 2)
Spurs: Lo-Tutala, Lavinier, Cesay, Lyons-Foster (Matthew Craig 78), Fagan-Walcott, Omole, Mundle (Mukendi 83), White (c), Clarke, John, Markanday (Michael Craig 79). Substitutes (not used): Oluwameyi, Santiago.

Everton: Tyrer, John, Anderson, Welch, Astley (c), Warrington, Mills, Onyango, Cannon, Price, Hughes. Substitutes (not used): Barrett, Hunt, Campbell, McAllister, Higgins.
Match data
Goals: Spurs - Clarke 1, Markanday 50, White 62, Fagan-Walcott 76.
Yellow cards: Spurs - Mundle 69, Cesay 84.
Referee: Gary Parsons.
Venue: Lamex Stadium, Stevenage.
Weather: Light winds, three degrees.
Attendance: 185.