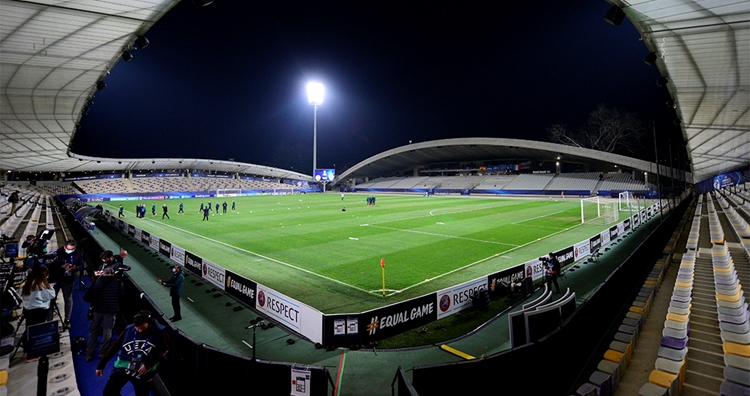 Important information for fans travelling to Slovenia for NS Mura
@SpursOfficial
Thu 25 November 2021, 11:15|
Tottenham Hotspur
Supporters travelling to Maribor, Slovenia, for our Europa Conference League group stage match against NS Mura on Thursday 25 November are advised to take note of the following important information...
A reminder that kick-off is 6.45pm local time (5.45pm UK time).
Match tickets
Match tickets will now be issued directly to supporters by email and can be shown on a mobile device or printed to enter the stadium. Supporters who have not received their match ticket by 4pm on Monday 22 November should contact the Ticket Office via email on - ticket.office@tottenhamhotspur.com.
Travel advice
Supporters are strongly advised to familiarise themselves with the UK government's advice for travelling to Slovenia, which includes COVID-19 related requirements of entry and of return to the UK.
Supporters travelling via other countries, such as Austria or Croatia should familiarise themselves with the UK government's advice for travelling to and from those countries.
UK government's advice for travelling to Austria and COVID-19 related entry requirements.
UK government's advice for travelling to Croatia and COVID-19 related entry requirements.
Proof of vaccination status and negative test result
UK nationals can enter Slovenia providing they are fully vaccinated against COVID-19 or can provide proof of the following:
- Negative PCR test result not older than 72 hours
- Negative Rapid Antigen Test result not older than 48 hours (please note this will not include an NHS Lateral Flow Test)
- Positive PCR test that is older than 10 days but not older than six months, confirming the traveller has had COVID-19 and not more than six months have passed since the first symptoms
Demonstrating COVID-19 status
Slovenia will accept a paper or digital copy of the NHS COVID Pass for proof of COVID-19 recovery or vaccination when entering the country. The NHS COVID Pass will also be accepted when using public venues or services. Supporters travelling with a printed PDF proof of vaccination status must have generated their QR Code certificate for travel, rather than domestic use, from 1 November to ensure it can be scanned successfully.
An NHS appointment card from a vaccination centre should NOT be used to demonstrate vaccination status.
Digital Passenger Locator Form
Anyone entering Slovenia via an airport or ferry terminal will be required to complete a Digital Passenger Locator Form 24 hours before arrival in Slovenia. On completion of the form, passengers will receive a QR code which must be shown to Border Police on entry.
The Digital Passenger Locator Form can be found here.
Supporters entering Slovenia by land are not required to complete the form.
Supporters are strongly advised to have printed copies of their NHS COVID Pass and Digital Passenger Locator Form to save time at the border and to allow for increased time for checks to take place.
During your stay
New COVID-19 measures took effect in Slovenia on 8 November.
Full details on the measures can be found here and supporters should be aware of the following:
- Surgical or FFP2 type masks are mandatory in all enclosed public spaces, on public transport, in open places and outside where a distance of 1.5 metres cannot be maintained. Fabric masks are no longer permitted
- All visitors to public venues and services such as shops, restaurants, bars and public transport are required to be fully vaccinated, have a negative COVID-19 test result or have evidence of recovery from COVID-19 in the last 180 days. Evidence that supporters meet one of these requirements, alongside valid photographic identification will be requested before accessing a service. Negative PCR test results are valid for 72 hours from the time the test was taken and negative rapid antigen test results are valid for 48 hours from the time the test was taken. Supporters requiring either test while in Maribor can find information here
- Public sports events, including NS Mura v Tottenham Hotspur, are only allowed where fixed seating is provided and where every other seat can be left vacant. The use of surgical or FFP2 face masks is mandatory and all participants must show proof of their COVID status and valid ID, as per other public venues
- Restaurants and bars can only open between 5am and 10pm and can only provide table service indoors and outdoors
- Nightclubs, bars and restaurants offering entertainment such as music or dance are not allowed to open
- All other public events, public gatherings and celebrations are temporarily prohibited and are only allowed for groups of people who are immediate family members or share the same household
Supporters are strongly advised to have valid travel insurance for their stay in Slovenia.
Returning to the UK
Vaccinated individuals
Fully vaccinated individuals must arrange for a COVID-19 test to be taken on or before the second day of arrival in England. This can be a PCR or rapid lateral flow test and must be booked in time for the test to be delivered to you in the UK.
Guidance on booking a suitable test can be found here.
Supporters must also complete a Passenger Locator Form in the 48 hours prior to arriving in England. The form requires a code generated upon booking your return COVID-19 test.
Fully vaccinated individuals do not need to self-isolate on arrival in the UK.
Some airlines may require confirmation of necessary documents such as proof of COVID-19 status and Passenger Locator Forms before issuing boarding passes. Supporters are advised to allow extra time at the airport to account for increased processing time and to have printed copies of documents to reduce time spent at the border.
Visas and passports
Supporters travelling to Slovenia for this match and returning within 90 days will not require a visa.
Supporters are reminded to check their passport is less than ten years old and is valid for at least six months before travelling.
Supporters can check whether their passport is valid for travel here.
Maribor
No areas of Maribor have been identified as ones which should be avoided by supporters. The Club's Travel Line - +447917 880445 - will be available throughout the day and evening of the match for any supporters experiencing problems.
Photographic ID is required alongside proof of COVID-19 status to enter public venues, so should be carried at all times.
Should supporters lose their passport, an Emergency Travel Document (ETD) can be requested here.
Supporters requiring assistance from the British Embassy during their time in Slovenia should call +386 1 200 39 10 and select the Consular option.
The official currency of Slovenia is the Euro.
Recommended area for supporters
Supporters are advised to visit Grajski Trg Square on the day of the match. The square is a 10-15 minute walk from the stadium. Bars and restaurants in the area will be open until 10pm when they are required to close by law due to COVID-19 restrictions.
Travel to Stadion Ljudski vrt
A walking police escort will depart from Grajski Trg Square at 5.30pm. While it is not mandatory for supporters to join the escort, it is highly recommended by local police for security reasons.
At Stadion Ljudski vrt
The stadium will open at 5.15pm and the Visitors' Section is accessed via Turnstile 7.
On arrival, supporters should be prepared for the following checks:
- COVID-19 vaccination or negative test result check. The NHS COVID Pass will be accepted as proof of vaccination
- ID check (a photograph of a passport or driving licence will be accepted, though physical copies of ID will be required to access other public services)
- Match ticket check
- Body search
Supporters are advised to arrive in plenty of time to go through entry procedures in time for kick-off at 6.45pm local time.
COVID-19 measures at Stadion Ljudski vrt
Social distancing will be in place in the stadium and supporters must ensure they sit in assigned seats, with an empty seat either side of them.
Surgical or FFP2 type masks must be worn at all times, including while in seats.
Food and drink
Due to local COVID-19 restrictions, no food and drink will be available to purchase. NS Mura staff will make water available to any supporter requiring it.
Alcohol
No alcohol will be available at the match.
Bag policy
Small bags are allowed into the stadium providing they are no larger than 30cm in length, 21cm in width and 10cm in depth. There is no storage facility for larger bags.
Flags and banners
Flags and banners no larger than 2m x 1.5m and without poles are permitted providing they do not contain any offensive, discriminatory or political content or feature advertising. Flags will be checked by local stewards before admission. Tottenham Hotspur stewards will be on hand to support if necessary.
Battery packs
Supporters will be permitted to bring battery packs for mobile devices into the stadium.
Prohibited items
The following will not be allowed into the stadium:
- Animals
- Bottles
- Cans
- Drones
- Drugs
- Fireworks or pyrotechnics
- Food
- Glassware
- Helmets
- Megaphones
- Professional photography equipment
- Weapons
Leaving Stadion Ljudski vrt
Once inside the stadium, supporters will not be permitted to leave until around 15 minutes after the final whistle.
Public transport operates in Maribor until around 11pm.
Spurs Respects
We are proud of our superb and loyal support at home and away. We all have a responsibility to act as ambassadors of Tottenham Hotspur Football Club and act as considerate visitors to those who live and work in the cities and countries we visit. Please respect local customs and traditions by not placing flags or banners on local statues or monuments.
Please respect local COVID-19 measures and wear face coverings at all times when on public transport.
We recognise that most supporters want to watch a football match and not to listen to abusive or indecent language from the stands. Discriminatory behaviour which includes shouting, chanting or actions such as racist, sectarian, homophobic, sexist or anti-disability behaviour is unacceptable.
If you witness incidents like these, please notify a steward immediately.
We wish our supporters a safe and enjoyable trip and look forward to seeing you cheer on the team in Europe.