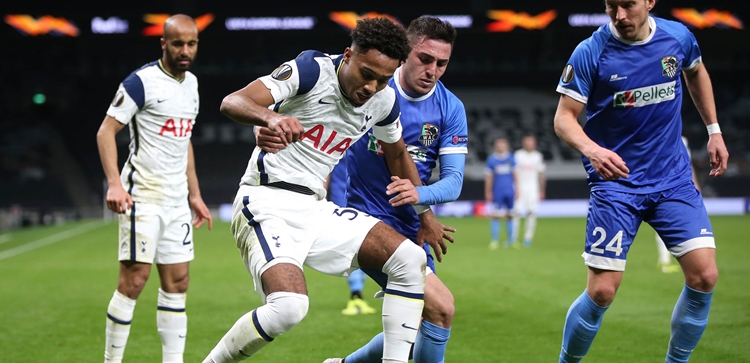 Playing on your first visit to the stadium and last-minute suit fittings – debutants reflect on 'surreal' experience
@SpursOfficial
Thu 25 February 2021, 15:48|
Tottenham Hotspur
One has been at the Club for just under a season while the other has been here – as Jose Mourinho put it – "since he was a baby". Yet the latest young starlets to step up from our Academy to make their first team debuts shared equal levels of joy after playing a part in Wednesday's Europa League win over Wolfsberger AC.
Right-back Marcel Lavinier, 20, only joined us last summer after 12 years in Chelsea's youth system but has made impressive progress as a regular starter for our Development Squad this term, while central midfielder Nile John has been with us since he was seven, working his way up through the ranks and excelling for our Under-18s over the last couple of seasons while also stepping up to play a handful of games for the Under-23s since the turn of the year.
Both were given their senior professional debuts by Jose Mourinho in the second half of our 4-0 second-leg win over the Austrian Bundesliga visitors at Tottenham Hotspur Stadium as we completed a resounding 8-1 aggregate scoreline to book our place in the last 16 of the Europa League.
Remarkably, it was the first time Marcel has ever set foot inside our new home, having only ever previously seen it from above – what an introduction it was!
"I've done the Skywalk up on the stadium but it's my first time in here – it's an amazing stadium, I'm just happy that I could have this special achievement and make my debut here," beamed the full-back. "It's surreal. As soon as I got on the pitch, I was like 'wow', and thinking that this is what I want to do on a regular basis.
"The boys did well, dictated the game, defended well and kept a clean sheet which was good and, for me personally, I'm so happy to make my debut – it shows that the hard work that I've been putting in is finally paying off and I just hope there's more to come. I've got to thank all the coaching staff at Tottenham, Jose Mourinho, the Under-23s coaching staff… everyone behind the scenes because I haven't done it by myself, I've been supported by them and ever since I've come here I've felt welcomed, I've felt supported and once I get that feeling, I can just go on the pitch and the rest takes care of itself really. I've had a taste of it now and I want to try to get back to it, and to do all I can to make sure that this is a regular thing."
What's next for Marcel? "We've got a game on Friday for the Under-23s against Blackburn so the focus goes onto that straight away," he said. "We're joint-third in the table, Blackburn are second, so it's a big game. I've just got to make sure I keep my head down, stay humble, keep training and keep doing the things that I was doing before to make sure I can get an opportunity like this again."
As for Nile, who was outstanding for our Under-18s at Aston Villa on Saturday, the week started off normally, with the 17-year-old studying for his BTEC Level 3 Extended Diploma in Sport on a Zoom call from home as part of our ongoing Academy education programme – until he got a phone call…
"I was in education at home on Monday morning and I got a call from Dean (Rastrick, Academy Manager) at about 10.30 saying that I was with the first team," explained the youngster, who is also studying A-Level economics. "I assumed I was going to be training with the first team, then when Tuesday came I found out I was involved in the squad, I was getting my suit fitted and things like that, so it was a crazy experience!
"It was surreal being out there on the pitch, something that I'd dreamed about, making an appearance for the first team. I was very nervous when the time came but I felt like I kept my cool, tried to do my best for the team and I was really happy to make my debut. It says a lot with the staff and the players that are at this Club – it shows that players who work hard can get the opportunity under a manager who believes in youth, so it's something to always look up to and build towards because it can happen and I'm an example of that, likewise with Dane (Scarlett) as well. I'm, extremely thankful to Jose and his staff for giving me this opportunity and it's something that hopefully I can progress with, maybe potentially a Premier League debut when the time is right. That's something I'm striving for and working towards and with the help of the staff and me pushing myself as much as I can, hopefully it can come."
Reflecting on the chance to play at our world-class new home for the first time, Nile continued: "The stadium is beautiful. It's unfortunate that the fans weren't there, but it's something that we can build towards when they're here – bringing back the atmosphere, giving players what's needed, which is encouragement and the full support of our fans, so I can't wait for that to happen and hopefully I can make my 'debut' with the fans soon. I've been here to watch games before the pandemic and as a fan, you can really feel it – the stadium is absolutely beautiful, so it was a surreal experience to play on the pitch."
In addition to Marcel, Nile and striker Dane, who grabbed an assist on his third senior appearance for us, talented Development Squad attacking midfielder Dilan Markanday, 19, also picked up his first experience of being in a first team matchday squad with a place among the substitutes.
"It was an incredible experience being on the bench for the first team for the first time, especially in the Europa League – such a big stage," smiled Dilan, who scored in the first ever game at Tottenham Hotspur Stadium when our Under-18s took on Southampton in a Test Event match in 2019 and also played for our Under-23s against Manchester City at the stadium at the beginning of last season.
"It was amazing to be out here, to be part of the group – it's just a shame there were no fans here as that would have been really special. The intensity and quality is so high here in the first team – the communication, everyone is talking, the professionalism on and off the pitch as well… you see the way they eat and the way they prepare for the games in the changing room. It was really eye-opening and a great experience for me."