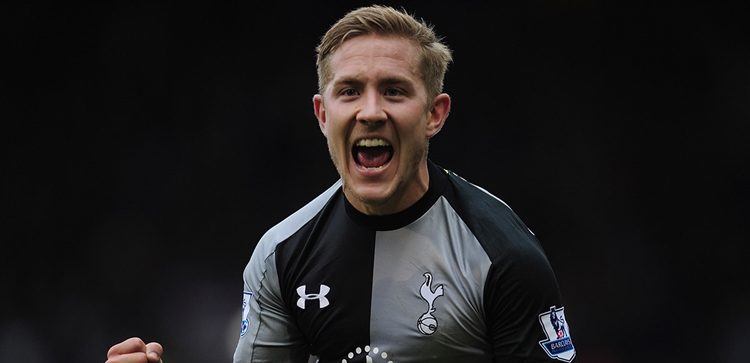 "I had crazy emotions" - catching up with former Spur Lewis Holtby
@SpursOfficial
Fri 10 December 2021, 13:30|
Tottenham Hotspur
A creative midfielder who was full of heart and desire, it's approaching nine years since Lewis Holtby walked through the doors at Hotspur Way – January, 2013. He went on to make 42 appearances in our colours, scoring three goals. We recently caught up with the Germany international to discuss his time at the Club and find out what he is up to now…
Dynamic and passionate on the pitch, Lewis Holtby became a fans' favourite during his brief stint in north London with his spirited and tenacious performances in a Spurs shirt. Now aged 31, his playing career continues back in his homeland of Germany as he turns out for 2. Bundesliga side Holstein Kiel.
An energetic midfielder, Lewis was born and raised on the German border with the Netherlands in the town of Erkelenz and kicked off his footballing education with Borussia Mönchengladbach. Moving to Alemannia Aachen soon after to continue his development, it was with the North Rhine-Westphalia side that he made his professional debut at the age of 17, however it was during his time at Schalke 04 where he made his name.
Having enjoyed a bright loan spell at Mainz 05 in the 2010/11 season, producing performances that earned him his first call-up to the German national team, he then starred at the Veltins-Arena alongside a new crop of German talents including Manuel Neuer, Benedikt Howedes and Julian Draxler, enjoying two top four finishes in the Bundesliga and a journey to the Europa League quarter-finals in 2012.
Come the 2012/13 season though, Lewis was keen for a new challenge, and that came for him here in his father's homeland, as he made the move to England to join us in January, 2013. Making a bright start to his Spurs career under Andre Villas-Boas, he showed his creative vision and energy from the off and soon became a popular figure with our fanbase at the Lane.
His first goal in our colours came against Dinamo Tbilisi in a Europa League qualifier at the start of the following season – a competition he went on to have a significant impact in that term with five goal involvements in four starts. In the December, he opened his account in the Premier League and in spectacular fashion, helping Villas-Boas to an important win with a stunning strike at Fulham.
Just two weeks later though, the Portuguese coach departed, and Tim Sherwood took charge – a change which limited Lewis' opportunities in the team. Come the January transfer window, just over a month after scoring there, the midfielder was, rather ironically, heading back to Craven Cottage to join Fulham on loan and help their fight against relegation.
The following summer, the former Schalke man did return to our doors but only briefly as, at the start of Mauricio Pochettino's reign as manager, he made just three further appearances for us before making the decision to return to his homeland in search of regular first team football.
He experienced just that at Hamburg where he became somewhat of a hero at the Volksparkstadion in the German giant's perennial battles for survival in the Bundesliga. Following the expiry of his contract in 2019 though, he returned to these shores once more and joined Blackburn. His time with Rovers, however, was fraught with struggles amid the Coronavirus pandemic – difficulties which ultimately saw him return to Germany this summer to continue his playing career and settle down with his young family in Kiel.
"It was tough. The pandemic made it quite difficult for everyone in some way. For me, it was living abroad and away from the family and so it was in the best interests of my family to go back to Germany because, at that time, it was uncertain what was going to happen," explained Lewis. "Because of the tough time, and I had just had a little girl in the middle of the pandemic – our baby was born in Germany because of safety reasons and with family being there – so, we chose to go back to Germany and settle.
"Kiel is in the very far north of Germany. It is based on the east, on the Baltic Sea. It is a lovely place by the sea and a lovely club. It has evolved over the past years. Last season, they were nearly promoted to the Bundesliga, they played some good attacking football, and it was a club that I saw was best for me and I'm very happy to be here.
"It is a bit difficult this year because the manager left, a lot of players also left the club, so it has been quite a bit of turnaround, trying to find the identity and rhythm again. Basically, we want to play good football, try to get to the top half of the table and we're quite the underdog with 10,000 people attending the games, if they are allowed. It is quite small, but it is a great club and I'm enjoying playing here."
Before departing our doors in the summer of 2014, Lewis Holtby was one of a number of first team players to appear in Ledley King's testimonial at White Hart Lane in the May of that year. While many Spurs fans will remember the German's unexpected, but now iconic, challenge on referee Howard Webb late in the second half, it is the moment in which all corners of the Lane stood to show their appreciation to the German which remains in his heart and mind to this day.
"Obviously I had been on loan at Fulham, but I got invited to play at Ledley's testimonial event which was an honour for me," he said.
"Firstly, Howard Webb is a funny character, a lovely guy and in the tunnel before the game he said, 'let's just have fun guys and enjoy this moment with Ledley' and the tackle came out of the blue. He just took the ball off me and my first instinct was just to clobber him. The tackle was a bit of a scissor action. Obviously, I didn't hurt him, which is one good thing but then the other good thing is how it ended up going viral. It was a funny scene, but he was quite good with it.
"Then, when the whole stadium sang to me, 'we want you to stay', it made really crazy emotions in me. I get goosebumps thinking about it now. I really wanted to stay but, at the end of the transfer window in 2014, we made that last minute decision to go back to Germany.
"I think the uncertainty had (brought about my decision to leave). I really loved game time. I wanted to play. I didn't want to be a squad player - at that age especially. If you are a different age, you think about it differently. At that age I loved playing every week rather than 10 or 15 minutes in the Premier League.
"I made a decision to play football but, if I had the brain I do today, I probably would have stayed because Spurs is such a special place."