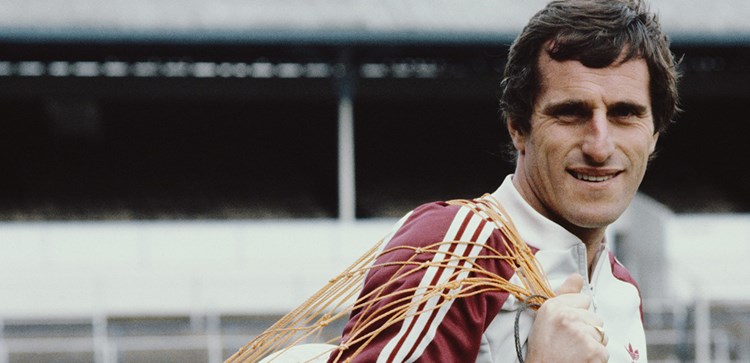 Legend on the pitch, 'remarkable man' off it - tributes to Ray Clemence
@SpursOfficial
Mon 16 November 2020, 13:07|
Tottenham Hotspur
Ray Clemence's football career speaks for itself and as we come to terms with losing one of the great goalkeepers of his and any generation, we've also lost a special person. Ray passed away peacefully on Sunday following a long battle with illness, surrounded by his loving family. He was 72.
Ray won five league titles, three European Cups, two UEFA Cups, the FA Cup and League Cup during 14 years at Liverpool. Between February, 1970 and May, 1981, he featured in 660 of Liverpool's 668 senior games.
Capped 61 times by England, Ray joined Spurs in August, 1981, aged 33, and went on to make 330 appearances for us until his retirement due to a knee injury in March, 1988. He won the FA Cup at the end of his first season here in 1982 but was injured and an unused substitute for our UEFA Cup triumph of 1984. His final appearance was against Norwich City on 10 October, 1987, taking his career tally to 1,119 first-class matches.
Ray was awarded the MBE in 1987 and, following retirement, became our goalkeeping coach in 1988, combining that role with duties as reserve team manager from June, 1989 and assistant to first team coach Doug Livermore from May, 1992 to June, 1993. He took the post of England goalkeeping coach in August, 1996, and started another 17-year association with the Three Lions. He retired as The FA's head of national teams at the end of October, 2013.
Legend, leader, character, winner, 'one of the gang', a gentleman, a remarkable man, a fighter who Paul Miller says 'will never be replaced', tributes have poured in for this great of the game...
Steve Perryman
Team-mate and Ray's captain at Spurs, 1981-86
"We've lost a magnificent soldier from our ranks. It was a privilege to have known him and to be able to call Ray a trusted colleague. RIP, sir! Respect and condolences to his lovely wife and children. He fought a great fight, the biggest of his life, and is now at rest."
Glenn Hoddle
Team-mate at Spurs, 1981-88 and England, 1979-83
Ray was in goal for Glenn's England debut v Bulgaria, 1979
Glenn brought Ray into his England coaching fold in 1996
"I saw Clem four weeks ago with Ossie, Paul Miller and John Lacy. It was a lovely two or three hours. The way he fought this illness for 15 years just shows you his fighting spirit and what a winner he was, to overcome it and have that extra time with his loved ones, it's quite amazing. That summed Clem up, the strong mind he had as a sportsman and a person. Clem had that lovely balance where he was so amicable, he was the life and soul of the party, that charisma, that sense of humour, and that's what I loved about him. We had so many laughs over the years, so many. But he was also so, so professional. On a matchday, he'd switch to what I called his 'matchday head', his strength of mind and professionalism took over, and it was a lesson and example for everyone. That's what he brought to the Club. I was so impressed because he had so much success at Liverpool, yet he never, ever used that at Tottenham. You never heard him say on the coach coming back from a game, win, lose or draw, or in training, 'when we won this, when we won that, this is how it was done at Liverpool'. He never used what he did at Liverpool to put us under pressure. Clem was special, very demanding, did his job, a wonderful goalkeeper and a wonderful guy.
"Later, he was part of my staff for England. I took him out of management at Barnet to England and he outlasted me and a few others as well! The final whistle against Italy in Rome, when we qualified for the 1998 World Cup, that summed it all up really, how important it was for the country, and ourselves. The feeling we had for each other, with John Gorman as well, it was a wonderful time, and lovely to have Clem around. I remember many times walking into the office at Lancaster Gate and then Wembley and there would be raucous laughter coming from an office, I'd walk in and Clem would always be in the middle of it! He was a wonderful man and he will be missed so much."
Ossie Ardiles
Team-mate 1981-88
"Ray was a brilliant man. Of course, a legend, everything in football, but more than anything else, he was a remarkable man. Right from the beginning from when he arrived at the Club, he gave us a toughness. The team was good, yes, but Ray gave us that steel we didn't have. He was brilliant on the pitch and off the pitch. Later in life, the way he fought his illness was incredible, really. It was a life lesson. He will be sorely missed. We'd see each other all the time. We lived close together, so we'd go to games together, taking one car, he'd normally drive. We were all close, not just me, but all the legends from that era. It's very, very sad. Luckily, I had the chance to say goodbye, and he retained that sense of humour until the end... true to himself until the very last moments."
Jose Mourinho
Spurs Head Coach
"First of all, it's a sad loss for his family, that's most important. Ray is a legendary goalkeeper, my generation. We look at him as an incredible goalkeeper, a little advanced in his time, if you compare the goalkeepers of his generation, he was ahead, super elegant, amazing with his feet, amazing with his positional play. The image I have of him is with an incredible generation of goalkeepers, a little younger than my dad, but my dad was also a goalkeeper, so at home we used to look at the best goalkeepers in the world of that generation... Sepp Maier, Dino Zoff, Ray Clemence. They were the top ones."
Paul Miller
Team-mate 1981-87
"Ray leaves one of the biggest legacies because he came to our club and helped to change it. He came just after we won the cup (in 1981) and he changed our attitude, our professionalism and helped to take it to another level with what he'd learned by winning things at Liverpool - he brought that same winning mentality to us with his way of doing things, his own strong mentality. He was a fantastic character. As everyone knows, we ex-players are all still close today - that proves how strong the relationship was that we had. That would be his legacy. He affected so many people and that's why we're seeing so many wonderful tributes. He coached under six England managers which is testament to him - he got on with all of them, they wouldn't have had him otherwise. Clem was a wonderful character and personality, he was larger than life and he'll leave great memories with all of us.
"He was fearless as a goalkeeper and very, very aggressive. Not many strikers at all would dare to go near him because he was ruthless. He quite enjoyed it actually - when he came out, he cleared everything in front of him! He was a wonderful goalkeeper and certainly, along with Pat (Jennings), the best of our generation and any generation. It was a privilege and pleasure to be close to him. I'll miss him tremendously because he was one of our gang. He'll never be replaced."
Pat Jennings
Team-mate 1985/86
"Ray had everything you'd want from a goalkeeper - agility, good hands, anticipation, a great build. You've only got to look at what he won, just incredible. All the titles, the European Cups at Liverpool, then winning again at Spurs. What a career, plus the 61 caps for England, it was just a pity he was in competition with Peter Shilton at the time, another great goalkeeper. I went back to Tottenham in 1985. I got a call to say the club only had one fit goalkeeper – Ray – so I went back in that last season, 1985/86, basically to cover for Ray. I spent that season with him as a player, and that was brilliant. Away from football, a lovely bloke. I played lots of golf with him over the years. We would also pick each other up, and Ossie, on our way to home games. He had his illness since his mid-50s, and he would have his chemo in the morning, and come and play golf with us in the afternoon. He was incredible, and he'd never mention it, either, he just kept going. He had time for everyone. What a battler, what a fighter, an absolute gentleman."
Graham Roberts
Team-mate 1981-86
"Ray was amazing - he transformed my game when he came here. He was a winner and that's what we needed in the team then. I remember Keith (Burkinshaw) saying that when he came, we had so many clean sheets that season, so he was an absolute star. He would let you have it if you weren't doing your job, but a gentleman, an absolute superstar. It was a very sad day on Sunday, I was in tears, but he's in a better place now. He was an absolute winner as a footballer - he was part of that fantastic team in 1982, 83, 84 and he'll never be forgotten. He was an absolute gentleman, his family are lovely, and he was a winner. He fully deserves all the tributes he's been getting because he was an absolute superstar."
Mark Falco
Team-mate 1981-86
"Ray was a lovely man, very generous with his time and passed on to us younger players at the time all his experience at Liverpool when he came down to London. He was a nice person to be around, full of life, obviously a great player, great goalkeeper, a legend and a great friend. It's a sad loss.
"He learned a great deal from Bill Shankly and all the team up at Liverpool and he knew the formula that would be successful. He had vast amounts of experience as an England player, at Liverpool and he passed that on, not in an arrogant way at all, but in a nice casual manner where you could believe him. He had this way of putting it over where it seemed right. He helped everybody, he was good at organising defences, he talked a good game, he had good ideas, good tactics and it was just all the experience that he'd gathered over the years that he brought to Tottenham and we carried on that way.
"His advice in training - it was always a suggestion, done in a nice way - if you were coming at a goalkeeper at this angle, he'd say, 'I'd be more uncomfortable if you came at a different angle because you'd put me off balance'. He'd just suggest something and ask, 'what about doing this?' And it was done. He could also be quite stern if you got something wrong as well. If you made a simple mistake or forgot something, he'd be on you, but he'd always do it with a smile on his face afterwards, it was never rude and lasting - it was all done in a flash, it was all over and it was back to his happy-go-lucky self with his big broad smile that he used to have."
Gary Mabbutt
Team-mate 1982-88
Club captain when Ray/Doug Livermore took charge in 1992/93
"I came to Spurs from Bristol Rovers, joining a club full of international stars. I was staying at the Ponsbourne Hotel on my own, obviously a bit lonely, and one day, after training, Ray said, 'Mabbsy, come around my house, come for tea, meet my family'. I'd only ever seen him play for England or Liverpool or Spurs, and that said everything about who he was as a person, despite everything he'd achieved, he was so humble. I learned so much from him. He gave me such a good education in the game at that level. Throughout his career he was one of the best goalkeepers in the world and he took that same attitude into his coaching. Believe me, if you were doing something wrong, he would tell you, you'd never get away with making a mistake in a game, he'd let you know about it and make sure you didn't do it again. He was one of the best talkers, you could always hear him bellowing instructions, even when we were attacking, making sure we'd stay alert. He was a fighter, and he certainly fought his illness all the way. We'll all miss him."
Joe Hart
Coached by Ray at international level
"I wasn't involved with England until I was 18, 19, but Ray was the England goalkeeping coach. He was a legend of the game, someone my dad, his era, appreciated a little more than myself in terms of a player, but he was the pinnacle, he was the guy you wanted to get in front of. He came to a lot of Under-19, Under-21 games, so you knew him, and he made it clear there was a path to the first team, and when I finally did get that call, he was great. He was a calming influence, helped me understand how things worked. I joined the senior England team at a crazy time, we were under Fabio's leadership, Ray was involved to give that link between the Italian and English heritage, and what it means to wear the England shirt. He was good man to be around, a presence, well respected, not just for his football ability, but also as a person. You can't help but respect what he did. That's a great way to start a relationship, someone aspiring to do that, and someone who has already done it. He was a very good person, someone you could trust, and someone I really enjoyed working with on a daily basis."