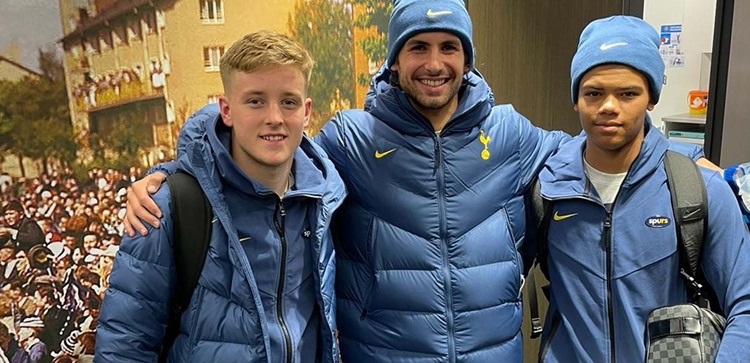 "A brilliant feeling" – debut reactions from Whiteman, Scarlett and White
@SpursOfficial
Fri 27 November 2020, 16:29|
Tottenham Hotspur
Thursday's 4-0 win over Ludogorets was a momentous night for three young players from our Academy, as they stepped off the bench in the second half to make their senior competitive debuts.
Striker Dane Scarlett, who bagged four goals in a 7-0 win for our Under-18s last weekend, made history as he became our youngest-ever player at first team level at 16 years, 247 days old, replacing Lucas Moura in the closing stages of the game.
Midfielder Harvey White, 19, also on target at the weekend for our Under-23s at Manchester United, came on at the same time for Dele, with goalkeeper Alfie Whiteman – slightly older at 22 – taking the place of Joe Hart in goal.
Presented with amazing opportunities by Jose Mourinho and his staff, all three were quickly into the thick of the action, Alfie claiming a dangerous corner in his six-yard box with Harvey and Dane both going very close to adding to the scoreline at the other end.
Reflecting on their debuts back at Hotspur Way on Friday, the trio were still smiling from ear to ear...
Dane Scarlett
"It's a brilliant feeling to make my debut at such a young age and I'm really thankful for the opportunity," smiled Dane. "I got goosebumps when I got the nod, but I was ready, I was raring to go and it was great to get on and try to take my opportunity. I'm a striker so obviously I wanted to get a goal – I had my chance but it just went wide. It's still sinking in really, but now I need to keep my head down and work even harder."
Was the young forward aware on the night that he was making history as our youngest ever player? "I had a feeling the night before… I was looking to see who had played," he said. "I couldn't really find many names but after the game I saw it on Instagram and that's when it really hit me. It's not every day that a 16-year-old makes their debut in the Europa League. To be honest, I feel older but like I said, I just need to keep working hard."
Dane left Harefield Academy in Uxbridge earlier this year, where he studied PE, drama and psychology, although his preparations for the game on Thursday forced him to miss his scheduled education session in our Academy in the afternoon, where's working towards a level three BTEC in sport and a level two coaching badge.
He first started training with us as a six-year-old and his debut came a year and a day after he underwent knee surgery following an injury sustained while playing for our Under-18s as a schoolboy last November: "I got injured on 9 November but my operation was a year ago this week," he said. "My mum, dad, little sister, everybody who was around me supported me, and of course the staff here too, the medical staff… they all stuck with me, pushed me and made me stronger. It's an amazing feeling to make my debut now – I'm very thankful."
Dane also revealed how he's built a collection of his old football boots from important matches during his formative years: "I've got some boots that I've kept where I've played well in them and thought 'I want to keep these'. I've got some Nike T90s, grey and green, from the start when I was maybe six or seven years old. I've got quite a few pairs, about 15 or 16, but probably the boots I got injured in last year are the ones I look at most. Every time I see them I just remember what happened and it's helped to push me on."
Alfie Whiteman
Goalkeeper Alfie's journey to the first team has been slightly different to Dane and Harvey's. The oldest of the trio at 22, he first appeared on the bench for us as a 17-year-old in a League Cup tie against Gillingham at White Hart Lane in September, 2016, and has trained regularly with the first team since then.
"It feels great!" he said as he reflected on his debut. "As a keeper it's slightly harder to get that first opportunity, but I'm thankful that the manager trusted me and it was a very nice experience.
"I always try to work hard and make sure I'm ready for any opportunity that arises. I had to make sure I was ready last night and will continue to do so. To come on for Joe Hart… he's amazing, he's very supportive and a great role model to learn from. To have him around last night was great. He's one of the best professionals around, the same for Hugo and Paulo, so it's just about trying to absorb as much from them as I can."
Tottenham born and raised, Alfie couldn't help but cast his mind back to one of his earliest memories of a Spurs matchday after making his senior bow: "I was an away mascot against West Ham at Upton Park," he recalled. "I was about seven years old so it was before I signed, I was the only mascot, I held Michael Dawson's hand but they didn't have a kit for me so I had to wear Adel Taarabt's kit, which was huge! I remember Perry Suckling was doing the matchday warm-up at the time – he's my goalkeeper coach here in the Academy and he's like a mentor to me. After that game he threw me a warm-up jumper and said 'that's for you kid' and then all these years later I have a really close working relationship with him! He's someone who I give a lot of thanks to, this wouldn't have happened without him and of course all the first team staff we have here. I'm very thankful to everyone who has helped me to get this opportunity."
Harvey White
Central midfielder Harvey has featured for the first team in our last two consecutive pre-season campaigns and was overjoyed to make his competitive debut on Thursday night.
"I was buzzing!" smiled the 19-year-old, who joined as at Under-8 level and was part of the Academy's guard of honour on the pitch at the last game at White Hart Lane in May, 2017.
"When I came on I just wanted to play with a bit of confidence and look like I can play at this level. Obviously I had a shot which nearly went in – it was the cleanest strike I've hit for a long time so when I hit it, I thought it was a good one, but it just went wide – but other than that I was buzzing, just so happy for myself, my family and all the people who have helped me get to this point.
"I was obviously nervous beforehand but when I got onto the pitch, all the nerves went away and I just felt like 'this is where I want to be and this is what I want to do'. I couldn't have asked for any more. Now I need to push on and hopefully get some more games in the future."