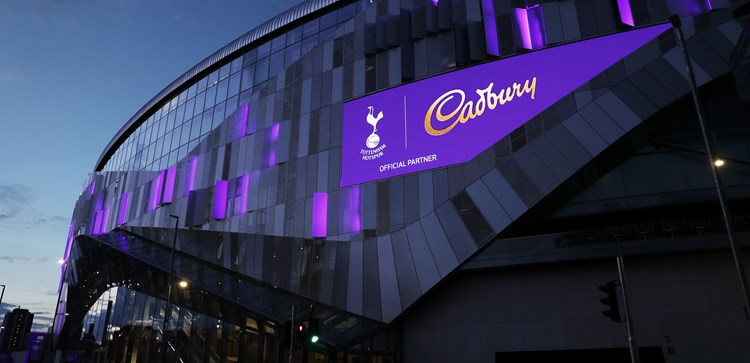 Mondelēz announced as Club's Official Snack Partner
Bringing Spurs and Cadbury together for our heroes
@SpursOfficial
Tue 16 June 2020, 08:20|
Tottenham Hotspur
The Club has today announced a new partnership with Mondelēz, owner of world-renowned brands such as Cadbury, Oreo, and Toblerone, for Cadbury to become its Official Snack Partner.
The partnership will see us collaborate on a series of initiatives to engage with fans and the community, in both the UK and around the world.
To kick off the partnership, our iconic stadium was illuminated in the brand's famous purple colours.
Cadbury will be backing the Club's Hotspur Heroes campaign, which recognises and celebrates Spurs-supporting key workers and fans who have gone above and beyond during the COVID-19 pandemic. Cadbury will also look to support local businesses within the Club's community to help aid their economic recovery from the effects of the pandemic over the coming months.
Throughout the partnership, Cadbury will be offering supporters unique access to the Club, even while matches are being played behind closed doors.
The first campaign is Cadbury's Match and Win promotion, which will enable fans to win millions of exciting prizes, including hospitality experiences, match tickets and vouchers for the Spurs Shop. Visit www.cadburyfc.com for more information.
Tottenham Hotspur Head of Partnerships Fran Jones said: "We are delighted to announce this new partnership with Mondelēz. We share the same values and it is a natural fit that Cadbury is supporting our Hotspur Heroes programme, which aims to recognise individuals that have made a significant contribution during the COVID-19 pandemic. Cadbury's commitment to the Hotspur Heroes programme and local businesses within our community will help us to recognise and reward a greater number of deserving individuals during this challenging time and beyond."
Samantha Greenwood, Global Cadbury Equity Lead at Mondelēz, added: "At Cadbury, we believe there is a glass and half of generosity and kindness in everyone. Tottenham Hotspur is a club that reflects these values and plays an active role in the wider community, so this initiative felt like a perfect match. We are extremely excited to start looking at all the opportunities to bring Spurs fans into this partnership."
Hotspur Heroes
Help us continue to champion Spurs-supporting key workers by nominating a Hotspur Hero.
Submit your nominations here or show your appreciation on social media, using the hashtag #HotspurHeroes.