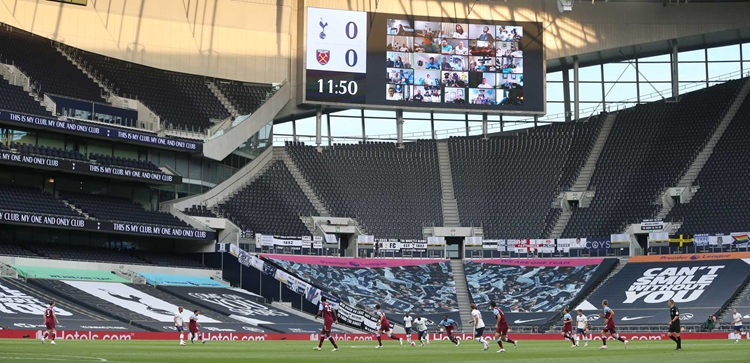 Be part of Spurs Inside
@SpursOfficial
Wed 01 July 2020, 13:24|
Tottenham Hotspur
The Club is giving supporters the chance to be part of its live video fan wall for the final three home Premier League matches of the season.
Spurs Inside is another first for the Club, streamed live on our giant video screens in the stadium bowl intermittently throughout our behind-closed-doors home matches so that the players know fans are watching and cheering them on.
After our first two home games since the restart, against Manchester United and West Ham United, Club captain Hugo Lloris said: "We know our fans are physically not able to join us in the stadium at this moment. However, being able to visibly see some of them live on the screens during our games gives the team that little reminder that they are here with us, still getting behind the team. That support has not gone unnoticed by the players and it certainly gives us that extra bit of motivation when we take to the pitch at home."
For our final three home games of the season – against Everton, Arsenal and Leicester City – we are opening up this unique experience to One Hotspur Members, as well as Season Ticket Holders and Executive Members.
To win a place, all you have to do is enter our competition by submitting a photo of what your matchday sofa scene will look like.
We want to see you in your Spurs colours surrounded by as much Club merchandise and memorabilia as you can get your hands on – get the whole family involved. Those who send us the best photos will be selected to take their place 'at the match' for one of the remaining home games.
If you are successful, you will receive a confirmation email ahead of the match with details on how to join.
The deadline for fans to enter and be eligible for selection for all remaining home games is Thursday 2 July, 11.59pm.
Please note, from entries we receive, the Club will also be recruiting fans to represent us in a separate video fan wall concept delivered by Premier League Productions and made available to broadcasters throughout the world.
To be part of Spurs Inside, you will need the following:
• A device with webcam (e.g. laptop or tablet).
• A Zoom account.
• A subscription with the television broadcaster showing the match in your location. The match itself will not be shown via Spurs Inside – you will require a second device on which to watch the match.
• Fast and secure internet connectivity.
Good luck!