Spurs, Susan Sarandon and me - dreams coming true for Anson
@SpursOfficial
Wed 16 October 2019, 17:45|
Tottenham Hotspur
Imagine, just imagine, this moment.
Growing up, you want to be an actor, it's all you want to do. You are also a Spurs fan. Aged 19, your worlds collide. You're making waves as an actor, Spurs have just opened the best football stadium in the world and on a glorious, sunny day in August, on the opening weekend of the Premier League, you are standing pitchside, taking in this arena for the first time, a matter of yards from your heroes as they warm up – and you are accompanied by Hollywood royalty, Susan Sarandon.
Anson Boon is the young actor and Spurs fan – and lived this moment. How? To summarise, Anson completed a film with Susan (and Kate Winslet, Sam Neill) called 'Blackbird' earlier this year. Susan's son-in-law is Kyle Martino, host of NBC's Premier League coverage. NBC covered Villa live. Kyle invited Susan, Susan invited Anson and the pair were invited pitch side for an interview.
Did he ever imagine, say at the age of 10, that he would be standing pitchside at a Spurs match with the star of 'Thelma & Louise', 'Bill Durham', 'The Witches of Eastwick', 'The Client' and 'Dead Man Walking'?
"It's funny, ever since I did the film Blackbird with Susan, I keep getting into these really weird situations," said Anson. "Of course, none have been quite as special as that one. That's still all sinking in. Then, people say things like that to me and yes, it's a bit crazy, isn't it?
"Villa with Susan was my first match at the new stadium, so that was special anyway. I couldn't make the last few games of last season because I was filming. When Susan asked if I wanted to go to the Villa game, I'd already bought a ticket from the Ticket Exchange! She said, 'do you want to come?' and I said 'yes, of course I will!'.
"Spurs is such a huge part of my life and then acting as well. I never thought the two would ever meet. It did, in a really special way, and it was nice for me to also introduce Susan to Spurs and the Premier League. I was pitchside! I never thought I'd be pitch side at our stadium, let alone pitch side with Susan Sarandon!
"I'm an actor and do all these cool things and have these cool experiences but I'm just a kid from Cambridgeshire and a Spurs fan. I never expected that. It's one of those things that makes you really appreciate everything.
"On the same day, I met Harry Kane. I thought 'this is crazy'! I don't live in London and I don't really mix in showbusiness circles, all my mates are my mates from school, they are all football fans like me – unfortunately they don't support Tottenham – but for them to see I met Harry Kane and all the other amazing people, it's bizarre. I feel like I live two different lives at times."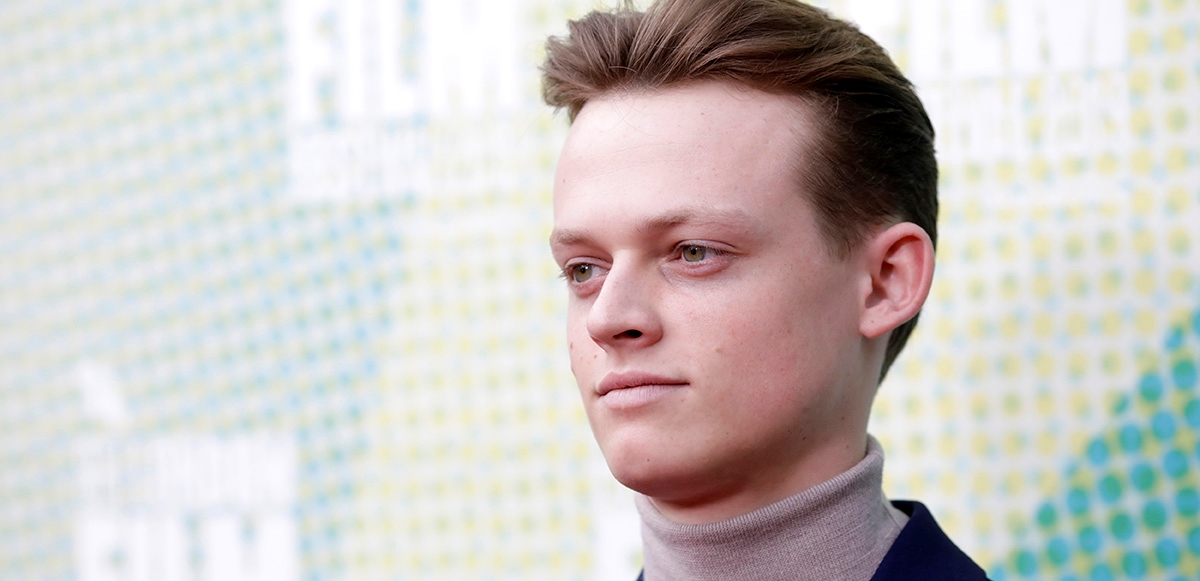 As for Spurs, it's a family affair. "My mum's family grew up around the corner from White Hart Lane, near Bruce Castle Park," explained Anson. "Her dad and his whole family are all from Tottenham and are all Tottenham fans. Unfortunately, most of my close family are Arsenal fans!
"When I got into football, I wanted to carry on the Tottenham tradition. My dad happens to be a Villa fan, my brother is too and the rest of my family are all Gooners. But I didn't even think about it – with the Tottenham connection in the family, it had to be Spurs. Tottenham is in my blood."
Anson has just made his stage debut at the National Theatre in London, starring as 'Master Harold' in the play 'Master Harold... and the boys'. It takes place during the apartheid era in South Africa and explores the nature of friendship, and the ways people are capable of hurting even those they love.
Next on the big screen, we'll see Anson in '1917', a WW1 film by Sam Mendes (Oscar-winning director, 'American Beauty', 'Skyfall', 'Spectre'), starring the likes of Benedict Cumberbatch, Colin Firth, Mark Strong and Daniel Mays. Then it's 'Blackbird', a poignant film about a dying mother who assembles her family to spend a final weekend together before she ends her life.
"Blackbird was an ensemble cast, it was like a team," added Anson. "If you imagine someone like Oliver Skipp walking into the dressing and the likes of Harry Kane, Hugo Lloris, Heung-Min Son are all in there, it was like that!
"I had to pull my weight as much as everyone else and at the same time, try to suppress my absolute starstruck-ness! We filmed in Chichester over six weeks. It was like a dream, by the water, by the sea, with all these amazing people for six weeks doing what I love. I couldn't have asked for more – even if it did take me out of a couple of home games!"
Anson stars in 'Master Harold... and the boys' at the National Theatre until December.
Look out for '1917' in cinemas around Christmas and 'Blackbird' in cinemas soon after.