Champions League moments - Harry Kane
@SpursOfficial
Wed 22 May 2019, 17:30|
Tottenham Hotspur
A 'scruffy' finish and a double deflection. As individual goals go, Harry Kane's match-winning one-two against PSV on Matchday Four in November wouldn't get near his top 100 in a Spurs shirt. Yet collectively, in terms of sheer importance on our run to the Champions League Final, they are priceless.
Harry would later become the Club's all-time top European goalscorer with the winner in the last 16, second leg at Borussia Dortmund. That was another memorable night but without PSV, there would be no Borussia Dortmund. There would be no City or Ajax, or Champions League Final. Harry's record - 24 goals in Europe - would have had to wait.
In-between the goals, Harry set-up Lucas Moura's late equaliser against Barcelona to clinch a place in the knockout phase, but it all came crashing down for the England skipper with injury in the quarter-final first leg against City. His rehabilitation is ongoing - and few will forget the sight of him rushing to be with the players on the final whistle at Ajax, also detailed below.
Champions League moments - Harry keeps us alive
Spurs 2-1 PSV - MD4 - Wembley - 6 November, 2018
It's now a familiar story. One point from our first three group games meant we had to beat PSV in MD4 to progress. Anything less and we were out.
Things didn't start well as Luuk de Jong headed home for PSV after 62 seconds. We dominated from there. Dele and Harry went close, Christian Eriksen and Dele forced a double save from Jeroen Zoet and Heung-Min Son whistled a shot just wide.
The breakthrough arrived on 78 minutes when Fernando Llorente cushioned the ball into Harry's path and he struck the ball into the corner from 16 yards.
We had to wait until the 89th minute for the winner. Dele threaded a pass down the left flank, Ben Davies dug out a cross on the run from the byline and Harry met it with a header that took two deflections before nestling into the corner.
Looking back as we look forward to the final against Liverpool on 1 June, Harry reflected on how important those goals were – the first steps of recovery on the long road to Madrid.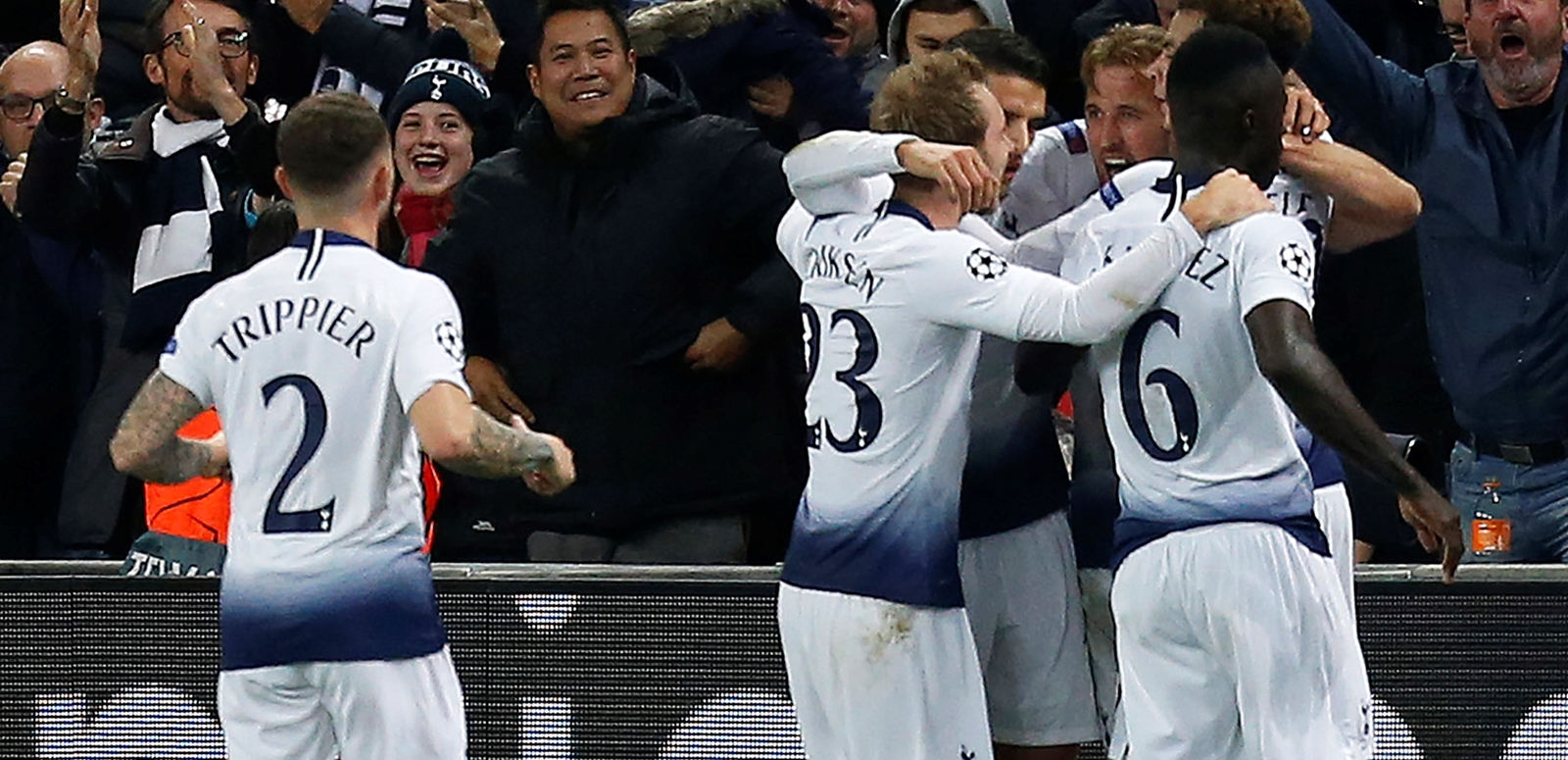 "It was massive, looking back, such a vital game in the campaign," said Harry. "We hadn't had the best of starts in the first three games and it was must-win.
"We went behind early and had to stay patient, stay calm. We went a bit more direct, Fernando Llorente managed a perfect lay-off and I hit a bit of a scruffy finish into the corner for 1-1.
"You could tell from the celebrations that the attitude was 'we need one more, let's go and get it' and we put on the pressure and thankfully it came. Ben Davies put in a nice floated ball to the back post, I got good contact and then a bit of luck with the two deflections.
"When you look back now, it's a vital moment on the way to the final. The winner was massive, okay, we got a bit of luck but we created our own luck in that game. We were the better team, always on the front foot, pushing for goals..
"It kept us alive in the Champions League but we still knew we still had a massive task with the Inter and Barcelona games to follow. We were happy, of course, but we all knew we had two jobs still to do."
Record breaker!
Borussia Dortmund 0-1 Spurs - last 16, second leg - Signal Iduna Park – 5 March
Spurs won 4-0 on aggregate
In the driving seat after a Jan Vertonghen-inspired second half performance saw us 3-0 up in the first leg at Wembley, we all knew this second leg in Germany would be a different story.
Borussia Dortmund believed they could turn it around. They had already put Atletico Madrid to the sword 4-0 on home soil. The storm came but we weathered it superbly. Block after block went in, save after save from Hugo Lloris. It remained 0-0 at half-time and you felt that belief slipping away from the yellow hoardes in the stadium.
Harry Kane then ended the tie on 48 minutes. Moussa Sissoko sent him away and the finish clinical, top right. That was 4-0 on aggregate, game over.
It was also Harry's 24th goal for us in Europe - taking him beyond Jermain Defoe's 23.
"We had a great performance at Wembley, 3-0 up and everyone expects you to easily go through but that first half in Dortmund was difficult," said Harry. "We had to dig deep. We made some great tackles, great blocks, Hugo made some great saves.
"At half-time we said 'get a chance, get a goal' because we knew that would kill the tie. That's what happened. Moussa put a great ball through to me and I was able to settle myself and put it in the back of the net. We all knew then that they needed five goals and the tie was over."
Scenes at Ajax
Ajax 2-3 Spurs - semi-final, second leg - Johan Cruyff ArenA - 8 May
(Aggregate 3-3, Spurs through on away goals)
Just seconds before the moment of all moments on this Champions League journey, Harry Kane and Davinson Sanchez were about to leave their seats in the stand to go to the dressing room. They wanted to be with their team-mates, despondent at being so close to the Champions League Final. It was 2-2 on the night, 2-3 on aggregate, time just about up.
Then Moussa Sissoko knocked the ball up, Fernando Llorente flicked on, Dele touched into the path of Lucas Moura who drilled home his hat-trick goal to send us to Madrid.
"It was a crazy whirlwind of emotions," said Harry. "We did so well to get back into the game through Lucas' two goals and I remember at that time sitting in the stand expecting us to get the third.
"We just felt it was our time but as the minutes ticked on, Jan hit the crossbar (86 minutes) and you think perhaps it's not going to be our night after all. You start thinking the worst and that we're out of the Champions League.
"I was sitting with Davinson and suggested we started to head down to the changing room to be with the lads - just as Moussa kicked the ball up in the air. That got flicked on, Dele flicked it around the corner and from where we were sitting in the stadium it was right in line, so as soon as Lucas shot, we knew it was going in.
"The emotions were mad. We jumped up and sprinted down to the tunnel. When the final whistle went we all ran onto the pitch, I ran and celebrated and just wanted to be with the team. It was great for everyone involved, players, staff, the fans. It was a special night."