300 up for proud Jan
@SpursOfficial
Fri 27 December 2019, 10:30|
Tottenham Hotspur
Jan Vertonghen was delighted make his 300th appearance in a Spurs shirt as we secured a 2-1 win over Brighton in the Premier League on Boxing Day.
Currently featuring in a left-sided defensive role, Jan played the full 90 minutes as we battled from behind to take all three points in N17 thanks to second-half strikes from Harry Kane and Dele Alli.
It has now been over seven years since Belgium's record appearance holder made his debut for us following his arrival from Ajax in the summer of 2012, and it's been quite a journey!
From training at Spurs Lodge to moving into our new base of Hotspur Way, from walking out at White Hart Lane, then Wembley and now playing in front of over 60,000 people at our new home, from playing in the Europa League to now being regular competitors in the Champions League - Jan has seen transition both on and off the field.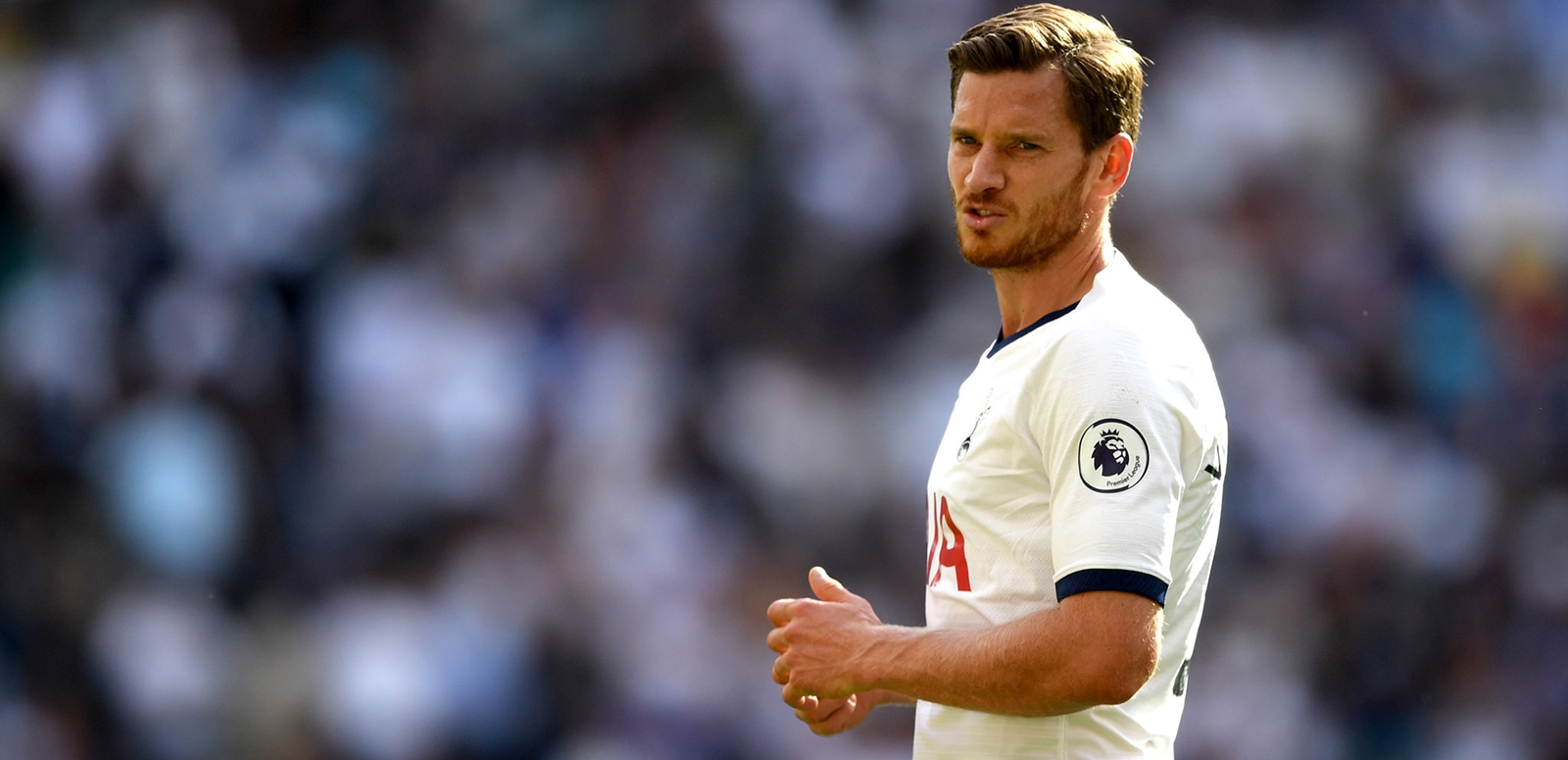 "I'm very proud to reach that number of appearances for the Club," Jan told us. "I only found out a day or two ago so yes, it is a big milestone and I'm delighted to get there.
"We have come very far over the last few years, both on and off the pitch. We are one of the teams that you have to look at if you are looking at teams that are going to try and win cups or the league. We are up there now, and we want to stay there.
"It's like, for example, if you are to lose a game, it is a very good sign that no matter who it is against you are very disappointed with that and it means that you want so much more from yourselves."
Jan is now the second member of our current squad to have reached the landmark of 300 appearances, joining Hugo Lloris (307) and the 44th player in our history to have done so.
3️⃣0️⃣0️⃣ Spurs appearances!

👏 @JanVertonghen 👏#THFC ⚪️ #COYS pic.twitter.com/9Cw3WMM2tq

— Tottenham Hotspur (@SpursOfficial) December 26, 2019
Our 300 Club
Players to play 300+ times for Spurs...
1 - 854 - Steve Perryman (1969-86)
2 - 611 - Gary Mabbutt (1982-98)
3 - 590 - Pat Jennings (1964-77)
4 - 506 - Cyril Knowles (1964-75)
5 - 490 - Glenn Hoddle (1975-87)
6 - 452 - Ted Ditchburn (1946-58)
7 - 439 - Alan Gilzean (1964-74)
8 - 438 - Jimmy Dimmock (1919-31)
9 - 420 - Phil Beal (1963-75)
10 - 415 - John Pratt (1969-80)
11 - 411 - Maurice Norman (1955-65)
12 - 398 - Chris Hughton (1979-90)
13 - 397 - Mike England (1966-75)
14 - 382 - Danny Blanchflower (1954-63)
15 - 379 - Jimmy Greaves (1961-70)
16 - 378 - Cliff Jones (1958-68)
17 - 373 - Alan Mullery (1964-72)
18 - 370 - Paul Allen (1985-93)
19 - 367 - Martin Chivers (1968-76)
20 - 367 - Aaron Lennon (2005-15)
21 - 363 - Jermain Defoe (2004-14)
22 - 360 - Arthur Grimsdell (1912-29)
23 - 358 - Darren Anderton (1992-2004)
24 - 351 - Tommy Clay (1914-29)
25 - 342 - Peter Baker (1953-65)
26 - 341 - Bill Nicholson (1938-54)
27 - 335 - David Howells (1986-98)
28 - 330 - Ray Clemence (1981-87)
29 - 325 - Eddie Baily (1947-55)
30 - 324 - Michael Dawson (2005-14)
31 - 324 - Ron Burgess (1939-54)
32 - 323 - Ledley King (1999-2012)
33 - 322 - Harry Clarke (1949-56)
34 - 319 - Bert Smith (1919-29)
35 - 318 - Dave Mackay (1959-68)
36 - 317 - Bobby Smith (1955-64)
37 - 315 - Sol Campbell (1992-2001)
38 - 313 - Ian Walker (1991-2000)
39 - 311 - Ossie Ardiles (1878-88)
40 - 307 - Len Duquemin (1947-57)
41 - 307 - Hugo Lloris (2012-
42 - 306 - Robbie Keane (2002-11)
43 - 304 - Terry Naylor (1970-80)
44 - 300 - Jan Vertonghen (2012-