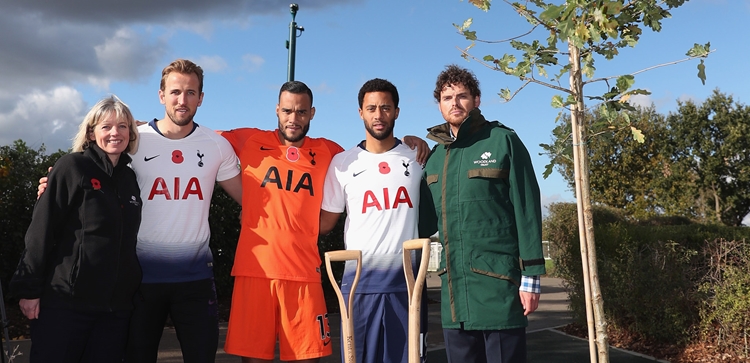 Club creates legacy to fallen heroes
@SpursOfficial
Sun 28 October 2018, 10:16|
Tottenham Hotspur
In support of the national 'Football Remembers' campaign, the Club has planted 16 trees at our Training Centre as a living legacy to the 16 Tottenham Hotspur footballers who served and died during World War One.
The trees have been donated by the Woodland Trust, who are working in partnership with the National Football Museum's 'For Club and Country' project, The Premier League, English Football League, Professional Footballers' Association and Football Association to encourage clubs around the country to plant trees to remember those who made the ultimate sacrifice.
Harry Kane, Mousa Dembele and Michel Vorm were joined by representatives from the Woodland Trust to plant the trees at Hotspur Way.
The Club lost 16 players during the four-year conflict, many of whom joined as part of 'football battalions'- George Badenoch, James Chalmers, Jim Fleming, Fred Griffiths, Alan Haig-Brown, John Hebdon, Alf Hobday, John Jarvie, Ed Lightfoot, Harold Lloyd, Alex Mcgregor, James Moles, Walter Tull, Findlay Weir, Archie Wilson and Norman Wood.
Harry Kane said: "It's an honour to be part of this project and commemorate the Spurs players who made the ultimate sacrifice for us during the First World War. The trees are a perfect way to commemorate them and create a long-lasting symbol of remembrance."
'For Club and Country' aims to plant 100 additional trees for each of the clubs that were professional when war broke out in 1914 at a newly created national woodland memorial at the Woodland Trust's flagship Centenary Wood at Langley Vale in Epsom.
Supporters of clubs across the Premier League and English Football League are being encouraged to remember their Club's fallen heroes by planting trees to create a lasting living legacy. Supporters can find out more about their Club's involvement in the war by visiting www.forclubandcountry.org.uk