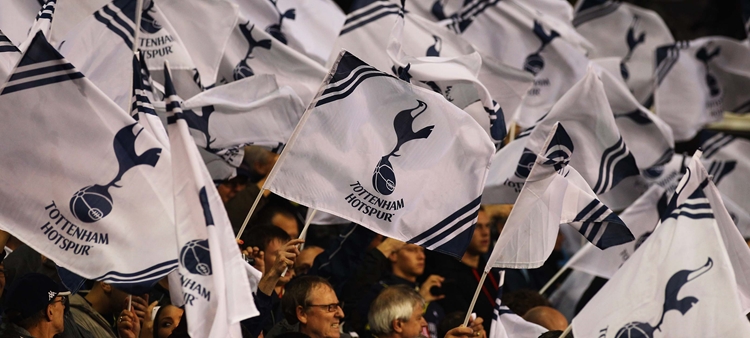 Club promotes inclusion and diversity through Stonewall campaign
@SpursOfficial
Fri 24 November 2017, 10:00|
Tottenham Hotspur
This weekend we join clubs and organisations throughout the game promoting inclusion and equality in football through the support of Stonewall's Rainbow Laces campaign.
Stonewall is the UK's leading charity for Lesbian, Gay, Bisexual and Transgender (LGBT) equality both in England and overseas, using its work within football to promote the acceptance of the LGBT community.
Clubs up and down the country will be supporting Rainbow Laces this weekend with bespoke rainbow branding featuring on ball plinths, pitch flags, handshake boards, timing boards and pitchside LED boards.
The famous Wembley arch will be lit up in rainbow colours during Saturday's game as part of the Club's commitment to raising awareness of diversity and inclusion and ensuring all fans feel welcome at our matches, regardless of their sexual orientation. The Club's social media accounts will also take on a rainbow theme to help promote the Stonewall campaign.
The Club continues to work closely with its official LGBT supporters group, Proud Lilywhites, which was formed in 2014 to engage LGBT Spurs fans, holding regular consultation with the Club and events to tackle all types of homophobic abuse at stadia.
Earlier this week, members of Proud Lilywhites visited Hotspur Way to join the first team squad and Spurs Ladies players in a photo to help raise awareness of Rainbow Laces.
Proud Lilywhites is one of the founding members of the Pride in Football LGBT fan group alliance, and regularly holds matchday meet ups as well as campaigning to end LGBT discrimination.
Proud Lilywhites are delivering training sessions to our matchday stewards, designed to educate them on the issues facing LGBT fans within a sporting environment so that any incidents can be dealt with effectively.
Chris Paouros, Co-Chair of Proud Lilywhites, said: "We're delighted to be working with Spurs on the Rainbow Laces campaign. Football is for everyone and Spurs being at the forefront ensures that our LGBT fans know that."
Premier League Executive Director, Bill Bush, said: "We all have a role to play in changing attitudes within sport. Last year's activity for the Rainbow Laces weekend helped to raise the profile of LGBT equality in our game, and we look to develop that further this year.
"We have seen an increase in the number of LGBT supporters' groups within the Premier League as clubs continue to do great work in promoting inclusion and diversity amongst their supporters.
"We hope that through our work with Stonewall, we will see a shift in attitudes and public support for LGBT inclusion within our game."
For more information about Stonewall, please visit stonewall.org.uk.