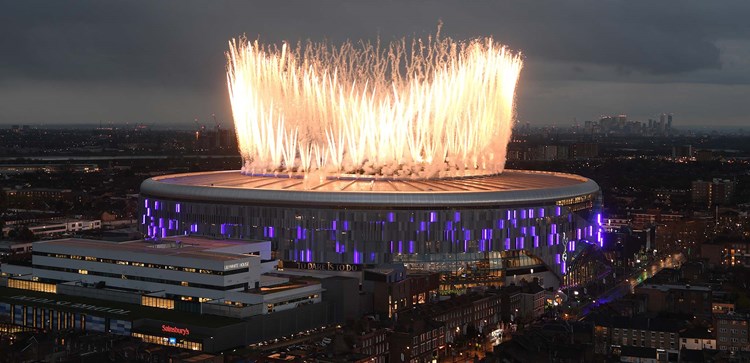 Local
Information for local residents and businesses
Stadium Events and Information Guide
Tottenham Hotspur Stadium is is the home of Tottenham Hotspur Football Club. With a capacity of 62,850, it is the largest club stadium in London and a multi-purpose sports and entertainment destination, capable of hosting Tottenham Hotspur home matches alongside a minimum of two NFL matches per year and a number of other events and concerts.
Naturally, the stadium's increased capacity will result in more people travelling to the area on event and match days.
Please see a confirmed list of upcoming Tottenham Hotspur home matches as follows: 
Thursday 7 December, 8.15pm KO: West Ham United (Premier League)
Sunday 10 December, 4.30pm KO: Newcastle United (Premier League)
Saturday 16 December, 12pm KO: Arsenal (Women's Super League)
Saturday 23 December, 3pm KO: Everton (Premier League)
Sunday 31 December, 2pm KO: AFC Bournemouth (Premier League)
Friday 5 January, 8pm KO: Burnley (FA Cup 3rd Round)
The Tottenham Hotspur fixture list for the 2023/24 season can be found HERE. All fixtures beyond the above are currently subject to change, due to broadcast selections. 
We should like to inform residents of the following non-football major events scheduled to take place at the stadium:
Friday 24 May, 2024, timings TBC - Rugby: EPCR Challenge Cup Final
Saturday 25 May, 2024, timings TBC - Rugby: Heineken Champions Cup Final 
LOCAL INFORMATION FOR TOTTENHAM HOTSPUR MATCHDAYS
Please find useful information detailing local measures that are implemented on major event days, including links and contacts should you require anything in addition. 
Road Closures
We shall need to close some roads closest to the stadium before, during and after a match to make it safe for fans, local residents and businesses, and for emergency access to the area.
On matchdays, general traffic will not be able to access parts of the High Road between White Hart Lane and Lordship Lane/Lansdowne Road from two hours before and up to one hour after the match at the Police Match Commander's discretion.
Worcester Avenue will also be closed from 8am on matchdays and Park Lane from three hours before kick-off. Parking bays will be suspended on both Park Lane and Worcester Avenue during these times.
All side roads in around a half a mile radius of the stadium will also be closed to general traffic. 
No vehicles other than emergency services and local residents or businesses with the necessary permits will be allowed within the road closure zones.
Love Lane and Whitehall Street will also have all parking bays suspended and will be closed for up to one and half hours, along with a small section of White Hart Lane itself, after a match to cater for queues at White Hart Lane station. 
For one to two hours after a match, Leeside Road will be one-way eastbound and Willoughby Lane will be one-way northbound.
Full details on Event Day road closures can be found here.
Parking suspensions
A number of resident parking bays around the stadium will be suspended on event days to allow for security arrangements and spectator access or queueing. These suspensions will last all day, so please check before you park. Advanced notices will be put in place seven days before each match to inform you when suspensions are in effect.
There will be no parking available for general admission fans at the stadium and a Controlled Parking Zone (CPZ) will be in operation within the boundaries of both Haringey and Enfield.   
Public transport
Match attendees will be encouraged to use public transport where possible, including our Event Day Shuttle Bus service.
We expect our local train stations – White Hart Lane, Northumberland Park, Seven Sisters and Tottenham Hale – to be extremely busy pre and post-match, and therefore advise local residents to avoid the stations where possible.
Bus routes that would normally serve the High Road will follow designated diversion routes while the road closure is in place. The Club will continue to work with TfL buses to minimise the need for bus diversions on matchdays, so that they are back operating on the High Road as soon as possible after the final whistle.
The 349 will follow a diversion east along Lansdowne Road, Shelbourne Road and Northumberland Park before rejoining the High Road adjacent to Sainsbury's.
The West Bus Diversion Route for the 149, 259 and 279 will operate as it has always done on matchdays, including when the Club was playing at its old stadium.
FAQ
Q: How will I know when events are being held?
A: At the bottom of this page, you can register to receive updates directly via email or SMS. Matchdays or any other events will be communicated via our digital stadium signage, the Club's website, social media, at CPZ entry points and through advanced warning signs. 
Q: Why are you closing local roads for longer?
A: The increased numbers of people visiting the stadium and updated safety and security requirements mean we need to close the roads closest to us to general traffic for longer. This allows pedestrians and local communities to travel around the stadium safely on event days and means we can evacuate the ground quickly in the event of an emergency.
Q: I can't drive to my home if the High Road is closed. Do I need to apply for a new CPZ permit?
A: We know there are a number of properties that will have their access affected by road closures. All you will need to do is display your existing CPZ or Homes for Haringey (HfH) parking permit and traffic marshals will let you pass. If you have off-street parking, and do not need a permit, or you are a Blue Badge holder, you can show stewards or marshals at road closure points a valid proof of address, which could be a driver's licence or utility bill, and they will give you access.
Q: I need a new CPZ permit or Homes for Haringey parking permit. How do I get one?
A: You can apply for a permit using the links below:
Q: What happens if friends want to visit me?
A: Visitors will need to arrive and park before road closures come into effect. If they do so, they will be able to park using a visitor parking voucher which can be applied for via your relevant local authority's website.
Q: What happens if I have an incident at my home and I need emergency help?
A: Emergency access will be maintained at all times.
Q: I am a local business owner on the High Road. How will I get access?
A: If you are a business owner and have a valid CPZ permit, you will be able to park on one of the side roads. Pedestrian access to your business will be maintained at all times.
Q: What if I have a delivery coming on an event day?
A: We would recommend you arrange delivery outside of the road closure hours or on non-event days if possible. Delivery drivers will not be able to pass vehicle check points once the road closures are in effect.
Q: My usual car parking space will be suspended – what should I do?
A: Residents may use alternative parking nearby - if you leave your car parked in suspended spaces, it may be relocated to a neighbouring street by a removal vehicle. If you believe your car may have been removed or towed away you can contact:
the London-wide TRACE service:
- Trace your vehicle online
- text "TRACE" followed by your Vehicle Registration Mark to 66663 - you may be charged for this service
- call TRACE Customer Services Helpdesk 0300 077 0100
the Haringey Council car pound on 0330 135 8949
Q: Will these arrangements change for the NFL or other events?
A: Some changes may be required for the NFL – for example due to increased security, or to facilitate the NFL Welcome Zone – and other third party events. These will always be communicated with the local community and local authorities well in advance, as well as via our Stadium Event alert service.
Q: How is anti-social behaviour related to events being prevented?
A: Clear communications is issued to attending supporters reminding them of their obligations to respect our neighbours as they enter and leave the stadium, including details on where public toilets are located and how fans can dispose of their rubbish. We have created an online feedback form for local residents to report any issues directly to the Club following major events.
To report a crime or incident on event days please use one of the following telephone numbers:
101 for non-emergencies
0800 555 111 for Crimestoppers
999 for an immediate risk.
To report litter or uncollected rubbish:
To report a noise complaint or issue:
To report any anti-social behaviour:
To report any issues directly to the Club: 
Ahead of the stadium opening, an easy to read guide was created to help local residents, business owners and interested stadium visitors learn about our plans. Key topics include local traffic diversions, controlled parking zones, travel routes and public transport plans.
You can read, download and print the booklet here.