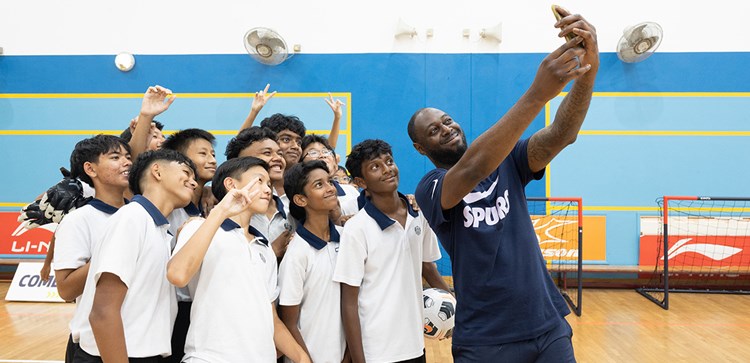 Asia-Pacific Tour | Ledley joins GFD coaching team to wow young footballers in Singapore
@SpursOfficial
Wed 26 July 2023, 06:00|
Tottenham Hotspur
Ledley King thrilled local children as he joined our Global Football Development team for three coaching sessions in Singapore on Monday.
First up on Monday morning, a special football clinic for over 50 players aged 8-11 from deprived communities within Singapore at Eden Hall, official residence of Kara Owen, British High Commissioner in Singapore.
From there, Ledley and the GFD team - Danny Mitchell, Nick Hardy, Shannon Moloney and Jadon Anderson - travelled to Montford Secondary School for sessions with 50 young players in conjunction with the Singapore Football Association.
Finally, Ledley and the coaches capped a busy day coaching for nearly 60 players aged between 8-16 in conjunction with HSBC at The Arena, Woodleigh. This group was a mix of underprivileged children from the local community and children of HSBC staff.
It was a day to remember for everyone, not least Ledley, our legendary former captain, coach and ever-popular Club Ambassador. "There's nothing better than getting out there on the pitches and coaching the kids with all that enthusiasm and love for the game," he said. "It takes me back to when I was six, seven years old, playing in a 'cage' across the street where I lived, and I'd just play football all the time. I love being out in the community and working alongside our Global Football Development team, who do such a great job in showcasing the Club's football philosophy."
GFD Football Development Manager, Danny, added: "What an amazing experience it has been to bring our Global Football Development (GFD) programmes to the players and coaches in Thailand and Singapore. To help inspire young players as part of the First Team tour is incredibly important as part of developing the game globally for the next generation. Having someone like Ledley at the forefront of our programmes to help reinforce our messages around individual development is truly powerful, especially from someone who has experience the highest level of the game. It's been a fantastic way to conclude what has already been a fantastic couple of weeks for GFD."
Busy 48 hours in Bangkok
Our Global Football Development team crammed plenty into a couple of days in Bangkok. After landing late on Friday, the GFD were up and running on Saturday morning to help organise Spurs Thailand's seven-a-side tournament, alongside Ledley King. The tournament was won by Team Madders, representing supporters' clubs from Laos, Thailand and Shanghai.
From there, the GFD team travelled to the first team's training base at the STB Academy for a special coaching clinic for children aged 8-12 from AIA Thailand, attended by Brandon Austin, Harry Kane, Japhet Tanganga and Alfie Whiteman. Then it was over to Noah Futsal for a coaching session for 34 girls aged 14-18 who participate in a programme with Chonburi Sports School for young aspiring female players.
On Sunday, our GFD coaches were out early for two clinics for 90 children alongside HSBC, the group a mixture of underprivileged children and children from HSBC staff, aged 8-12 at Polo Football Park. It was then onto the popular Fan Zone ahead of our sadly cancelled pre-season match against Leicester City at the Rajamangala National Stadium, where the GFD team took the chance to interact with Spurs fans in our skills area.