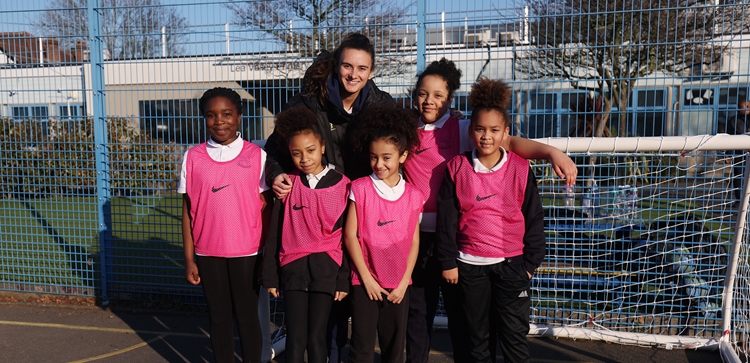 Rosella Ayane joins aspiring footballers in Tottenham ahead of Man United fixture
@SpursOfficial
Wed 08 February 2023, 16:20|
Tottenham Hotspur
Rosella Ayane surprised budding footballers at a local primary school in Tottenham today ahead of our Barclays Women's Super League match at Tottenham Hotspur Stadium on Sunday.
Year 5 and 6 students from Lea Valley Primary School were joined by the Morocco international to be put through their paces during a coaching session delivered by Tottenham Hotspur Foundation.
After the session, Rosella surprised the students by handing over tickets to this weekend's highly anticipated fixture against Manchester United, which is taking place at Tottenham Hotspur Stadium on Sunday 12 February (KO 12pm).
Rosella's visit forms part of the wider work delivered by the Club and its Foundation to create life-changing opportunities and experiences for young people across its community.
Speaking at the school, Rosella said: "It was brilliant to come down to Lea Valley Primary School today and join in with the session hosted by the Club's Foundation. It's great to see so many girls with such a passion for football and the work the Club is doing locally is definitely helping with this. I look forward to seeing the students again on Sunday as they cheer us on at Tottenham Hotspur Stadium!".
Don't miss out, secure your tickets now at tottenhamhotspur.com/WSL.
Tottenham Hotspur has a number of different activities and programmes available across London for women and girls wanting to meet new people, stay active and play football in a fun and friendly environment.
Premier League Kicks
Premier League Kicks is a series of free football sessions where girls of any level can take part in regular, fun, and positive activity, whilst helping to create stronger, safer, and more inclusive communities.
Girls-only sessions take place:
· Every Thursday between 5pm and 6pm at Heron Hall, 46 Queensway, Ponders End, Enfield, EN3 4SA
· Every Thursday between 5.30pm and 7pm at Tottenham Powerleague, Willoughby Lane, N17 0SL
Women's Walking Sports
Free walking sports session for women between 25 and 40 years old - come along, try a new sport, and get fit in a fun and inclusive environment.
Sessions take place every Monday between 6pm and 7pm at N17 Arena, located on the Tottenham Hotspur Stadium campus.
Wildcats
For girls aged 5-11 years old who love football. Sessions are about having fun, meeting new friends, growing in confidence, and playing in a friendly environment.
Sessions take place:
· Every Thursday between 4pm and 5pm at N17 Arena, located on the Tottenham Hotspur Stadium campus
· Every Thursday between 5.15pm and 6.15pm at N17 Arena, located on the Tottenham Hotspur Stadium campus
Girls Player Development Half Term Programmes
Our Half Term Programmes are the best way to develop as a young player during the school term. Our expert Football Development coaches deliver world-class technical programmes, workshops, and exercises classes with the aim to keep children physically active and promote a positive mental wellbeing.
Our expert coaches are on hand to help showcase the authentic training methods developed within the Club's Academy, helping young players to reach their full potential, improve their self-confidence and develop their enthusiasm, love, and passion for the game.
Girl's only Player Development programmes are taking place during February Half Term from Monday, February 13 to Friday, February 17 at the following locations:
Queen Elizabeth School – Luton
Richard Hale School - Hertford
St. Dunstan's College - London
Woodhouse College - London
To find out more and book, click here.
To register interest and find out more about any of the above programmes, please contact thf.activities@tottenhamhotspur.com.