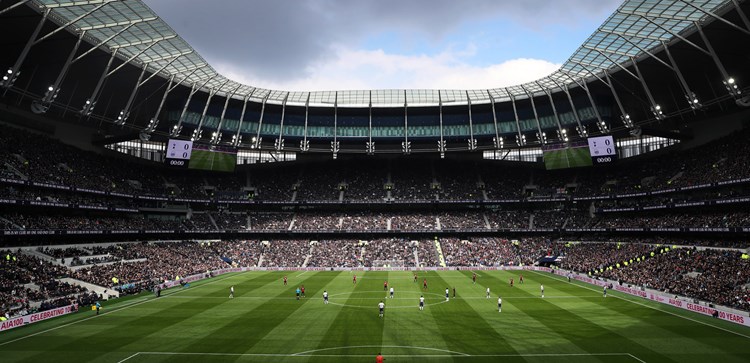 UEFA Champions League Final live screening – ticketing details and further information
@SpursOfficial
Fri 17 May 2019, 13:56|
Tottenham Hotspur
We are now able to confirm the ticketing process for our live screening of the UEFA Champions League Final being held at Tottenham Hotspur Stadium on Saturday 1 June.
As previously communicated, we shall be opening the stadium to full capacity with all tickets for this event priced at £10 for adults and £5 for juniors (under 18). Booking fees will apply on all £10 tickets.
Fans will be able to purchase tickets within the following designated sales windows:
- SALES WINDOW 1: Season Ticket Holders will be able to purchase their regular seat which will be reserved for them from 3pm on Friday 17 May through until 5pm on Tuesday 21 May.
Season Ticket holders are advised that they can purchase their reserved seat at any time during this period so if channels are busy you are advised to wait and buy at a later time.
- SALES WINDOW 2: From 10am until 5pm on Wednesday 22 May: One Hotspur+ Members.
- SALES WINDOW 3: From 10am on Thursday 23 May: All remaining One Hotspur Members.
Season Ticket Holders who successfully apply during Sales Window 1 will be seated in their usual seat and will have their ticket uploaded to their Stadium Access Card. Likewise, any Members who purchase a ticket will also have their Stadium Access Cards activated for this event.
Should a Season Ticket Holder wish to purchase a ticket in a different area of the stadium to their regular Season Ticket seat then they are able to do so during either Sales Windows 2 or 3 and will have the option of selecting either an e-ticket or paper ticket, which they should bring on the night to gain access.
Any tickets remaining following the above sales windows will be made available for Season Ticket Holders and Members to purchase for non-members as part of a Guest Sale window where they will be issued with an e-ticket via email that must be printed at home. Further details shall follow should we open a Guest Sale window.
Supporters are advised that tickets for this event will only be on sale online or over the phone on 0344 844 0102, OPTION 1 ONLY.
Tickets WILL NOT be available to purchase by any supporters direct from the Ticket Office.
Please note that this event will not be going on General Sale to non-members.
Executive Members and those on our Access Scheme will be contacted separately with details on how to apply.
Event information
We shall be opening all areas of the stadium at 6pm – two hours ahead of the 8pm (UK time) kick-off in Madrid.
All bars and food outlets will also open at this time – the Club has also obtained a licence for fans to take alcohol to their seats.
We should, however, like to remind fans that this will be a family event for supporters of all ages to enjoy a momentous occasion in the Club's history – we ask that you are therefore mindful of your alcohol consumption and behaviour and give due consideration to those around you at all times.
Our usual matchday security procedures and bag policy will be in place for this event. We encourage fans to arrive as early as possible, and strongly advise against arriving any later than 7.30pm, to leave enough time to clear security and avoid busy transport times.
During the event, fans will be treated to BT Sport's live coverage of the Final, including all the build-up, post-match reaction and trophy presentation, via our giant HD screens and televisions located throughout the concourses and Premium areas, plus screens on the pitch.
Fans will be able to purchase a copy of the official UEFA Champions League Final matchday programme for a price of £10 throughout the stadium and at the Spurs Shop at the Tottenham Experience.
Bars and food outlets will close at 10.30pm, with last orders at 10.15pm, ahead of the stadium closing at 11pm. Should the match go to extra-time and penalties, we shall look to extend the opening hours of the stadium and continue to serve food and soft drinks. However, we shall stop serving alcohol at 10.30pm in any event.
We shall be updating fans with further information on our live screening event, including a full Travel Update, in due course. Please keep an eye on Club channels.