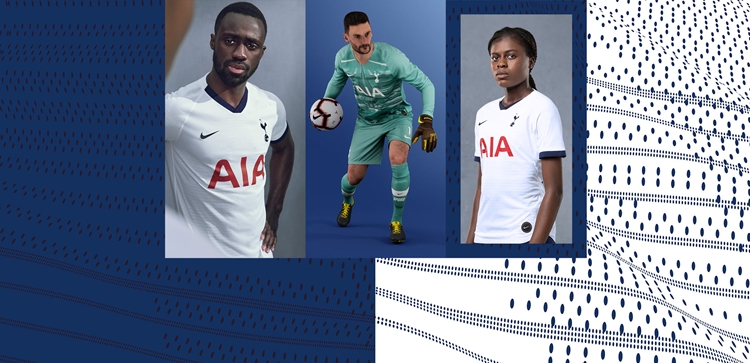 Home and Away kit 2019/20
@SpursOfficial
Thu 18 July 2019, 08:00|
Tottenham Hotspur
The Club can today officially present our new kits for the 2019/20 season, which see us return to our roots with a bold and sophisticated take on our traditional colours.
Our home kit reflects our powerful and iconic identity – pure white shirts with deep blue shorts, finished with white socks.
The new home shirt is framed by a stylish blue V-neck collar and trim on the sleeves. Within the trim, the word 'Spurs' is subtly woven into the fabric.
The blue shorts are finished with white detailing, while the white socks feature a blue hoop and the word 'Spurs' midway up the shin. Inside the collar of the shirt, an 'inner pride' motif celebrates the Club motto, 'To Dare Is To Do'.
Our new away kit makes a real statement through a vivid purple graphic on the front of the shirt. The kit, which is navy blue from head to toe, is lit up by this unique pattern which uses the word 'SPURS' multiple times to create a series of jagged lines across the chest.
The shirt is complemented by blue shorts and blue socks, which also feature a purple hoop. Inside the shirt, the Club's motto in Latin: 'Audere Est Facere.'
Inspirational young people from Tottenham have helped to unveil this season's new kit and model items from the 2019/20 collection.
The First Team will wear the home kit for the first time when we face Manchester United in the International Champions Cup in Shanghai on 25 July while the away kit will get its first outing against Juventus in Singapore four days earlier.
The 2019/20 Tottenham Hotspur home kit is available now at the Spurs Shop, online and in-store. The away kit is available to pre-order through our online Spurs Shop, with stock expected from 3 August.