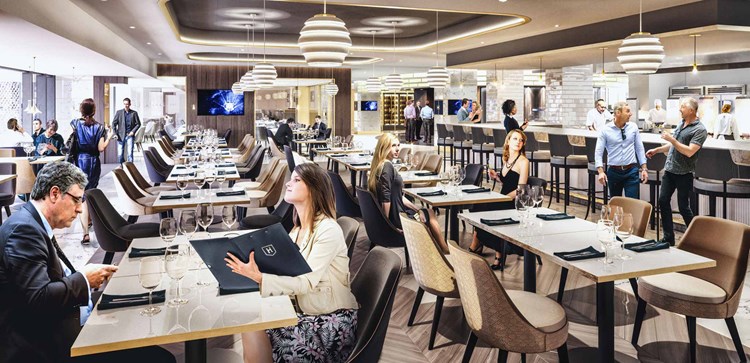 Fine dining line-up at new stadium
Exclusive images of premium areas revealed
@SpursOfficial
Mon 13 November 2017, 09:00|
Tottenham Hotspur
Club finalises unprecedented collection of internationally acclaimed chefs as part of premium offering at the new stadium, with Bryn Williams and Dipna Anand the final additions.
Williams and Anand join the Roux family and Chris Galvin in bringing their acclaimed cuisine to

 

On Four

 

– premium suites and lounges located on Level four of the stadium.
New images of the

 

On Four

 

suites and lounges released, providing preview ahead of stadium opening next year.
The H Club, an exclusive Members' Club located

 

On Four, will offer a range of Michelin star calibre dining experiences, including a Chef's Table and Players' Table where you can dine with Club legends.
Tottenham Hotspur, along with its Official Catering Partner Levy UK, has today revealed the full line-up of world-renowned chefs bringing their expertise to the premium offering at the Club's new stadium, with Bryn Williams and Dipna Anand the final additions.
To mark the announcement, new CGI images of the premium areas in the new stadium have been released, showcasing the exceptional surroundings guests will experience when the stadium opens in August 2018.
Award-winning Williams and Anand join the illustrious Roux family and Chris Galvin in bringing their celebrated cuisine to the prestigious On Four lounges and suites at the venue as the Club aims to redefine the premium experience within football.
On Four, located on level four of the new stadium, will provide an unparalleled line-up of esteemed chefs within one sporting venue, allowing guests to enjoy a wide variety of signature dishes originating from all over the globe at matchdays throughout the season.
The six chefs – Michel Roux Jr, Albert Roux, Emily Roux, Chris Galvin, Bryn Williams and Dipna Anand – run a combined 18 restaurants across the world, stretching from London to Dubai. Bryn Williams' traditional British style and Dipna Anand's vibrant Indian style of cooking, join the classical French cuisines offered by the Roux family and Chris Galvin, to create a Michelin-calibre offering never seen before at a sports and entertainment venue.
One of the numerous experiences that can be found On Four is the flagship restaurant and lounge The H Club. Set to become London's next top Members' Club, The H Club is situated on the halfway line and offers fantastic views from which to view the action. Members can select from five dining experiences throughout the season. Options range from:
• Exquisite fine dining and informal brasserie style experiences
• The opportunity to dine at the Chef's Table with their food prepared on view
• The Players' Table experience where guests can dine alongside legendary former Tottenham Hotspur players
• Informal bar for the occasions where members would prefer a light option or are short of time
In addition to the dining options available, guests will enjoy money-can't-buy experiences such as the exclusive presentation of the Man of the Match award after each game and the chance to meet and talk to the nominated player. Meanwhile, members' favourite wines, cognacs and liquors can be stored in a glass-fronted, temperature-controlled display vault throughout the season.
On Four also includes Super Suites that can be fully customised by an interior designer to reflect an individual's or brand's values, and Super Loges, that offer the intimacy of a private dining experience and the atmosphere of a restaurant and bar.
Bryn Williams partners with Tottenham Hotspur having been part of the most prestigious kitchen teams in the UK. Working under Marco Pierre White at The Criterion, Michel Roux Jr at Le Gavroche, residing as senior-sous chef at The Orrery, and is now Chef Patron of Odette's, London.
 Bryn, who will design and prepare the entire On Four menu and oversee the service delivery at a range of our matches next season, said: "It's incredibly exciting to bring my signature dishes and Britain's finest produce to the Club's new stadium.
"The H Club closely resembles Michelin star restaurants across the globe in everything from the design and atmosphere, to the food that will be served. I'm looking forward to being part of something that takes the food offering at sports and entertainment facilities to another level."
London-born Dipna Anand is known for her celebrated Southall restaurant Brilliant, as featured in Gordon Ramsey's 'Best' on Channel 4, which specialises in providing authentic Indian food and boasts celebrity fans including Prince Charles.
Dipna said: "I have a love affair with Indian cooking and through this exciting collaboration with Tottenham Hotspur, I'm looking forward to bringing the fantastic Indian dishes I grew up with to a new audience.
"At one match, guests On Four might be eating the finest European cuisine courtesy of the Roux family, Chris or Bryn, and the next they will sample my taste of Asia – there is a great variety on offer."
Andy O'Sullivan, Director of Hospitality, Tottenham Hotspur, said: "Bryn and Dipna complete what is an outstanding line-up of acclaimed chefs that will further enhance the premium offering at our New Stadium.
"Not only do they bring great culinary expertise and experience, they also offer unrivalled variety for guests On Four to enjoy.
"These partnerships with some of the world's finest chefs demonstrates the commitment the Club is showing in delivering what will be London's best sports and entertainment venue in every aspect."
In addition to the chefs now confirmed, at seven games each season the Club will offer emerging 'Hero Chefs' the opportunity to showcase their talent On Four. Chefs from the local area and entrants into competitions such as the Craft Guild of Chefs 'National Chef of Year' will be chosen to design the menu and host service On Four, following in the footsteps of the Roux family, Chris Galvin, Bryn Williams and Dipna Anand.
When complete, the Club's new stadium will support more than 3,700 jobs, with £293 million pumped into the local economy each year – an enormous impact for an area in real need of new jobs and more economic activity.
Set to open in 2018, London's largest capacity football club ground will feature a retractable grass field for our home fixtures with an artificial surface underneath that will be multi-use and capable of hosting NFL matches, concerts and other high-profile events.
Full details of all On Four packages available can be found here.