9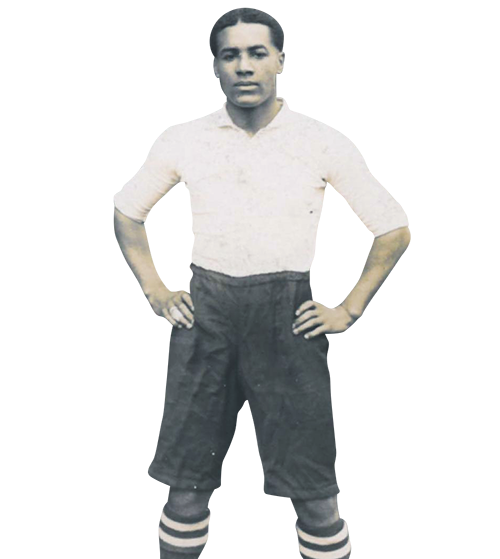 Walter
Tull
Join Date: 01 April 1909
Walter Tull
1909-1911
Appearances: 10. Goals: 2.
Played in the Club's first-ever matches in the top flight, 1909-10.
The first black outfield player to appear in the Football League.
Walter Tull made only 10 appearances for Spurs. Yet his story goes beyond football. He was a trailblazer and war hero whose life continues to serve as an inspiration.
Initially signed on amateur forms from Clapton in March, 1909, Walter, a centre or inside-forward - mobile, strong, clever in his play - impressed in appearances for our 'A' and reserve teams and took his place on our tour of Argentina and Uruguay in June, 1909.
On his return he was paid a £10 signing on fee - the maximum allowable at the time - and wages of £4 per week.
On 1 September, 1909, history was made. Walter, then 21, stepped out in our first ever match in England's top-flight, a 3-1 loss at Sunderland – in doing so, he became the nation's first black professional outfield player. A week later, in our first home match in the old First Division, Walter was brought down for a penalty in a 2-2 draw against Manchester United.
He scored his first goal on 18 September, but we suffered a 5-1 defeat at Bradford City. He lost his place in the team and played 16 games for the reserves. The following season, 1910/11, was his last at Spurs. He scored regularly for our reserves, but Percy Humphreys had taken his place, scoring 18 goals in 24 matches.
With two goals in 10 senior appearances, plus another five eight non first-class matches, Walter moved to Northampton Town in October, 1911. He was coveted by then Cobblers' boss Herbert Chapman, so when we made a move for Northampton's highly rated right-back Charlie Brittan, Chapman demanded Walter as part of the deal.
Watch - local children learn the legacy of Walter Tull
Walter went on to play 110 times for Northampton in the Southern League and Glasgow Rangers were reportedly interested in signing him when life took another, altogether more challenging turn – World War One.
On 21 December, 1914, Walter became the first Northampton player to join the 17th (1st Football) Battalion of the Middlesex Regiment, nicknamed 'The Diehards'. He served with another ex-Spur, the legendary Vivian Woodward. Walter's brother, William, also enlisted.
The battalion became part of the 33rd Division, 100th Brigade and was sent to the front line in France on 18 November, 1915. The 1st Football fought in the infamous Battle of the Somme between July-November, 1916. Almost 20,000 allied troops were killed on the first day and in one action by the battalion itself, only 79 men returned from 400.
Now a sergeant, Tull was invalided out of France with trench fever, but he would soon return. He was commissioned as second lieutenant on 30 May, 1917 - contrary to regulations, Walter had now become the first British-born black combat officer in the British Army. He fought in Italy in January, 1918 before returning to France to fight in the second Battle of the Somme.
He was leading his men in 'No Man's Land' when he was shot and killed instantly on 25 March, 1918, at the age of 29.
Walter was posthumously awarded the British War and Victory Medal. He was also recommended for the Military Cross, but never received it.
Over 100 years later, Walter's memory and inspiration live on. As a pioneer and role model, his merit transcends football.
Walter Tull - Hotspur magazine special
Our Club Historian, John Fennelly, put together a special feature on Walter Tull in Hotspur Magazine back July, 2009 - marking a century since he'd signed for Spurs. Detailing Walter's life, the feature also looked at his family and what life in Tottenham was like in 1909, both on and off the pitch.
The feature is a reference point for Walter Tull - and can be read by using the link below.