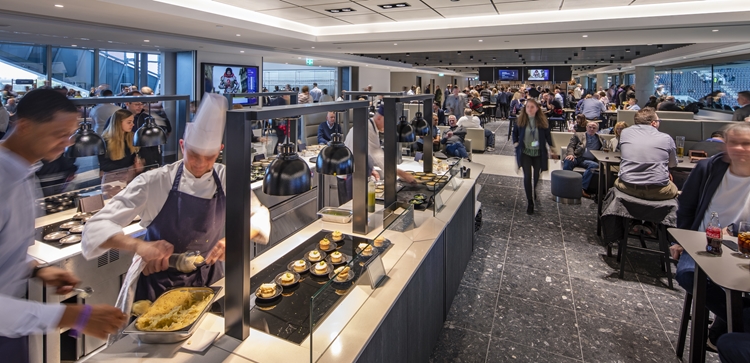 Premium Seats
A premium yet authentic football experience
Introduction to Premium Seats
A Premium Seat membership gives guests a chance to not only watch football in stunning surroundings but to reinvent the way they enjoy their matchday. Instead of arriving at kick off and leaving at the final whistle, why not spend the pre and post-match period relaxing in comfort?

With exclusive access to facilities ranging from informal and atmospheric lounge areas to a Michelin-star standard restaurant, Premium Seat holders have the flexibility to make each match day experience different but equally as memorable as the last.
All Premium Seat options include a complimentary food offering pre-match and a complimentary half-time bar. A selection of lite-bite food options are included - a premium twist on football fan favourites.
Tailor your matchday experience
In addition to the complimentary food served within the lounge areas, members have the option to upgrade to a number of enhanced dining offers on a match by match basis.

Whether treating friends and family for a special occasion, or spending time with your most valued business contacts, as a premium seat holder you'll have the opportunity to tailor your match day experience for each and every game.
The restaurants available exclusively to Premium Seat Holders are listed below:
Chef's Table
Presenting a more traditional dining style with an element of live theatre, Chef's Table provides the twist of allowing you to customise your experience at the counter.
Hakusha
Our Pan-Asian restaurant draws on Cantonese, Japanese and Thai cuisines to bring guests an exotic menu in a lively atmosphere.
Espuela
Meaning 'Spur' in Spanish, Espuela will bring a Mediterranean flavour to the new stadium, offering quality cuts of meat and seafood in a smart-casual dining experience.
The Best view of the action
Premium Seats occupy some of the best positions at Tottenham Hotspur Stadium. Whilst availability is now extremely limited, the optimum viewing areas including halfway line seats can still be secured.
Contact the Premium Sales team today
If you would like to speak with a member of our Premium Sales Team, simply contact us in one of the following ways:
   0208 365 5150
  Click the chat box in the right corner of this page
  Message us via the form below and we'll get in touch with you