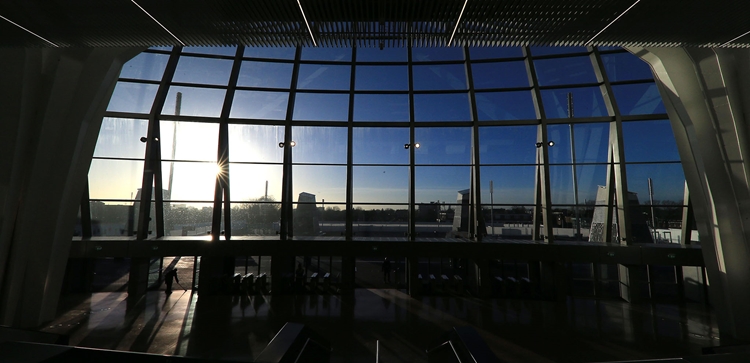 Passionate About Our Planet
Tottenham Hotspur is dedicated to minimising the environmental impacts of its activities across all Club operations.
We embrace initiatives and technologies that reduce our environmental impact whenever possible, working towards improving efficiency and sustainability across the Club at all levels - encouraging employees, suppliers and partners to do the same.
We are offsetting our carbon footprint in a myriad of different ways – to date, we have planted hundreds of new and semi-mature trees and tens of thousands of new plants, hedges and flowers across our Training Centre to establish an ecological habitat
The Club was a founder member of the 10:10 initiative, which called on individuals, businesses, schools and other organisations to cut their emissions by 10% in a year. This founder membership and the Club's work during that period has informed our policies moving forward since implementation in 2009.
The Club's core policies are:
Recycle any waste products generated across the Club where possible and increase waste diversion away from landfill
Reduce our single-use plastic footprint with the aim of eliminating its use across Club operations, seeking to source more environmentally sustainable materials where possible
Educate and inspire young people in our communities through the work of the Tottenham Hotspur Foundation
Promote alternative forms of transport for fans and staff to and from the stadium and Training Centre that have a reduced impact on the environment
Identify locally and sustainably sourced food options to cater for various dietary requirements, including plant-based food options, at our stadium
UN Sports for Climate Action Framework - Race to Zero
Tottenham Hotspur has proudly joined the UN Race to Zero, committing to halve its carbon emissions by 2030 and become net zero carbon by 2040.
It follows the Club becoming a signatory of the UN Sports for Climate Action Framework, which supports and guides sports organisations globally to achieve climate change goals, in January 2021.
The Race to Zero high ambition track was launched at last year's COP26 and aims to rally non-state actors – including companies, cities, regions, financial and educational institutions – to take rigorous and immediate action to work towards achieving net zero carbon in line with the Paris Agreement, with transparent action plans and robust targets.
The Sports for Climate Action initiative calls on sporting organisations to acknowledge the contribution of the sports sector to climate change and a collective responsibility to strive towards climate neutrality for a safer planet.
By signing the Framework, the Club has demonstrated its commitment to playing its part to ensure the sports sector is on the path to a low-carbon future.
In line with the five core principles enshrined in the Framework and the aims of the Paris Agreement, signatories strive to:
promote greater environmental responsibility;
reduce the overall climate impact from sports;
use their platforms to educate for climate action;
promote sustainable and responsible consumption; and
advocate for climate action through communications.
Until recently, most companies have focused on measuring emissions from their own operations and electricity consumption (Scope 1 and 2). Scope 3 accounts for the greenhouse gas (GHG) emissions associated with a company's entire value chain. These are considered indirect emissions as are not under the company's direct control.
Scope 3 emissions are broken down into 15 categories which span the entire upstream and downstream activities of a company. Scope 3 emissions often account for 80% - 99% of a company's total emissions footprint and it is therefore important to understand these emissions. Assessing the entire value chain emissions impact can help to identify where to focus reduction activities.
The Club measured its Scope 3 emissions footprint for the first time in 2022. For the reporting period July 2021 - June 2022, the entire Tottenham Hotspur Ltd business produced 76,698 tonnes carbon dioxide equivalent (tCO2e) worth of Scope 3 emissions. These emissions account for over 90% of the Club's total greenhouse gas emissions footprint. Our emissions are reported on a consolidation, operational control approach, as defined by the GHG Protocol. All emissions have been calculated following the GHG Protocol's Corporate Accounting and Reporting Standard and the guidelines of the ISO14064-1. All applicable Scope 3 categories have been quantified.
Th Club reports its emissions on a tonnes carbon dioxide equivalent (tCO2e) basis. Each greenhouse gas has a different global warming potential (GWP) compared to carbon dioxide (CO2), for example, methane (CH4) has a warming potential 28 times that of CO2. Therefore, to be able to compare the emissions from all the Kyoto protocol GHGs on a like-for-like basis, they are converted to tCO2e using their respective GWP.
The most significant source of Scope 3 emissions is fan travel to and from Tottenham Hotspur matches. These emissions have been included under the Scope 3 category "Downstream Transport and Distribution", and account for 47% of the company's total greenhouse gas emissions footprint. Emissions embedded in purchased goods and services, capital goods, and business travel are also significant contributors to Scope 3 emissions.
Our Scope 3 emissions are being addressed through engagement with suppliers and fans and internal policy changes. We are in the process of producing a decarbonisation action plan which will detail the short, medium and long term actions we will take to meet near-term and net-zero targets.
Emissions Scope and Scope 3 Category

June 2021 - July 2022
GHG Emissions (tCO2e)

Scope 1

3,523

Gas

3,347

Transport (excluding grey fleet)

83

F-Gas

93

Scope 2 (location-based)

4,458

Scope 2 (market-based)

0

Scope 3

76,698

1: Purchased Goods and Services

14,708

2. Capital goods

11,357

3. Fuel-related emissions

2,428

4. Upstream Transportation and Distribution

327

5. Waste generated in operations

21

6. Business travel

5,714

7. Employee commuting

1,092

8. Upstream leased assets

Not Applicable

9. Downstream Transportation and Distribution (Fan travel to matches)

39,794

10. Processing of sold products

Not Applicable

11. Use of sold products

10

12. End of life treatment of sold products

60

13. Downstream leased assets

1,186

14. Franchises

Not Applicable

15. Investments

Not Applicable

Total All Scopes (location-based)

84,679

Total All Scopes (market-based)

80,221
We are working to reduce our Scope 1, 2 and 3 emissions on an absolute basis as far as possible towards an ultimate goal of being net-zero by 2040. On the journey to net-zero we plan to take responsibility for emissions we haven't prevented from being produced. During the reporting period (2021-22), we purchased 872 tCO2e worth of offsets and are currently developing an offset strategy that will complement our decarbonisation actions. The Club's carbon reduction plan can be found here.
Top of the EPL Sustainability League Table
For a third year running, the Club has finished top of the Premier League sustainability table produced by the UN-backed Sport Positive and published by BBC Sport.
Sport Positive has systematically collated key environmental sustainability information for every Premier League football club into a table matrix. The categories reflect the environmental impacts of putting on a football match, and initiatives that are under way at clubs, put together in an easy and digestible format.
Two new categories were introduced this year - biodiversity and education – with more points awarded to clubs that are working strategically across all club sites and operations, have policies in place, and are engaging fans, staff and players in their work.
Tottenham Hotspur, alongside Liverpool, ranked highest by scoring 23 out of the 24 available points – see the full league table.
Count us in
Tottenham Hotspur is proud to be a founding partner of Count Us In – an unprecedented global movement aiming to mobilise 1 billion people to act on climate change.
Count Us In aims to inspire citizens everywhere to take 16 practical and high impact steps to protect what we love from carbon pollution before it is too late.
British Association for Sustainable Sport
The Club is a proud member of the British Association for Sustainable Sport (BASIS), the sustainability hub for sport in the UK.

For more than a decade, BASIS has driven the growth in understanding, expertise and commitment on sustainability in sport, helping members to shape and achieve their sustainability goals and deliver a positive environmental impact through sport.

Through our BASIS membership, we join a host of leading clubs and governing bodies in securing a place in the top tier of sustainability in sport.
Products of Change (POC)
Tottenham Hotspur is the first sports team to become a member of Products of Change (POC). POC is a global educational hub aimed at driving sustainable change across consumer product markets and beyond.
Products of Change brings together a strong community of brand owners, retailers, content creators, innovators, manufacturing partners and marketing experts who by learning and connecting through the platform can drive sustainable change within their respective businesses while maintaining a commercial footing.
Products of Change now has over 250 members, including Mattel, Hasbro, Lego, Viacom CBS, Discovery Networks, BBC Studios, Asda, Tesco's, and many more leading names. For more information, please visit: https://www.productsofchange.com/
Recycling - use the right bin
The Club is proud of its waste management policy that ensures zero waste is sent to landfill.
You can help us ensure all waste is recycled by simply choosing the right bin when you dispose of your rubbish.
Throughout the concourses, you will find two different bins at each location – one is for General Waste, the other for Dry Mixed Recycling.
The only waste items that should be placed in the Dry Mixed Recycling bins are as follows:
Empty plastic and glass bottles
Empty cans
Paper
Small cardboard
These items should not contain any left-over food or liquids if being placed into the Dry Mixed Recycling bin.
All other waste, such as left-over food, should be placed in the General Waste bin – this is crucial for the following reason:
After matches, the Dry Mixed Recycling bins are taken to a nearby Material Recovery Facility in Edmonton where the waste is separated to produce quality, single-stream materials that are then baled and sent to the most sustainable companies for re-processing.
However, if we contaminate our Dry Mixed Recycling bins with General Waste, it makes this sorting and repurposing process impossible.
Therefore, by using the right bin, you will be making the stadium a more sustainable venue by aiding recycling.
To ensure we make this process as simple as possible, we have staff on hand nearby the bins to help you use the right ones
A full site waste-management plan has been developed for the Training Centre, which includes a green-waste recycling facility nearby
Food remaining from events is given to The Felix Project charity for distribution locally, reducing food waste
Single-use plastics
We are leading the way in exploring ways to ensure that products we use do not end their life with us as part of our commitment to reducing our single-use plastic footprint across Club operations.
We have sought to source more environmentally sustainable alternatives to single-use plastic and will continue to do so as part of our commitment to phasing out single-use plastics from our operations. Any new contracts which come up for tender will also include a requirement to cut single-use plastics.
We have implemented a reusable cup scheme throughout General Admission areas of the stadium for football matches. The Club works in partnership with UK manufacturers Base-Flow and Reusable Cup Company, with Base-Flow providing the bottom-fill dispense beer cups across the stadium, and Reusable Cup Company supplying cups for all other drinks.  Mounted to our recycling bin units throughout the concourses, you will notice bespoke units where cups are to be disposed of after you have finished your drink. Cups are collected and taken off site after matches to be washed and then returned for further use. Any single-use plastic cups provided on event days are fully recyclable


Tottenham Hotspur Stadium is the first in the UK to use an industry leading 'Keg Cap Collection Service'.  As part of the full management service offered by Reusable Cup Company, all used keg caps are collected with dirty reusable cups after every match. These caps are taken to a cup production plant and recycled into brand new products, such as parts for the building trade or even new keg caps themselves, reducing the stadium's draught dispense single-use waste plastic by over 100kg's per season. Cups at the end of their life will also be recycled into new products - one cup contains enough plastic to make six new keg caps


We do not stock plastic straws, stirrers or cutlery at the stadium across all concourse areas, nor are they wrapped in any plastic disposable packaging. We instead use wooden stirrers and cutlery, and paper straws. In addition, no single-use plastics is used to serve food inside our premium areas. Sandwich packaging in The M, our new food and drink option on the High Road, is fully compostable


Players drink water from cartons as opposed to plastic bottles at all home matches, with refillable bottles provided by O.R.S used during training sessions 


The Nike shirts that players wear on the pitch and the replica jerseys for fans to buy are constructed with 100% recycled polyester fabric, which is made from recycled plastic bottles
Water fountains are  available throughout our general admission concourses


Stadium visitors are able to purchase a multi-use, reusable drawstring bag from one of our retails outlets at a cost of £1


Fans are able to purchase from our range of Retro Hangers, which are e

co-friendly and 100% plastic-free,

made from a revolutionary FSC-certified cellulose-based material
Clean/renewable energy
We have achieved 100% certified renewable energy and zero scope 2 emissions, with REGO-backed electricity and carbon neutral gas provided to the stadium by Brook Green Supply.
Other aspects of the building design include insulation, solar shading and building fabric thermal performance that reduce the need for additional energy usage.
Carbon dioxide emissions from the Stadium are around 50% less than a stadium built 10 years ago and the entire development is targeting a 22% improvement on the Building Regulations baseline.
The Club has put technologies in place throughout its Training Centre to deliver renewable energy to the development, including 75m2 Solar Panels and air source heat pumps.
Energy efficiency
The building fabric of the stadium has been designed to be highly insulated to reduce heating and cooling demands.
Our stadium's technology infrastructure, developed in partnership with HPE and Aruba, allows for the consumption of less power during periods of low activity.
LED lighting (including floodlights) and high-efficiency building services systems are in place to reduce energy use.
A range of other initiatives are in place including intelligent controls, attenuation water tanks and green roofs on the Tottenham Experience
Sustainable Transport
The Club has a sustainable transport plan in place for both its fans and staff, overseen by an appointed Travel Plan Co-Ordinator.
Tottenham Hotspur Stadium is a Public Transport Destination, with service improvements, new shuttle bus and regional coach services, better pedestrian connections, real-time travel information points, clear signage and regular transport updates on the Club's website, in matchday programmes and directly to fans from several sources. 
Recent analysis has shown that the Club is close to achieving its target of no more than 23% of supporters (i.e. 14,250) travelling by private car on matchdays – with 25% of fans currently using private car as a preferred method of travel, based on survey data. This a significant reduction in the percentage of fans that travelled by car to attend matches at the old White Hart Lane (on average 22,500 out of a total of 36,000).
The Club has installed new bike racks locally around the stadium and is actively encouraging fans to consider cycling on matchdays.
The Club has launched a 'Cycle To Work' scheme for staff in conjunction with Cycle Solutions, with additional bike tacks installed at its offices. 
Charging stations for electric vehicles are available across Club sites.  
Water Use
Water consumption is minimised across the stadium with waterless urinals and low-flow fittings and fixtures.
At the Training Centre, a sedum 'green roof' has been installed to significant portions of the main building to enable the capture and re-harvesting of rain water across the site.
A comprehensive drainage and extraction system is in place through the installation of an attenuation pond and two onsite bore holes that extract water, with licences and agreement from the Environment Agency.
Plant-based/low carbon food
All food deliveries made to Tottenham Hotspur Stadium carry zero carbon emissions. Working with Reynolds, deliveries are made by an all-electric refrigerated semi-trailer with an all-electric tractor unit, in which the fridge runs on solar power.
All menus across our matchday food outlets, as well as The M on non-matchdays, include vegetarian and vegan options
Vegan matchday food offerings are currently available, including:
Beetroot burger
Tofu Katsu curry
Beer battered tofu
Hot jackfruit sandwich
All food produce, where possible, is locally and sustainably sourced. We are working with partners to continue to identify and improve further sustainably sourced food options to cater for various dietary requirements and plant based food options
Waste from our stadium's microbrewery is used to feed the pigs at Wicks Manor Farm, less than 50 miles away, which in turn is then used in our pork product in the stadium. 
Riso Gallo, the first international brand in the sector to have produced rice from sustainable agriculture, is supplying Tottenham Hotspur Stadium with its range of sustainable rices for use across our catering facilities.
Ecology
A detailed Ecological Management Plan is in place across all Club sites to monitor and manage ecological activity.
Stadium
A detailed ecological survey of the stadium site was undertaken to establish baseline conditions ahead of its construction.
The site is largely occupied by buildings, bare ground and hard standing with limited areas of amenity grassland and scattered semi-mature/mature trees. Buildings and trees typically provide shelter and breeding opportunities for bats and birds and therefore surveys for both species groups have been completed.
Previous bat transect surveys undertaken by CSa Environmental Planning in 2008 confirmed low levels of bat activity in association with the site and found no evidence to suggest that bats roost at the site. Based on the survey findings, the local bat population is not considered to be a Valued Ecological Receptor (VER).
A nesting bird survey undertaken in 2014 recorded kestrel (amber-listed Bird of Conservation Concern) and starling (red-listed Bird of Conservation Concern) nests on site. Both species are well adapted to urban environment and therefore are not considered to be at risk of adverse effects resulting from the stadium project. Nesting birds are not considered to be a VER as part of this assessment.
Two internationally important wildlife sites (a Ramsar site and a Special Area of Conservation) and two nationally important wildlife site (both Sites of Special Scientific Interest) were identified as VERs, alongside two Sites of Importance for Nature Conservation. No significant effects to any of these sites were anticipated in relation to the stadium.
A range of roosting/nesting features are provided at the stadium in order to increase the ecological value of the site. These benefit a range of locally important species including bats, kestrels, starlings, swifts and a range of other bird species commonly found in urban environments.
Training Centre
The Club has planted hundreds of new and semi-mature trees and tens of thousands of new plants, hedges and flowers across its Training Centre, as well as a Wildflower Meadow, to establish the ecological habitat.
In our conservation area at the Training Centre, we have also created two additional wildlife ponds, 25 bug hotels and multiple bat houses. The attenuation pond has also been enhanced to not only fulfil its practical application, but the creation of a natural wetland and intermittent wetland habitat with additional ponds and wildlife.
Further ecological measures at our Player Accommodation Lodge include:
Additional terrestrial habitats created to promote biodiversity
Aquatic habitat created for protected species of Great Crested Newts
Considerate lighting to reduce light pollution to promote existing bat species proliferation
Barn and Farmhouse built to house bats
Local well used for maintenance and irrigation of the grounds
Green roof designed to propagate local fauna, birds and wildlife
Preservation of several trees of high importance
Wildlife corridor created - an exclusion zone for guests
75 additional species of plant have been added to the site's ecology
The site is evaluated under Greenspace Information for Greater London, Multi-Agency Geographic Information for the Countryside, and the National Biodiversity Network Gateway.