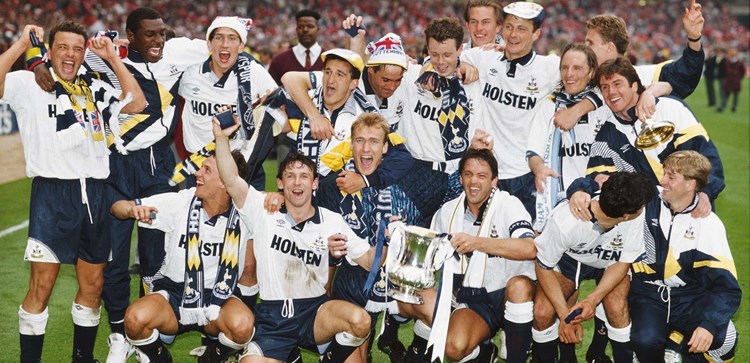 Year By Year
1882
Club formed by boys from Hotspur cricket club and from the local grammar school. The name of 'Hotspur FC' was adopted.
1883
Club reorganised under the presidency of Mr John Ripsher. Club colours - navy blue. Matches played on Tottenham marshes.
1884
Club re-named 'Tottenham Hotspur Football Club'.
1885
First competitive match versus St. Albans in the London Association Cup. Spurs winning 5-2. Colours changed to light blue and white halves. First credit balance nine shillings.
1887
First meeting with Arsenal - then Royal Arsenal. Match abandoned 15 minutes from time 'owing to darkness' with Spurs leading 2-1.
1888
Spurs move to private ground in Northumberland Park, where the first admission charge of 3d was made.
1890
Colours changed to red shirts and navy blue shorts.
1895
Spurs adopt professionalism.
1896
A record crowd of 6,000 spectators watch the friendly match with Aston Villa. Spurs elected to the Southern League Division One. Club colours changed to chocolate and gold.
1897
We reach our first Cup Final, losing 0-2 to hosts Wellingborough in the local Charity Cup competition.
1898
The Club becomes a limited company and a match against Woolwich Arsenal attracts a record crowd of 14,000 spectators. Change of colours to white shirts and blue shorts.
1899
The Club moves to a new site, originally a market garden. Accommodation for 35,000. Ground almost named 'Gilpin Park' but instead gradually became known as 'White Hart Lane'. First match staged was a friendly versus Notts County - gross receipts £115.
1900
Success at last - Spurs become Champions of the Southern League.
1901
Spurs win the FA Cup to become the only non-League club, following the formation of the Football League in 1888, ever to achieve this honour.
1908
Entry secured to the Second Division of the Football League.
1909
Promotion to First Division gained at first attempt.
1915
Relegation to Second Division.
1920
Promoted again at first attempt with 70 points, a record under the old system of two points for a win.
1921
Second FA Cup triumph, Spurs beating Wolverhampton Wanderers 1-0 at Stamford Bridge.
1928
Relegation to Second Division.
1933
Promotion again, this time as Division Two runners-up.
1934
Building of the East Stand completed.
1935
Relegation to Second Division.
1938
The existing crowd record of 75,038 spectators established for the visit of Sunderland in the sixth round of the FA Cup.
1950
Promotion to the First Division.
1951
Football League Champions for the first time.
1961
Football League Champions and winners of the FA Cup. The first club to complete the 'Double' since Preston North End and Aston Villa did so in 1889 and 1897 respectively.
1962
Winners again of the FA Cup.
1963
Winners of the European Cup Winners' Cup. The first British club to win a major European competition. Jimmy Greaves becomes Spurs' highest League scorer in one season with 37 goals.
1967
FA Cup winners for the fifth time.
1971
Winners of the Football League Cup.
1972
Winners of the UEFA Cup.
1973
Winners of the Football League Cup. The first club to have won the trophy twice.
1974
First English club to have played in three major European finals.
1977
Relegation to Second Division.
1978
Promotion again secured at first attempt.
1980
Old West Stand demolished to make way for new modern structure.
1981
FA Cup winners for the sixth time. Steve Perryman sets a new Club record of League appearances by passing Pat Jennings' previous record total of 472.
1982
New West Stand opened. FA Cup winners for the seventh time in the Club's Centenary year.
1983
By finishing fourth in the League, qualified for the UEFA Cup for the first time since season 1973/74. First football club to float shares on the London Stock Exchange.
1984
Winners of the UEFA Cup for the second time.
1985
Playing strip changed to white shirts and white shorts.
1986
Steve Perryman transferred to Oxford United after making a record 655 League appearances for Spurs.
1987
Spurs reach eighth FA Cup Final. Clive Allen sets a new Club record with 49 goals in a single season. Kit returns to white shirts and navy shorts.
1988
First million plus signing Paul Stewart from Manchester City for £1.5 million.
1989
East Stand refurbished.
1991
FA Cup winners for eighth time and back in European competition.
1992
Founder members of the new FA Premier League.
1994
'The Shelf' becomes an all-seater enclosure.
1995
New South Stand completed.
1996
New Rights Issue raises £10.9 million to redevelop North Stand, complete hospitality areas in South Stand and reconstruct pitch.
1998
New North Stand completed. Increased capacity to 36,257.
1999
Winners of the League Cup for the third time.
2001
ENIC complete takeover, Daniel Levy becomes chairman.
2006
Finish fifth in the Premier League, our best placing since its inception, to secure UEFA Cup football.
2007
Celebrate our 125th anniversary by achieving another fifth-place finish in the Premier League.
2008
Win the League Cup for the fourth time and the first team to win the trophy at the new Wembley Stadium.
2009
Reach the League Cup Final for the seventh time, but lose on penalties.
2010
Finish in a Premier League best of fourth place to secure Champions League qualification for the first time in the club's history.
2011
Reach the quarter-finals of the Champions League at the very first attempt.
2012
Finish fourth once again in the Premier League. Move into our new state-of-the-art Training Centre at Enfield.
2013
Achieve a best-ever Premier League tally of 72 points but finish fifth in the division. Gareth Bale joins Real Madrid for a world record transfer fee.
2014
Mauricio Pochettino is appointed our new Head Coach in May.
2015
Reach the League Cup Final for the eighth time.
2016
Achieve a best-ever finish in the Premier League, ending the season in third place and losing just six times, a club record in the division.
2017
Finish a club-best second in the Premier League, with a record 86 points and losing only four games. Play our last ever game at White Hart Lane, winning 2-1 against Manchester United on May 14. Set a new club attendance record of 85,512 v Bayer Leverkusen in Champions League at Wembley.
2018
Play all our home matches at Wembley Stadium while our new arena is being built in Tottenham. Qualify for the Champions League for the third successive season with a third-place finish in the league.
2019
Move into our new world-class stadium, with the first senior game against Crystal Palace on 3 April. Reach the Champions League Final for the first time in our history and qualify for next season's competition, finishing fourth in the Premier League. Jose Mourinho appointed Head Coach in November 2019.
2020
All football is suspended for three months (March to June) due to COVID-19. The season resumes and we finish sixth, qualifying for the Europa League. Gareth Bale rejoins the Club on loan from Real Madrid in September, 2020.
2021
Ryan Mason takes over as Interim Head Coach from Jose Mourinho in April. We reach the League Cup Final and finish seven in the Premier League, qualifying for Europe again. Fans return in May. Nuno Espirito Santo is appointed Head Coach in July, but departs in November. Antonio Conte takes over...