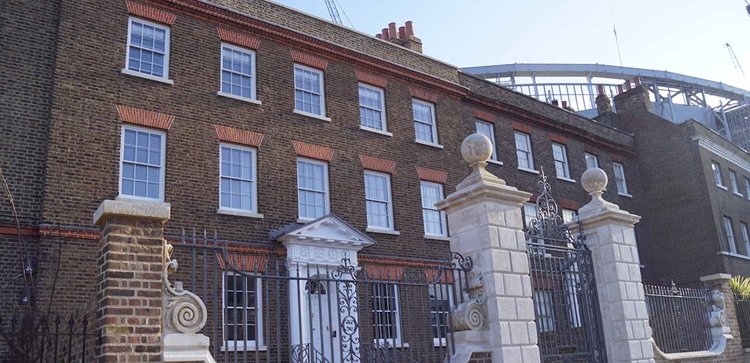 Percy House Heritage
Rooted in the Tottenham community
PERCY HOUSE HAS ITS OWN SPECIAL HISTORY
The Percy House building has been renovated with the support of the Heritage Lottery Fund to become a community hub and the new home of the Tottenham Hotspur Foundation. 
The history of the building and its occupants has strong ties to the creation of Tottenham Hotspur Football Club. Keep reading to find out more about Percy House and 'Harry Hotspur'...
Heritage Statement gives a glimpse into the historical importance of Percy House
The Heritage Statement identifies the Tottenham Hotspur Foundation's new headquarters as a building of major historical significance for the local area.
Percy House: the early years
Sir Hugh Smithson, Duke of Northumberland, had Percy House built in the early 1740s. 
Smithson was the inheritor of the fortune and lands of the Percy family of Northumberland, whose ancestor, Sir Henry Percy, commonly known as 'Harry Hotspur', inspired Tottenham Hotspur's name and its famous emblem of a fighting cock.
The house's history, however, reflects the more recent history of North Tottenham over the past 250 years – as it developed from a community developed from a dormitory village for wealthy city merchants to the lively multicultural community it is today.
From the northward spread of London, through the industrial revolution, the arrival of the railways, the population explosion of the nineteenth century, and the arrival of immigrant communities from Eastern Europe, the Carribbean, Turkey and the Middle East, Percy House reflects in its fabric everything the borough has gone through since it was built. 
Local Historian Dr Peter Mitchell, who undertook historical research on the listed building, said "Percy House has a fascinating history, in researching who lived here and how they lived, we can tell a story about the whole history of Tottenham from the 1740s down to the present – what daily life was like, what role Tottenham played in U.K. and world history, and how it became the community it is today."
"We've got a fantastic range of artefacts recovered from renovation work in the building, and we'll be doing research in local and regional archives working with museums and heritage associations, and giving talks and workshops in the community. There are some great stories to tell about Tottenham, and hopefully we'll be able to tell some of them."