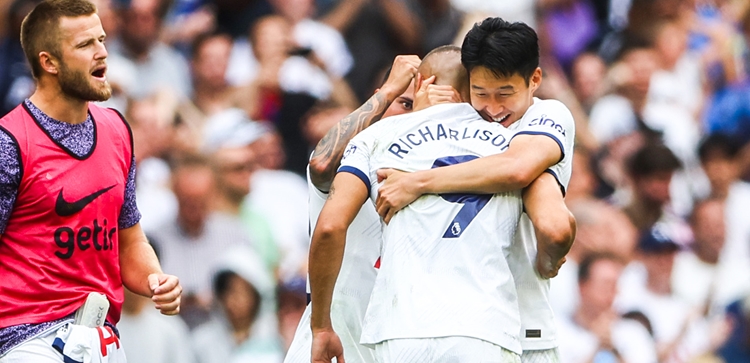 'This is part of being a family' - Son on support for Richarlison
@SpursOfficial
Mon 18 September 2023, 15:00|
Tottenham Hotspur
Heung-Min Son said he and the players were full of pride for goalscorer Richarlison as he referenced the ever-growing togetherness in the squad.
Trailing 1-0 in the closing stages against Sheffield United, Richy came off the bench with 10 minutes of regulation time remaining to head in a 98th-minute equaliser before assisting Dejan Kulusevski minutes later to register the latest winning comeback in Premier League history.
The Brazil international's contributions were significant for the Club but also for him personally after his first league goal of the season and 50th in England's top flight came just days after opening up about his mental health struggles in recent months.
As fans and players alike soaked up the jubilant scenes in Tottenham Hotspur Stadium, few moments captured the squad rallying around our number nine quite like during post-match celebrations when our Club captain nudged the Brazilian ahead of the team to receive the praise from supporters in the South Stand.
"This is part of being a family," Sonny said of his gesture towards the forward. "We always want to have a good time when we play together and everyone is really happy for him.
Watch - Son shines the spotlight on Richy
"I don't think anybody is happy when you're not in the starting XI but we know how important it is when you can come on and can change the game like he did along with Ivan [Perisic], Brennan [Johnson], Emerson [Royal] and Pierre [-Emile Hojbjerg], I think everyone did a really good job so that's important.
"Richy has had a tough time, a tough season, but I was very happy, probably happier than him, because we need him as a team. Richy is a really strong guy with good quality and character but the confidence can make a massive difference. I want to give him the credit that he deserves and he showed his quality today.
"When you're having a tough time, you always need good people around you so I always try to be there for him as a friend if he needs anything that I can help with from my experience and playing wise also. Everyone is standing with him and helping him and he did an amazing job for the Club."
Watch - Richy's equaliser against the Blades
Named Club captain by Head Coach Ange Postecoglou earlier this summer, this is the latest display of the South Korean's leadership style following his idea to conduct the pre-match team huddle in front of the away end at Brentford and the way he attributed his hat-trick against Burnley to his teammates.
These actions are the hallmarks of a skipper who likes to lead by example in this manner as he looks to keep building a tight-knit spirit in the squad, something he admits is made easy by having a great group around him in the dressing room.
"Big results especially like this makes us tighter and closer as a group," explained the 31-year-old. "Everyone is working for each other, running for each other and fighting for each other, it makes us stronger and we're getting really close so I hope we can get even tighter as a group.
"Having amazing players and people around me makes my job easier. The group of players do such a good job so it's easier for me, I just want to be a good example from my actions. I'm not a guy who's always talking or leading by words, I try to be a good example to everybody so I think having this group of players makes my job really easy."