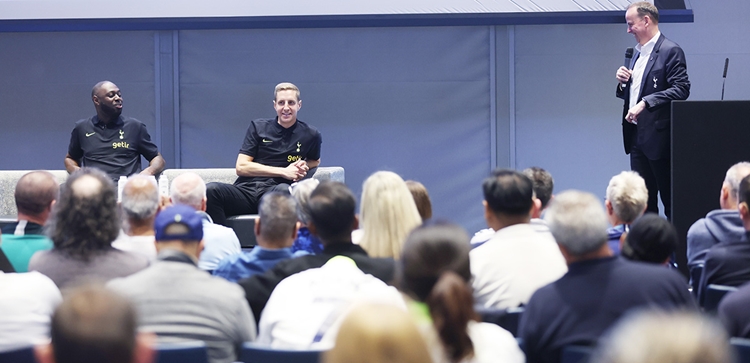 Ledley and Daws join fans at this year's end of season Official Supporters' Club awards!
@SpursOfficial
Fri 19 May 2023, 18:45|
Tottenham Hotspur
Supporters from around the world were at Tottenham Hotspur Stadium this afternoon for our end of season Official Supporters' Club awards.
Hosted by Paul Coyte, Ledley King and Michael Dawson joined over 400 fans for an exclusive awards ceremony which was attended by over 45 Supporters' Clubs, from Brazil to Bermuda, South Korea to South Wales, and many more.
Our Club Ambassadors Ledley and Michael took part in a Q&A on stage about their playing careers and took questions from the audience, as well as taking the time to thank Supporters' Clubs for their invaluable support this season before presenting the awards to the winners.
Awards handed out included the To Care Is To Do Award, which honours a Supporters Club for their outstanding contribution to charitable causes. This year's worthy winner was Yorkshire Spurs, who have raised over £13,000 over the past year for charities including Prostate Cancer UK and JE3 Foundation.
Maurice Carter from Swindon Spurs and Sverker Otterström from Sweden Spurs were our two lucky winners from a prize draw, who won the chance to present the Official Supporters Club Goal of the Season award and Official Supporters Club Player of the Season award on the pitch at tomorrow's home fixture against Brentford.
Wherever you are in the world, being part of an Official Supporters Club is a fantastic way to connect with like-minded fans in your area and watch games together at a local meeting place.
We currently have 455 Official Supporters' Club worldwide, with 100 new clubs joining the Spurs family in the past season alone.
Speaking at the event, Michael said: "It was an absolutely brilliant event celebrating our amazing Official Supporters Clubs. We know many of our Supporters' Clubs go above and beyond to help good causes in their communities all in the name of Spurs – so this event was all about recognising them for their hard work. On behalf of everyone at the Club, thank you to all our Official Supporters' Clubs across the world for their passion and loyalty."