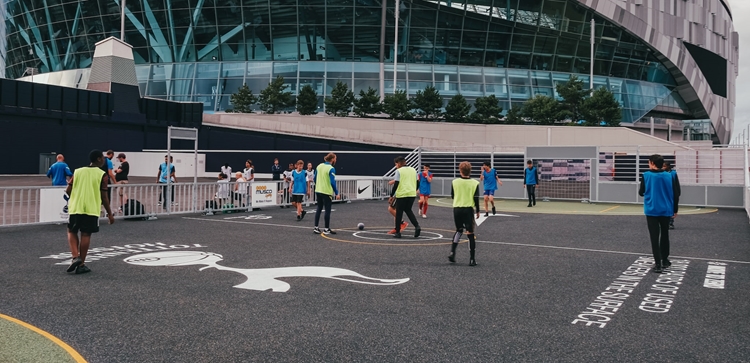 Club and Nike host sustainability workshop for local students
@SpursOfficial
Wed 13 October 2021, 10:00|
Tottenham Hotspur
Tottenham Hotspur is proud to partner with Nike, the Club's Official Kit Partner, to deliver free sustainability workshops to young people in the local community.
Nike recently launched the Next Nature Football - a skills ball made entirely from recycled materials. The outer shell of the ball is formed from recycled airbag scraps and filled with 100 per cent recycled yarn trimmings that have been diverted from landfills.
In support of the initiative, the Club and Nike collaborated with sustainability experts, Football For Future, to deliver an educational workshop for a group of local students.
Hosted at Tottenham Hotspur Stadium, the session focussed on the relationship between football and climate change and highlighted the small steps we can all make that will help make a big difference in the fight against climate change.
After the workshop, the Tottenham Hotspur Foundation - the Club's charitable arm which is dedicated to creating life-changing opportunities for people across its local community – delivered a football tournament hosted at the recently opened N17 Arena.
Local students were put through their paces by our coaches on a revolutionary playing surface made from over 18,000 recycled trainers, delivered by Nike Grind. Each student was also gifted a Nike Nature Ball to take home.
Located at Tottenham Hotspur Stadium, on the corner of Park Lane and Worcester Avenue, N17 Arena will enable the most talented young male and female footballers from the area to access a local training facility, that provides a pathway through to elite level, right on their doorstep.
After the session, one student commented: "The workshop was a really fun and creative way to learn more about sustainability and what we can all do to help make a difference. It was brilliant to then be able to play with the Next Nature Ball and see how it performs – it was great!"
Another participant said: "Climate change is a defining issue of our generation, and the future of football is going to be affected too. Before the session, I had never thought about the relationship between football and climate change, but I learnt a lot about this issue at the workshop."
As part of the Club and Nike's continued commitment to sustainability, the Home, Away and Third Kits that players wear on the pitch, as well as the replica jerseys for the fans, are all constructed with 100 per cent recycled polyester fabric, which is made from recycled plastic bottles.
As part of their wider Move to Zero initiative – a journey towards zero carbon and zero waste – Nike are focussed on scaling the usage of lower-carbon material alternatives. Recycled polyester reduces carbon emissions by up to 30 per cent compared to virgin polyester and, since 2010, Nike has been using this material to produce football kits.
Tottenham Hotspur is equally dedicated to minimising the environmental impacts of its activities across all Club operations and was this year named the Premier League's greenest club following a study carried out by BBC Sport and the UN-backed Sport Positive Summit.