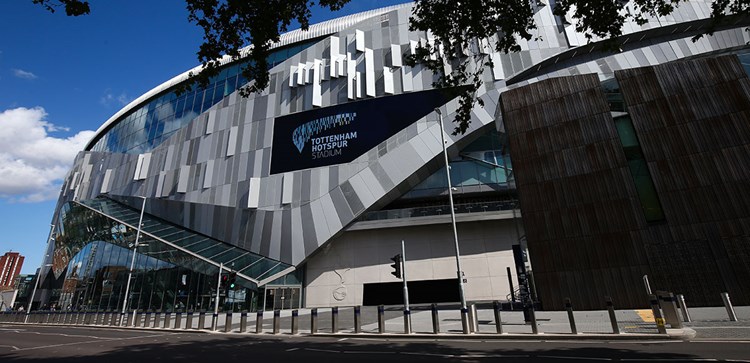 Tottenham Hotspur named Premier League's greenest Club
@SpursOfficial
Mon 25 January 2021, 11:33|
Tottenham Hotspur
• Tottenham Hotspur tops the 2020 Premier League Sustainability Table, published today by BBC Sport and the Sport Positive Summit
• Club gains the maximum 21 points available having been judged across eight different sustainability criteria, taking an outright lead at the top of the table
• The news comes as the Club earlier announced it had become a signatory of the UN Sports for Climate Action Framework
We are delighted to announce Tottenham Hotspur has finished top of the 2020 Premier League Sustainability Table, published today by BBC Sport and the United Nations-backed Sport Positive Summit.
Having finished joint top alongside Arsenal, Manchester City and Manchester United in the 2019 standings, the rankings have now been updated, along with the criteria and methodology.
Clubs have been asked to provide evidence of efforts in eight categories, with more points available in each category this year and three bonus points, making a total of 21. Tottenham Hotspur are the only Club to achieve maximum points in this year's standings - taking an outright lead ahead of Arsenal, Brighton and Man Utd on 20 points.
The news comes as the Club earlier announced it had become a signatory of the UN Sports for Climate Action Framework, calling on sporting organisations to acknowledge the contribution of the sports sector to climate change and a collective responsibility to strive towards climate neutrality for a safer planet.
Daniel Levy, Chairman, Tottenham Hotspur, said: "We are delighted that our efforts towards making Tottenham Hotspur the world's most sustainable Club have been recognised by BBC Sport and the Sport Positive Summit.
"Looking to our future beyond the current pandemic, our message is that the climate needs to be at forefront of all our minds. We have seen people take greater pride in their environment during the lockdowns of the past year - when we return to normality, we cannot slip back into bad habits and lose sight of this."
Claire Poole, CEO and Founder, Sport Positive Summit, said: "We would like to congratulate Spurs on coming top of the Sport Positive EPL Sustainability Table for the second year running.
"As well as picking up all the standard points we had put in place for 2020, they also took the bonus points, which we allocated to highlight clubs going the extra mile.
"These include tracking fan travel methods to games, actively engaging fans towards positive environmental behaviours and publicly committing to tackle climate change. We are excited to see Spurs progress on this journey of increased ambition."
Eric Levine, Co-Ordinator, Count Us In, said: "Spurs' leadership is impressive and will inspire fans, clubs and sponsors to go further and faster on sustainability. Count Us In is proud to partner with Spurs to build a movement of millions of people taking practical steps to protect what they love from climate change."
The Sport Positive EPL Sustainability Table sees clubs judged across the following criteria:
Clean/Renewable Energy
• We have achieved 100% certified renewable energy and zero scope 2 emissions, with REGO-backed electricity and carbon neutral gas provided to the stadium by Brook Green Supply
• Other aspects of the building design include insulation, solar shading and building fabric thermal performance that reduce the need for additional energy usage
• Carbon dioxide emissions from the Stadium are around 50% less than a stadium built 10 years ago and the entire development is targeting a 22% improvement on the Building Regulations baseline
• The Club has put technologies in place throughout its Training Centre to deliver renewable energy to the development, including 75m2 Solar Panels and air source heat pumps
Energy Efficiency
• The building fabric of the stadium has been designed to be highly insulated to reduce heating and cooling demands
• Our stadium's technology infrastructure, developed in partnership with HPE and Aruba, allows for the consumption of less power during periods of low activity
• LED lighting (including floodlights) and high-efficiency building services systems are in place to reduce energy use
• A range of other initiatives are in place including intelligent controls, attenuation water tanks and green roofs on the Tottenham Experience
Sustainable Transport
• The Club has a sustainable transport plan in place for both its fans and staff, overseen by an appointed Travel Plan Co-Ordinator
• The stadium is actively promoted as a 'Public Transport Destination', with service improvements, new shuttle bus and regional coach services, better pedestrian connections, real-time travel information points, clear signage and regular transport updates on Club channels
• Recent analysis has shown that the Club is close to achieving its target of no more than 23% of supporters (i.e. 14,250) travelling by private car on matchdays – a significant reduction in the percentage of fans that travelled by car to attend matches at the old White Hart Lane (on average 22,500 out of a total of 36,000)
• The Club has installed new bike racks locally around the stadium and is actively encouraging fans to consider cycling on matchdays
• The Club has launched a 'Cycle To Work' scheme for staff in conjunction with Cycle Solutions, with additional bike tacks installed at its offices
• The Club has access to a pool of fully electronic Audi e-tron cars for day-to-day business use, in order to limit its carbon footprint. Charging stations are available across Club sites
Single Use Plastic Reduction/Removal
• Our new fully digital ticketing process eliminates the need for plastic Season Ticket/Membership cards or paper tickets
• We have eliminated the use of plastic straws, stirrers, cutlery and all plastic disposable packaging that accompanies these items across our sites. Wooden stirrers and cutlery, and paper straws are used in their place
• Carton water is used by the team on home matchdays instead of bottled water
• The Club has implemented a reusable beer cup scheme at its stadium where cups are collected after matches, taken off site to be washed, and then returned for further use. The cup supplier is UK-based
• Water fountains are available throughout general admission concourses at the stadium
• No single-use plastics are used to serve food inside premium areas
• Sandwich packaging in The M café is fully compostable
• Plastic caps on our beer kegs are saved and returned to the supplier to be re-used
• Any new stadium contracts that come up for tender include a requirement to cut single-use plastics
• Stadium visitors are able to purchase a multi-use, reusable drawstring bag from one of our retail outlets at a cost of £1
Waste Management
• The Club has a zero-to-landfill waste management policy

• Dry Mixed Recycling bins are located throughout the stadium concourses, alongside General Waste bins, with fans instructed on how to correctly dispose of their waste
• After matches, Dry Mixed Recycling bins are taken to a nearby Material Recovery Facility in Edmonton, Enfield, where the waste is separated to produce quality, single-stream materials that are then baled and sent to the most sustainable companies for re-processing
• A full site waste-management plan has been developed for the Training Centre, which includes a green-waste recycling facility nearby
• Food remaining from events is given to The Felix Project charity for distribution locally, reducing food waste
Water Use
• Water consumption is minimised across the stadium with waterless urinals and low-flow fittings and fixtures
• At the Training Centre, a sedum 'green roof' has been installed to significant portions of the main building to enable the capture and re-harvesting of rain water across the site
• A comprehensive drainage and extraction system is in place through the installation of an attenuation pond and two onsite bore holes that extract water, with licences and agreement from the Environment Agency
Plant based/low carbon food
• All menus across our matchday food outlets, as well as The M on non-matchdays, include vegetarian and vegan options
• All food produce, where possible, is locally and sustainably sourced. We are working with partners to continue to identify and improve further sustainably-sourced food options to cater for various dietary requirements and plant-based food options
• Waste from our stadium's microbrewery is used to feed the pigs at Wicks Manor Farm, less than 50 miles away, which in turn is then used in our pork product in the stadium
• The Club is in talks with a local company to install bee hives on the roof of its Lilywhite House offices, enabling the production of organic honey for sale in the Club Shop and use in premium catering areas
Communication/Engagement
• The Club has recently become a founding partner of Count Us In – a global movement aimed at mobilising 1 billion people to act on climate change. We encourage fans to take 16 practical and high impact steps to protect what we love from carbon pollution before it is too late
• The Club has become a signatory of the UN Sports for Climate Action Framework
• The Club supports World Environment Day on June 5 each year with communications across its channels
• Fans are provided instructions on how to dispose of reusable beer cups and waste correctly via emails sent to all match attenders ahead of games
• All announcements related to sustainability and environmental measures are communicated via Club channels, including the official website, app, social media platforms and match day programmes
Find out more about the Premier Sustainability League Table and view the final standings here.