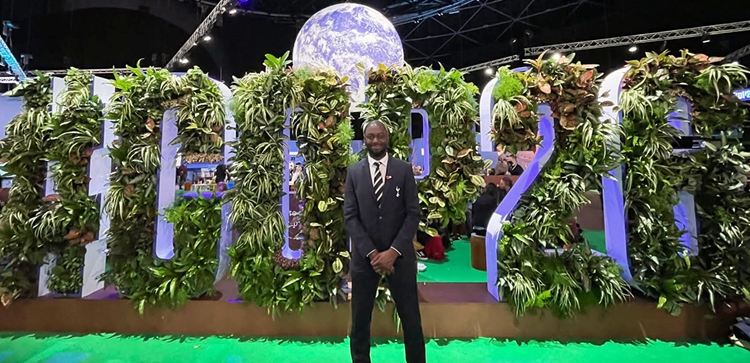 Ledley represents Club at COP26
@SpursOfficial
Thu 04 November 2021, 14:45|
Tottenham Hotspur
Club Ambassador, Ledley King, has represented the Club at the UN Climate Change Conference 2021 (COP26) in Glasgow, discussing the role that sport can play in addressing the global issue.
The Conference of the Parties (COP) is an international, annual conference organised by the United Nations Framework Convention on Climate Change (UNFCCC) and serves as the formal meeting of national governments on climate change.
Our former captain took part in two panel sessions on Wednesday 3 November, involving influential figures from across the world of sport.
First up was a visit to the Extreme Hangout, held at The Ferry on Anderston Quay - targeted at young people who are engaged around climate change and want to know what action is being taken to change the future for the better.
Ledley sat on a panel session entitled 'The Role of Sport in a Climate Conscious World', curated by thinkBeyond, alongside Hannah Mills, Double Olympic sailing gold medallist and Founder of the Big Plastic Pledge, Julie Duffus, Sustainability Senior Manager at the International Olympic Committee, and Tom Gribbin, CEO & Co-Founder of Planet Super League.
The Club has been supporting the latest edition of Planet Super League – CUP26 – which sees children and families across the country representing their favourite football teams by scoring 'goals' through the completion of fun, environmentally-friendly activities – one of which has been endorsed by our very own Lucas Moura, entitled 'No Moura Landfill'.
Following the panel session, Ledley awarded the winners' trophy to Cambridge United, whose fans had completed the most climate actions during the eight-week competition.
It was then onto the Hydro arena for the second panel session of the day, hosted by the UNFCCC Sports for Climate Action, entitled 'On The Race to Net Zero'.
The session was introduced through keynote speeches from H.S.H Prince Albert II of Monaco, Gianni Infantino, FIFA President, Isha Johansen, FIFA Council Member, Patricia Espinosa, Executive Secretary of the UNFCCC and COP26 Climate Champion, Gonzalo Munoz.
Ledley then took to the stage alongside guests including Hannah Mills, former F1 World Champion, Nico Rosberg, Forest Green Rovers owner, Dale Vince, BBC Sport Director, Barbara Slater, Sky Executive Director, Inga Ruehl, Team Principal of Envision Virgin Racing, Sylvain Filippi, Vice President of UCI, Katerina Nash, and representatives from Youth4Climate.
Across both discussions, Ledley spoke about the work the Club is undertaking to address climate change and the role of professional players in using their platforms to inspire positive actions.
Ledley said: "Attending COP26 was a fantastic experience, meeting some truly inspirational people and discussing the vital steps that sport can take, and is taking, to address climate change.
"I am extremely proud of the work the Club has been doing in this area, and it is clear that there is so much more that can be done moving forward, in which we all have a huge role to play.
"One thing for certain is the influence and platform that sport has in engaging millions of people across the world in taking the small steps that can make a big difference."
Tottenham Hotspur was recently named the Premier League's greenest club following a study carried out by the UN-backed Sport Positive Summit, with a range of sustainable measures implemented across our operations, including:
• 100% renewable energy and Zero Scope 2 emissions at Tottenham Hotspur Stadium, with LED lighting (including floodlights) and high efficiency building services systems in place to reduce energy use
• a 'zero to landfill' waste management programme, with clear recycling instructions for fans on its bins, as well as a reusable beer cup scheme
• Single-use plastic reduction measures in place across the Club - players drink water from cartons, food is served in recyclable packaging with wooden cutlery, and even beer keg caps are recycled at the stadium
• all food served inside the stadium is locally and sustainably sourced, with plant-based options available across all outlets and in Premium areas
• significant investment into our local transport infrastructure with the stadium served by four train stations and a free matchday shuttle bus. Recent analysis has shown that the Club is close to achieving its target of no more than 23% of supporters travelling by private car on matchdays. There is also provision for 180 bikes to be parked nearby the stadium, with our security policy allowing for equipment such as helmets, puncture kits and removable seats to be taken into the stadium
• Water consumption minimised with waterless urinals and low flow fittings and fixtures.
• An ecological habitat established at our Training Centre, including an organic Kitchen Garden; hundreds of new and semi-mature trees and tens of thousands of new plants and hedgerows; bug hotels and bat houses; wildlife ponds; green roofs to capture and re-harvest rainwater; solar panels and air source heat pumps
• the Nike shirts that players wear on the pitch and the replica jerseys for fans to buy are constructed with 100% recycled polyester fabric, which is made from recycled plastic bottles
In September, the Club partnered with Sky to host the world's first net zero carbon football game at an elite level.
We are a proud signatory of the UN Sports for Climate Action Framework, which calls on sporting organisations to acknowledge the contribution of the sports industry on climate change and a collective responsibility to strive towards climate neutrality for a safer planet.
The Club is also a founding partner of Count Us In – an unprecedented global movement aiming to mobilise 1 billion people to act on climate change.
For further information, please visit our dedicated Passionate About Our Planet page...