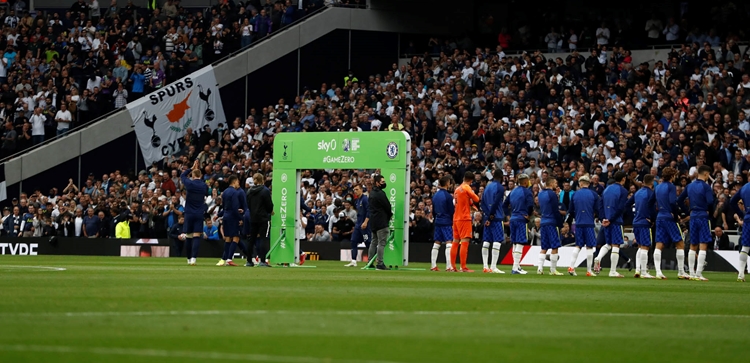 Game Zero achieves net zero carbon status
@SpursOfficial
Wed 01 December 2021, 10:00|
Tottenham Hotspur
Sky has today published a case study revealing that Game Zero, our Premier League match against Chelsea at Tottenham Hotspur Stadium in September, achieved net zero carbon emissions.
The Club and Sky, working alongside independent carbon specialists RSK and Natural Capital Partners, set the target of hosting the world's first net zero carbon football game at an elite level, while also aiming to inspire fans to reduce their own carbon footprint.
Net zero was achieved by first measuring the baseline emissions of a match held at Tottenham Hotspur Stadium then lowering those emissions as much as possible and offsetting any that could not be reduced with the support of Natural Capital Partners, through a community reforestation project in East Africa, which removes carbon emissions from the atmosphere.
How emissions from Game Zero were reduced:
• Players arrived at the stadium on coaches powered by green biodiesel which helped lower squad travel emissions by over 80 per cent.
• Fans walked 36,000 miles and drove 225,000 miles in electric or hybrid cars to and from the game.
• Everything at Tottenham Hotspur Stadium (including heating and cooking) is powered by 100 per cent renewable energy – electricity and green gas.
• All food served inside the stadium is locally and sustainably sourced with 94 per cent more vegetarian and plant-based meals sold at this match, compared to the baseline game.
• Sky achieved a 70 per cent reduction in emissions from the Sky Sports production crew covering the match.
Daniel Levy, Chairman, Tottenham Hotspur, said: "We are extremely proud to have been involved with Game Zero, working alongside Sky to utilise our collective platforms and show leadership on a key issue that is affecting us all. We thank our fans for their support of the initiative and taking such positive actions around the matchday. It is important to note that none of the measures that were implemented around Game Zero were a one-off – we continue to assess all of our operations and identify ways to reduce our carbon footprint as a Club moving forward."
Jonathan Licht, Managing Director at Sky Sports, said: "We hope that Game Zero is the first of many major net zero carbon sporting events and will inspire long-term change. At Sky Sports, we're committed to minimise our impact on the environment and use the power of sport for good.
By sharing our findings, we want to inspire football clubs, sports organisations, athletes and fans across the world to reduce their own carbon impact."
Ahead of Game Zero, Sky worked with carbon accounting specialists RSK to measure the carbon emissions created by a Premier League match held at Tottenham Hotspur Stadium, helping to determine reduction opportunities, highlight the more difficult emission sources and track progress.
Creating a baseline enabled the Club and Sky to assess easy wins and tougher challenges of achieving net zero. This universal formula can now be used again and again to consistently measure and reduce carbon emissions at major events.
Sky worked with long-term partner Natural Capital Partners, the leading experts on carbon neutrality and climate finance to offset Game Zero's remaining emissions through a VCS and CCBA verified community reforestation project in East Africa.
The project supports smallholder farmers to source, grow, plant and nurture native and productive trees on their land, which remove carbon from the atmosphere as they grow, and provide alternative sources of nutrition and livelihoods to the farmers.
Last week, Davinson Sanchez joined children from Rowland Hill Nursery School to help plant trees donated by the Club and Sky on a green space nearby Tottenham Hotspur Stadium. A mixture of American Sweetgum, False Acacia and Silver Birch are now in place at a site identified by Friends of the Earth and Haringey Council on White Hart Lane.
Passionate About Our Planet
Tottenham Hotspur was named the Premier League's greenest club following a study carried out by the UN-backed Sport Positive Summit, with a range of sustainable measures implemented across our operations, including:
• 100 per cent renewable energy and Zero Scope 2 emissions at Tottenham Hotspur Stadium, with LED lighting (including floodlights) and high efficiency building services systems in place to reduce energy use.
• A 'zero to landfill' waste management programme, with clear recycling instructions for fans on its bins, as well as a reusable beer cup scheme.
• Single-use plastic reduction measures in place across the Club – players drink water from cartons, food is served in recyclable packaging with wooden cutlery, and even beer keg caps are recycled at the stadium.
• All food served inside the stadium is locally and sustainably sourced, with plant-based options available across all outlets and in Premium areas.
• Significant investment into our local transport infrastructure with the stadium served by four train stations and a free matchday shuttle bus. There is also provision for 180 bikes to be parked nearby the stadium, with our security policy allowing for equipment such as helmets, puncture kits and removable seats to be taken into the stadium.
• Water consumption minimised with waterless urinals and low flow fittings and fixtures.
• An ecological habitat established at our Training Centre, including an organic Kitchen Garden; hundreds of new and semi-mature trees and tens of thousands of new plants and hedgerows; bug hotels and bat houses; wildlife ponds; green roofs to capture and re-harvest rainwater; solar panels and air source heat pumps.
• The Nike shirts that players wear on the pitch and the replica jerseys for fans to buy are constructed with 100 per cent recycled polyester fabric, which is made from recycled plastic bottles.
We are a proud signatory of the UN Sports for Climate Action Framework, which calls on sporting organisations to acknowledge the contribution of the sports industry on climate change and a collective responsibility to strive towards climate neutrality for a safer planet.
Alongside Sky, the Club is also a founding partner of Count Us In – an unprecedented global movement aiming to mobilise one billion people to act on climate change – a member of the British Association for Sustainable Sports (BASIS) and the first sports team to become a member of Products of Change – a global educational hub aimed at driving sustainable change across consumer product markets and beyond.
Our Official Battery Technology Partner, VivoPower International PLC, has completed feasibility studies to assess initial opportunities for sustainable energy solutions at both Tottenham Hotspur Stadium and the Club's Hotspur Way Training Centre in Enfield. The Club and VivoPower are now exploring the potential of moving forward with the implementation of one or more SES projects.
For further information, please visit our dedicated Passionate About Our Planet page.