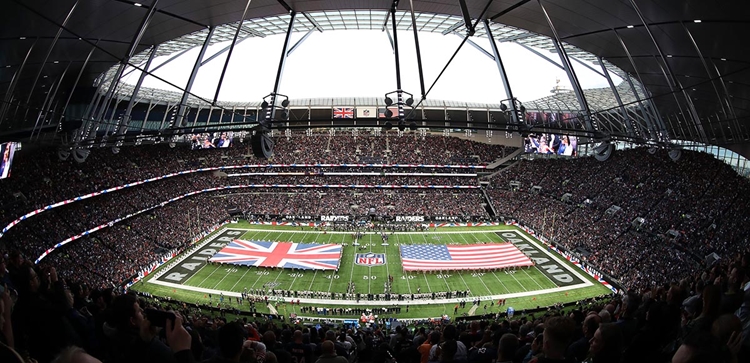 Falcons, Jaguars to host the 2021 NFL London Games at Tottenham Hotspur Stadium
@SpursOfficial
Wed 12 May 2021, 14:30|
Tottenham Hotspur
The NFL has announced today (Wednesday 12 May) that Atlanta Falcons and Jacksonville Jaguars will host the 2021 NFL London Games at Tottenham Hotspur Stadium – the only NFL games to be staged in the UK this year.
Falcons will play New York Jets on Sunday 10 October while Jaguars take on Miami Dolphins on Sunday 17 October in regular season NFL clashes. Both games kick-off at 2.30pm.
Todd Kline, Chief Commercial Officer, Tottenham Hotspur, said: "We are delighted to be welcoming the NFL back to Tottenham Hotspur Stadium and to host four new teams and their fans. It will once again be a tremendous boost for London and our local economy.
"The Club was thrilled with the feedback it received from the NFL, its coaches, players and fans alike after the first NFL games here in 2019. We shall be doing all we can to ensure we create even more great memories for all those that come to experience these two exciting matchups later this year."
Christopher Halpin, NFL Executive Vice-President – Chief Strategy & Growth Officer, said: "We are excited to be returning to London and welcoming back our fans for two great matchups. We expect these games to be a celebration of our sport and our robust UK fan base.
"We have been working closely with the UK government, the city of London and the relevant health organisations over the past year in planning the games. Through their successful vaccine rollout and commitment to bringing crowds back to sports events, the time is right for the return of NFL football this fall. We will continue to monitor the COVID environment, putting health and safety first, and will adhere to any and all future COVID regulations and restrictions."
Oliver Dowden, Secretary of State for Digital, Culture, Media and Sport, said: "The NFL has become a regular fixture in the UK's brilliant sporting calendar and I'm delighted to welcome the League back to London for another season. This is a major vote of confidence in our country's progress to bring coronavirus under control and our ability to stage major sporting events safely. Our Events Research Programme is playing an important role in testing the safe return of fans and will inform our decision making on getting people back watching live sport again safely in greater numbers."
Super Bowl runners-up as recently as 2017, Falcons are home to two of the biggest stars of the NFL in QB Matt Ryan and WR Julio Jones. Ryan was the NFL's MVP in 2016 as he led his team to Super Bowl LI. Jones is seen as one of the all-time great wide receivers and the fastest player in NFL history to reach 10,000 career receiving yards. His career average of 95.5 receiving yards per game is the highest in NFL history. Meanwhile, South Korean kicker Younghoe Koo – who recently hooked up on Zoom with compatriot Heung-Min Son – finished the 2020 top of the field goal charts with 37 successful kicks out of 39.
Falcons President and CEO, Rich McKay, said: "We're honoured to return to London for the first time since 2014 as part of the NFL International Series and look forward to the world-class experience at Tottenham Hotspur Stadium. Our league receives great support from passionate NFL fans in the UK and we're looking to gain more Falcons fans with the trip."
Jaguars had the number one pick in the recent NFL Draft, and all eyes will be on QB Trevor Lawrence, one of the most exciting prospects in the game, who they signed from Clemson University.
Jags team owner, Shad Khan, said: "The Jaguars are honoured to return to London, our home away from home, and continue in our mission to grow the NFL and promote Jacksonville in the UK and beyond. With Urban Meyer as our head coach, we'll be arriving with an entirely new look and attitude that I'm confident will meet the approval of our Union Jax supporters. I'm also hoping that many of our loyal fans in Jacksonville can join us in London for a great experience and to ratchet up the homefield advantage. Go Jags!"
'America's game' well and truly arrived in Tottenham in October, 2019, when we hosted our first NFL games – Chicago Bears at Oakland Raiders, Carolina Panthers at Tampa Bay Buccaneers – 13 touchdowns, over 120,000 fans and universal acclaim for our new home.
Sports fans across the world tuned in as our world-class venue – the first purpose-built NFL stadium outside America – hosted NFL games for the first time.
Our stadium features a retractable grass field with an artificial NFL pitch underneath, as well as other customised designs for the NFL including a dedicated entrance, purpose-built dressing rooms and specialist medical and media facilities. The Spurs Shop at the Tottenham Experience also has a dedicated NFL section with merchandise on sale all year round.
Ticket sales windows for both Premium and GA along with arrangements for current NFL Season Ticket Holders will be announced at a later date.