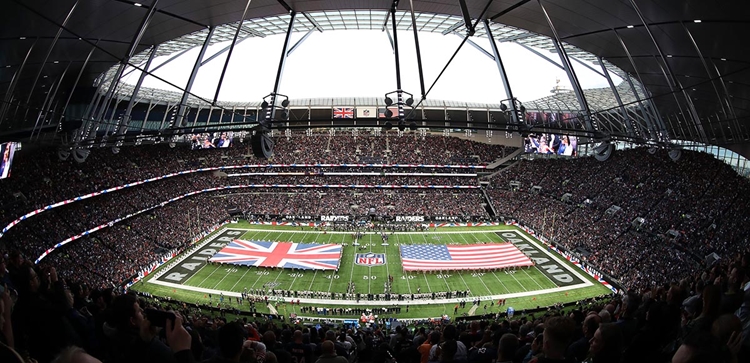 NFL arrives in style with spectacular Sundays at the new stadium
@SpursOfficial
Mon 14 October 2019, 12:00|
Tottenham Hotspur
Two matches, 13 touchdowns, over 120,000 fans and universal acclaim for our new stadium - the NFL has well and truly arrived in Tottenham.
History was made last weekend as we hosted an NFL match for the first time. Two of the sport's most storied teams - Oakland Raiders and Chicago Bears - put on a show to match the occasion with the Raiders coming out on top 24-21.
The eyes of the sporting world were again on Tottenham on Sunday as this time Carolina Panthers beat Tampa Bay Buccaneers 37-26 in an important divisional (NFC South) clash. This time the game kicked-off earlier (2.30pm UK) which meant fans back in America were waking up to watch the only NFL clash on the TV at that time.
Christian McCaffrey, Panthers' running back and one of the sport's superstars heading for a record-breaking season, summed it up after scoring two touchdowns. "The stadium is unbelievable, the crowd was loud - it was one heck of an experience!"
There was particular interest in Panthers' British defensive end Efe Obade, part of a defensive unit that laid the foundations for Panthers' win with seven sacks and five pass interceptions. Efe has a Spurs connection - his mother-in-law is a Spurs fan - and he told us: "It was a special moment, one that will live with me for the rest of my life. It was electric."
As always, the NFL put on a show. Over the two weekends we saw fans turning up early, packing the High Road with colour and noise, all wearing their favourite team or player's shirt. Harry Kane took part in the coin toss with the captains ahead of Game One. Spurs fan and UK rapper AJ Tracey performed live at half-time in Game One, accompanied by a firework display. The national anthems were sung with gusto, cheerleaders delighted the fans, helicopters from RAF Odiham and RAF Benson provided a spectacular fly over ahead of Game Two.
Game 1 - Raiders 24-21 Bears
As for the game, after a scoreless first quarter, Raiders took control. Josh Jacobs created history with the first touchdown at the stadium, a run from 12 yards, quickly followed by DeAndre Washington going in from close range. Daniel Carlson kicked both extra points and added a field goal to make it 17-0 at half-time.
The Bears came roaring back in the second half. David Montgomery bundled into the end zone for a touchdown before Chase Daniel threw to Allen Robinson to make it 17-14, both extra points kicked by Eddy Pineiro. Tarik Cohen then produced one of the plays of the night, a 71-yard punt return that gave Daniel the field position to throw to Robinson again, three touchdowns without reply and Bears now led 21-17.
Play was end-to-end in the final quarter until Raiders quarter-back Derek Carr twice picked out Foster Moreau for a big gains, the second taking his team two yards. Jacobs duly delivered, diving high for the winning touchdown, the extra point from Carlson completing the 24-21 final scoreline.
Game 2 - Buccaneers 26-37 Panthers
NFL superstar Christian McCaffrey quickly made his mark in Game Two and Panthers, whose defense dominated Bucs' quarter back Jameis Winston, were always ahead of the game. McCaffrey scored two touchdowns, one run, one pass from Kyle Allen, as Panthers led 17-7 at half-time. Joey Slye added a field goal and two extra points. Buccaneers responded with a touchdown from Ronald Jones II, point kicked by Matt Gay.
With Bucs continually turning over possession, Panthers stretched their lead to 34-10 by the start of the fourth quarter with Curtis Samuel running in and then taking a catch from Allen. Bucs could only respond through a field goal from Gay. The team from Tampa Bay had to take further risks chasing the game and scored touchdowns through Cameron Brate and Dare Ogunbowale, but a field goal from Slye kept them at arm's length.
What they said - part 1
Efe Obada, defensive end, Panthers
"It was a special moment, one that will stay with me for the rest of my life. It was electric, everyone screaming my name and showing love and support. I didn't know it was going to be like that. We felt that energy and it helped us as a team. We fed off that. It was an away game but it felt like a home game for us."
Derek Carr, quarter back, Raiders
"Everything is just so first-class, every little detail. Every single room you go in is unbelievable and this is one of the best, if not the best, stadiums I've been in, in my life. Playing at Wembley was really cool, obviously with the memories, all the different games that have been played there, but just to play here and be able to see and what could be done... it's amazing that someone's mind could do all this. I think that's really impressive and I'm really intrigued by that, so its first-class. I love the London trip. I'm a soccer fan and it's cool to me that I got to talk to Harry Kane before the game. I told him I'm a huge fan and he said the same, and I'm like, 'how do you even know who we are?'. I told him, 'I play as you on FIFA', so we got to meet and that was cool."
Matt Nagy, coach, Bears
"It's absolutely gorgeous. You walk in here and you just see it is state of the art, top notch. It blows you away — phenomenal, absolutely phenomenal."
Josh Jacobs, running back, Raiders
"The stadium is beautiful, even the locker room. Even from the littlest detail, I love the stadium. The atmosphere was crazy. I was just admiring everything as I came out to warm-up."
What they said - part 2
Ron Rivera, head coach, Panthers
"It's terrific, it really is. Whatever they did, they did it right. The field, the players talked about it being a fast surface, thought it was a good field to play on. The amenities in terms of the locker room, the way the locker room is set up, structure as far as the training room, the hydrotherapy room for the guys, it's top-notch. I think if you come here, you should be able to appreciate the situation."
Kyle Allen, quarter back, Panthers
"It was cool, man. It was a really cool stadium. Packed to the brim. I remember running out of that tunnel, I was psyched to play here because it was packed to the brim, man. Fans were loud, stayed the whole game, rain or shine. It was a good experience."
Christian McCaffrey, running back, Panthers
"It meant a lot. It's been such a cool experience for all of us. I don't know if I would ever have got to London but to be here and play the game I love is truly a blessing. I know for all of us we really appreciated the week, appreciated the hospitality and the experience. The stadium is unbelievable. The turf was great, the crowd was loud, once again, it was a heck of an experience."
And finally - a Spurs fan!
Matt Gay, kicker, Buccaneers
On hearing in January that this game was going to be at our stadium. "My mother-in-law actually asked me 'are you one of the teams playing in London?' and I took my phone out, looked it up and sure enough, Tampa Bay are playing at Tottenham's new stadium. I lost it there. I was more excited then than when I got drafted. That was a special moment. It's come full circle, being here (Matt has visited the stadium twice in the last couple of years, without seeing a game) and now returning to actually play in the stadium, that's special."