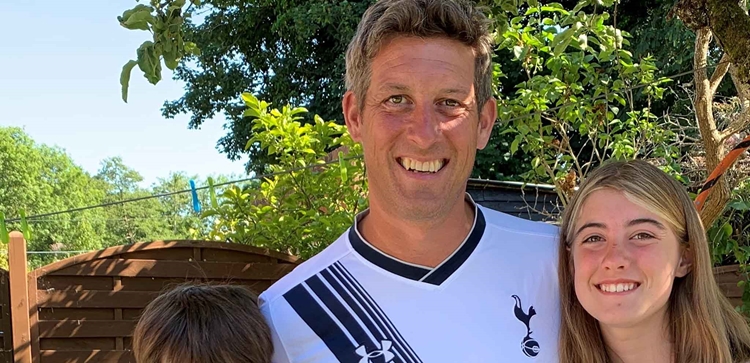 Hotspur Hero – Rob Moses
@SpursOfficial
Tue 02 June 2020, 12:03|
Tottenham Hotspur
The work of our latest Hotspur Hero, Rob Moses, will no doubt strike a chord with all those who have been home-schooling children during lockdown.
Rob is a teacher at Hazelwood School, Surrey, and a lifelong Spurs fan. Described as 'wonderfully supportive… empathic, encouraging' and with a 'genuine passion for teaching and a compassion for all of the children in his class', Rob's lessons over Zoom during these difficult times have proved invaluable for students in his Year 4 class.
"I don't feel too 'heroic' compared to all the people on the front line, but it's really nice to be nominated," said Rob, who appeared quite humbled by those words in his nomination. "It's really nice to hear, I'm glad that has come across in my teaching.
"The whole situation has been a real learning curve, including teaching on Zoom, which is just so different to what we're used to. The children are all at home, I've three kids here as well, so it's a completely different environment to work in.
"We register the class in the morning and once we get into lessons, we try to break the day up, get the kids outside, do some movement, try to keep them motivated. The main thing is not to just have them sat in front of a computer screen all day.
"The technology was quite hard to begin with but towards half-term, it was going really smoothly, and that's really rewarding. I've only been in teaching for about seven years, but I'm glad I made that move and it's great seeing the kids grow in confidence, gain their independence and make progress."
In terms of Spurs, Rob can trace a family tree of fans all the way back to 1909 and his great-grandfather, Frederick, who lived in Tottenham and ran a chemist on the High Road. Rob's grandfather, John, also lived in Tottenham and his father, also John, introduced Rob to the Spurs way of life in the early 1980s.
That brings us to the present day and Rob's three children, Polly, Freddie and Jessica, will make sure the Moses family are supporting the Club for generations to come!
"My very earliest memory is watching the 1981 FA Cup Final replay with my dad and my grandpa, and them going absolutely crazy when Ricky Villa scored!" said Rob. "I was only about four or five at the time… great days. My first game was in 1985, against Watford at home. We lost 5-1!
"We watched a lot of Spurs together when my grandfather was living with my dad, which was nice. In fact, one of the last matches we all watched was when Peter Crouch scored his header against City to get us into the Champions League in 2010. What a night!"
Help us highlight our #HotspurHeroes
Help us continue to champion Spurs-supporting key workers by nominating a Hotspur Hero.
Submit your nominations by emailing hotspurheroes@tottenhamhotspur.com with the following information:
• Name of Hero and where they are from
• Occupation
• Why they are being nominated
• Your contact details
Show your appreciation on social media too, using the hashtag #HotspurHeroes.