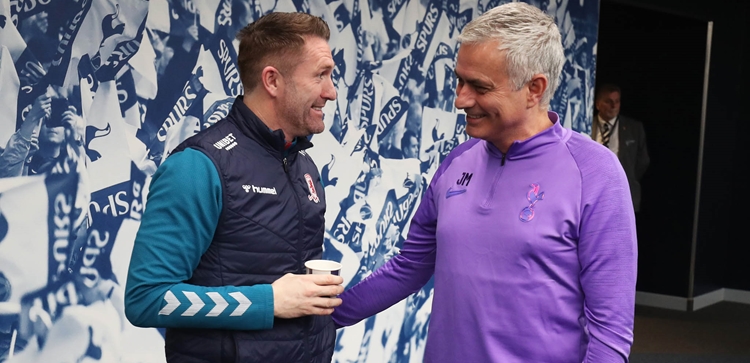 Voices on the game... Arsenal
@SpursOfficial
Sat 11 July 2020, 16:49|
Tottenham Hotspur
Unsurprisingly, there's plenty being said as we count down to a fascinating north London derby on Sunday. It's the first Premier League match against Arsenal at the new stadium – don't forget, Spurs Women faced Arsenal in the first north London derby at Tottenham Hotspur Stadium last year – while it's our first behind-closed-doors league meeting with the Gunners, both managers are heading into their first north London derby – the first time that has happened since 1986 – and all with crucial points at stake. Here's a round-up of what's being said ahead of the 4.30pm kick-off...
John Cross
Chief Football Writer, Daily Mirror
"Arsenal probably come at it from a better place right now, just because of the way they've picked up in their last five games with four wins and a draw. Spurs, by comparison… I covered the Manchester United game and thought they were in a good place and would do really well, then you look at the last couple of games – even though they beat Everton, it probably wasn't the performance that people wanted and then Bournemouth was disappointing in terms of the result and performance. I think the teams are very close in terms of where they are right now, they're certainly very close in the table and I think it's a healthy place to be in for the rivalry.
"Defensively I still think there's a bit of an issue for Arsenal, but as a unit they're beginning to defend a little bit better under Mikel Arteta. They've been quite strong in midfield, they seem to have an axis in Granit Xhaka and Dani Ceballos which has worked quite well, then going forward, Bukayo Saka is in great form. I think he's provided 12 assists across all competitions this season. Definitely moving forward from midfield to attack is Arsenal's strength right now. They've gone towards a back three to try and shore up the defence a little bit which has surprised me, but when Hector Bellerin hits form that's good. Kieran Tierney has been a revelation at left wing-back, really committed and hard-working.
"Arteta played in nine north London derbies – won five, drew two, lost two – and there were a few memorable ones. During those seasons, I would argue that the intensity and the rivalry at that time was so close, with the determination from both clubs to finish higher than the other. From that period, Arteta just appreciates the rivalry and understands it because of his connection with the fans. There's nothing quite like winning a local derby but more importantly, having the knack in a local derby to ingratiate yourself with that. It'll work exactly the same for Arteta or Jose Mourinho on Sunday because if you win that game, any other misgivings are forgiven because you've done it in that derby."
Robbie Keane
Legendary former Spurs striker
"It's a very important game. Obviously, at the moment, Spurs are a little inconsistent. No question about that. Arsenal are also up and down, they were unlucky against Leicester, getting the man sent off, they played okay and they are going into this game probably a bit more in-form than Tottenham. But as we all know, in derby games, form goes completely out of the window. It doesn't matter. If you want one manager in your corner who knows how to win these games, and knows how to do it when it comes down to big games, it's Jose Mourinho. He's been there, he's done it and he knows exactly how to get is players motivated for these games."
Jose Mourinho
Spurs Head Coach
"At this moment we are both in a very similar situation. It's not that incredible emotion that we're fighting for something really big, more than to finish above you, or not finish above you. It's missing that. It's not a match that is going to decide big things. But it probably decides the only thing we can fight for, both of us. I don't think realistically we're fighting for a Champions League position – one-point difference, four matches to go, one between us, then the remaining three – which are of course still important – it's a big match for the table. The fans have a special feeling for this match, so the players on the pitch have to fight for them."
Mikel Arteta
Arsenal Head Coach
"They have had some ups and downs but overall you can clearly see what (Jose Mourinho) wants to bring to the club. He manages the energy, the momentum and establishes a really strong culture in every football club. As well, he makes sure that he wins and he's won in every single club that he's been at. Obviously the situation and the timing when he arrived is different than starting a new project right from the summer, but I'm sure he will be successful because he always finds the right way to do it. It will take him a bit of time but I'm sure he will do it. He has a very clear way of playing and a very clear way of how he manages games. I think clean sheets are a big thing that he wants to do, but don't forget his teams always score a lot of goals and they are really successful and he's been able to win titles because of that."
Serge Aurier
Spurs right-back
"You don't just play a derby – it is not a normal game. There's a different flavour about it. This game is different. You need to put more pressure on yourself and more pressure and aggressiveness in the game itself because there is a different feeling about it. You don't just want to play in it to be a part of it. You play to win. Maybe you don't play the best, maybe you don't have a lot of the ball but you don't care because when you win this game, it doesn't matter how you play. We just want to win."
On Ivory Coast team-mate Nicolas Pepe: "It hasn't been the best season for him because he hasn't started every game but it's his first year. We speak a lot, he's a very good guy and he has great talent. He may have chosen our rival's jersey but he's still my brother. He knows though, that when he plays against me, he doesn't want to be playing down my side because I send him the message before, 'if you come to my side, I'll stop you', just so he knows. I wish the best for him, but not against me."
Hugo Lloris
Spurs goalkeeper and captain
"Every point matters at this stage of the season, it's going to be a big battle again and we have to be ready for that. The motivation and the desire comes from the changing room. It's down to us. At the moment we are managing quite well but now it's about details. We must create everything to give ourselves the most chance and for that, it's about spirit, it's about desire. You cannot calculate your effort, you have to leave everything on the pitch like every game and everyone has to be committed and involved because we need everyone at this moment of the season. Let's be ready. There are still four games to go and we must give everything."