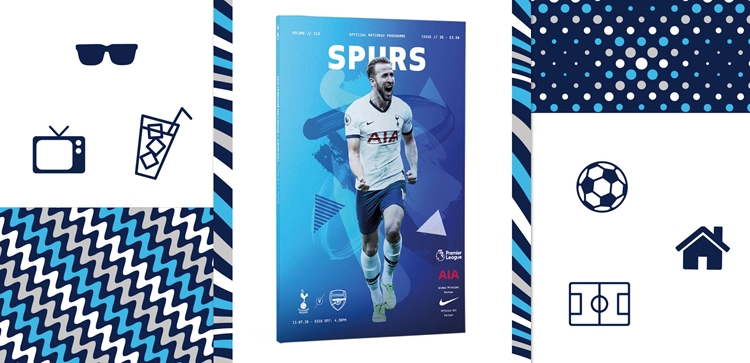 North London derby digital matchday programme – available to read now!
@SpursOfficial
Sat 11 July 2020, 12:00|
Tottenham Hotspur
With the first-ever Premier League north London derby at Tottenham Hotspur Stadium set to take place this weekend, not to mention the added intrigue of the battle being played out behind closed doors, we have another jam-packed digital edition of our official matchday programme available – and for the first time, you can get yours more than 24 hours before the game.
Enabling you to continue your traditional matchday reading as you support the team from home, the digital matchday programme for Sunday's match against Arsenal is now available to read, as of 12 noon today (Saturday 11 July).
With such a historic fixture taking place against our rivals, why not try our digital matchday programme as we count down to kick-off?
Here's everything you need to know about how to obtain and enjoy this weekend's edition...
What's included?
Our digital programme contains everything included in the printed version with the added excitement of selected pages being brought to life by video clips and interactive content. You'll also save money on the cover price, compared to the printed edition.
Inside this weekend's programme...
• Exclusive interview with Serge Aurier, discussing his form, the importance of the derby and his 'friendly' competition with Moussa Sissoko.
• Jose Mourinho's exclusive programme column.
• Lifestyle Q&A with Giovani Lo Celso.
• Academy midfielder Michael Craig on what it's like to play in the same team as his identical twin brother.
• Special feature with seven Spurs greats on their memories of playing in the north London derby: Cliff Jones, Martin Chivers, Micky Hazard, Graham Roberts, Mark Falco, Gary Mabbutt and Teddy Sheringham.
• Latest from Spurs Women as six players put pen to paper on new contracts with the Club.
• Super Sub: Remembering the impact of Aaron Lennon off the bench in the 4-4 draw at the Emirates in 2008.
• Local Hero: Examining the career of locally-born winger Jimmy Pearce, who made his debut against Arsenal on the opening day of the 1968/69 season.
• Throwbacks to past players and matches linking Spurs with Arsenal, a chance to meet our virtual mascots for the game and see if you can spot anyone you know in among our latest fan messages.
Where and how can I get one?
The programme is available to read online from 12 noon today (Saturday 11 July).
Simply sign up and select this weekend's issue to purchase.
The digital programme costs £1.99 – a saving of 43 per cent on the cover price of the printed edition. Remember, our digital programme contains everything included in the printed version, with the added excitement of select pages being brought to life by video clips and interactive content.
Once your purchase is complete, you will receive an email receipt containing a link via which you will be able to access your programme.
By ordering a digital programme, you will also be doing your bit for the environment.
How can I read the digital programme?
Using your phone, tablet, computer or laptop, click on the link you receive when you purchase your programme.
This weekend's full digital edition will appear on your screen with a navigation menu to help you read it.
You can use the right and left cursors to turn the pages, or swipe through on your touch-screen device. Alternatively, use the menu icon in the top right of your screen to select 'Page Overview' and simply select to jump directly to any page you wish, without scrolling through manually.
When you find an article you'd like to read, there are two modes you can choose from to view it:
• Article mode (recommended): Simply click on the article text and the full story will appear in article mode. This is an easy-to-read pop-up box that appears over the top of the page, fits the screen on your device with text at an appropriate font size and allows you to scroll down as you read the article.
• Page mode: Use the +/- icons in the navigation menu, spread/pinch your screen, double-click or scroll your mouse wheel (depending on your device) to zoom in and read the article as it looks on the page. When you've finished reading, click the refresh icon in the navigation menu to zoom back out and see the full page before turning onto a new page.
On selected pages, you'll see a 'Play' button within an article. When you click on it, a video relevant to the article you're reading will pop up in front of the page for you to watch and enjoy.
Can I still buy a traditional print edition?
Printed copies of the programme are still available to purchase for the collectors among you. Recently, we invited supporters to pre-order the printed edition of the Arsenal programme in order to receive it in the post in time for the match. Although the deadline for delivery has now passed, you can still order a printed copy to receive at a later stage.
Leicester City programme
Secure your printed copy of the official matchday programme for our last home game of this extraordinary season against Leicester City – pre-order by midday on Tuesday (14 July) to have it delivered in time for the match.
Although any orders received after this time will be delivered first class, we cannot guarantee arrival for matchday. Delivery is subject to Royal Mail. The earlier you order the more chance you have of getting your programme delivered by Royal Mail in time for the game.
A full digital version will also be available online prior to the game, which takes place at Tottenham Hotspur Stadium on Sunday 19 July (4pm kick-off).
Thank you for reading and Come On You Spurs!