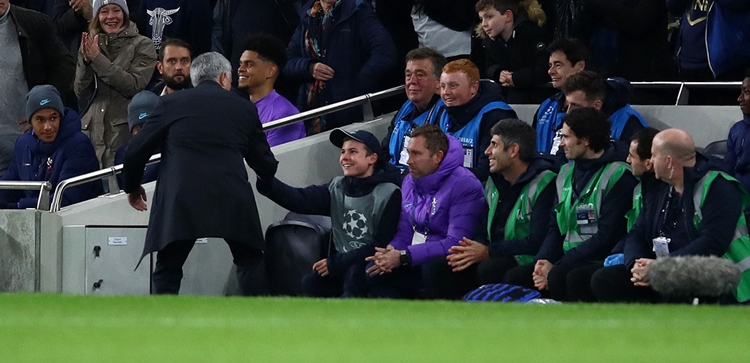 Ballboy Callum: "It's made my day, no, my life!"
@SpursOfficial
Thu 28 November 2019, 12:33|
Tottenham Hotspur
One minute you are 'just doing your job', the next, Jose Mourinho has given you a high-five and it seems the world knows your name... yet you've still got to revise for a maths exam the next morning!
That was the reality ballboy Callum Hynes, 15, faced after our 4-2 win against Olympiacos in the Champions League on Tuesday night.
Little did he know in the moment, but Callum played his part - as it turned out, a big part - in our crucial equalising goal just four minutes into the second half.
We had found ourselves 2-0 down after 20 minutes of a game we needed to win to secure a place in the knockout stage of the competition. Dele replied just before half-time and with momentum on our side, we needed a quick start to the second half and to get that equaliser as soon as possible.
With the clock at 49.10, Giorgos Masouras tackled Serge Aurier on our right touchline, sliding the ball out of play. In that instant, Lucas Moura took off down the right channel. Callum, using the multi-ball system, threw a ball straight to Serge (49.12). As Jose urged us forward, Serge threw to Lucas, now in behind the Olympiacos defence and clear. Lucas raced into the box and cut the ball back for Harry Kane to dispatch for 2-2 (49.17). Jose immediately sought out Callum for a high-five and there was no stopping us from there as goals from Serge and Harry's second saw us home 4-2 and into the last 16.
Speaking later to the world's press, Jose praised Callum further. "To do that you have to be a very good ballboy. I was, between 10 and 15, 16-years-old, a very good ballboy. He is a very good ballboy, understands the game, reads the game.
"He's not there just to look to the stands, the lights or the scarves. He's there reading the game and playing the game very well. In the end, I wanted him to come back to celebrate in the dressing room with the players, but he had gone."
As Jose asked about him, Callum was actually on his way back home to Leigh-on-Sea, Essex, with his mum Keeley and dad Matthew, a family of Spurs fans proud of their son's quick thinking and Jose's response.
Keeley said: "We were in the stadium and saw Jose go over to Callum. We just thought it was going to be a high-five and didn't expect any more than that but then both of our phones started pinging!
"The smile on Callum's face! It was such a lovely thing that Jose did to say thanks like that. Callum always says that by sitting on the touchline watching these players he learns so much and takes it all away with him for his own football. I'm so proud of him."
Turning back to Tuesday night, and reality struck Callum on his way home - as we mentioned, he still had a maths exam at school the next day! "The whole way home I was using a torch in the car to go over my maths revision!" Callum told us. Thankfully, Southend High School for Boys agreed to move his exam to Thursday.
Speaking to us on Wednesday night, you felt like it still hadn't quite sunk in...
"It's all a bit surreal," said Callum, now into his sixth season as a ballboy and a 'veteran' of the Lane, Wembley and even our League Cup tie at MK Dons. "I was just doing my job and I still can't quite believe what happened.
"I didn't even see the goal! I was busy getting the ball that had come off (after Masouras tackled Serge) and then I heard the cheer. I turned around and Harry was celebrating.
"I looked at the replay on the screen and watched exactly what happened. You can see from my smile it was just unbelievable. Jose didn't have to do that. It was really nice of him to come over to me. It's made my day, my life, really! I love Spurs and it was an amazing moment I'll never forget."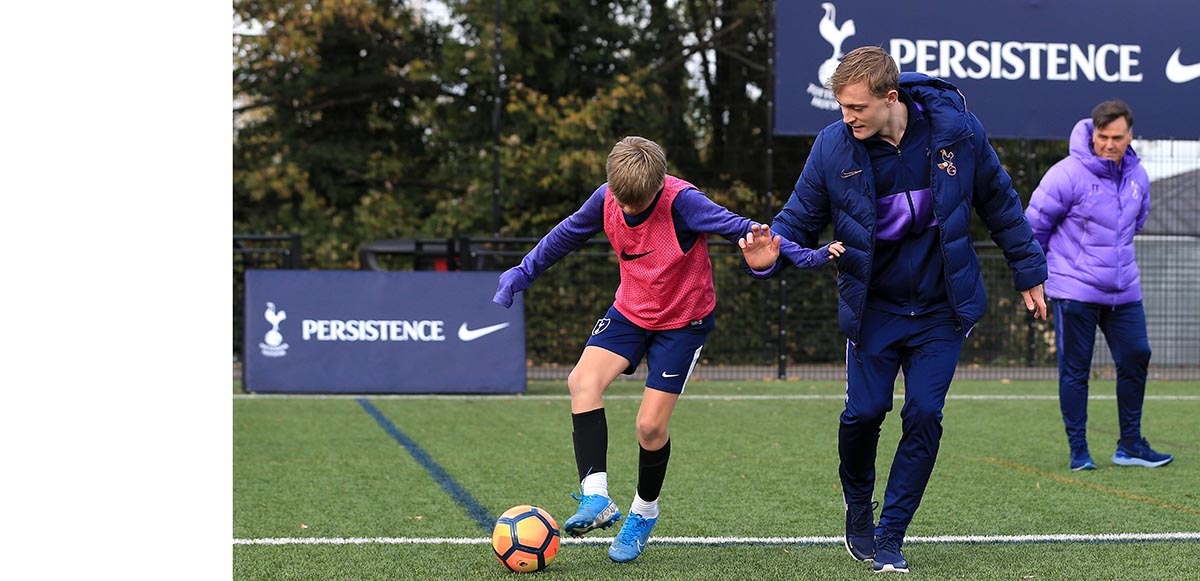 Global Football Development - Player Development Programme
Callum, along with all of our Club ballboys and girls, was selected for the role after showing key attributes when attending a Tottenham Hotspur Player Development Programme, run by our Global Football Development team, who are responsible for identifying, training and developing the group.