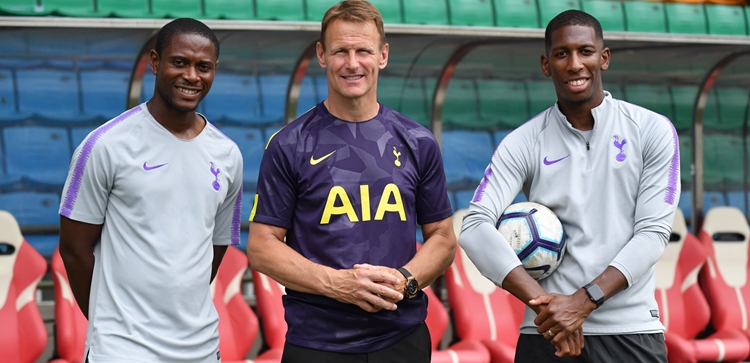 Teddy Sheringham delivers coaching clinics in Asia
@SpursOfficial
Sun 07 July 2019, 14:30|
Tottenham Hotspur
In advance of our upcoming pre-season tour to Singapore and China, Teddy Sheringham recently visited both territories to help deliver football clinics as part of a groundbreaking football coaching programme which the Club delivers across Asia in partnership with AIA, our Global Principal Partner.
Two members of our Global Football Development coaching team are based in Asia to develop players of all levels, nurture local talent and promote AIA's well-being initiatives. They also identify talented players and coaches and create a pathway for them to progress to a professional level.
In Singapore, Teddy assisted our coaches Anton Blackwood and Shaun Harris to run a series of football coaching sessions for 200 aspiring young players at the Jalan Besar Stadium. He also made a special appearance at AIA's annual family event where he delivered football coaching, exercise classes and ran a friendly match for 120 children and their parents. Before flying to China, he also paid a visit to Singapore Spurs, one of our 200 Official Supporters' Club, where he met fans and answered their questions.
Later in the week, Teddy travelled to Guangzhou, China where he ran an AIA football clinic for 120 specially selected children – all of whom had travelled from across China to be there. As a reward for their hard work and dedication to the game, 10 of the most talented children have been chosen to be a matchday mascot for our upcoming game against Manchester United on 25 July at Hongkou Stadium, China.
The First Team travel to Asia this summer to compete in the 2019 edition of the International Champions Cup (ICC). We shall begin our tour with a return to Singapore where we will face Juventus on 21 July at the Singapore National Stadium before our maiden visit to Shanghai where we will take on our Premier League rivals Manchester United.
Teddy said: "It's been a pleasure visiting Singapore and China and work with our Global Football Development Coaches to identify talented young players and teach them new skills and techniques. I hope that these young children are inspired by our professional players as they travel to Asia this summer to compete in the ICC, and it encourages them to continue playing football to the best of their ability."