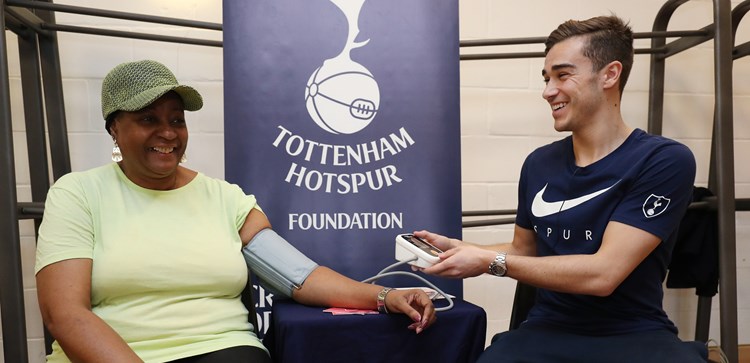 Harry Winks helps locals get fit for 2019
@SpursOfficial
Thu 10 January 2019, 18:16|
Tottenham Hotspur
To kick start their New Year, the Club is supporting local residents in leading a healthier lifestyle by delivering free Community NHS Health Checks and Blood Pressure Checks in supermarkets, gyms, libraries and community centres across Haringey.
The unique scheme sees health checks, which are traditionally only available at GP surgeries, carried out by a Health Check Practitioner employed by Tottenham Hotspur Foundation.
The programme, which links to the government's ambition to save 30,000 lives a year by 2020, is designed to assess the risk of developing heart disease, strokes, diabetes, kidney disease and some forms of dementia, while also providing advice and assistance to people on how to reduce any established health risks.
This week, Harry Winks visited Tottenham Green Leisure Centre to assist the Health Check Practitioner in carrying out the checks. 'Winksy' helped local residents complete a questionnaire about their lifestyle and assisted the Health Check Practitioner in measuring people's height and weight, conducting a hereditary assessment and a blood test.
The Foundation are also working in partnership with the British Heart Foundation and Haringey Council to provide free blood pressure checks to local people as part of a national initiative to improve diagnosis of high blood pressure. Since the programme launched in January, 2018, it has helped over 1,000 local people.
Katrina Heal, Health and Wellbeing Manager at Tottenham Hotspur Foundation, said: "It's important to look after yourself all year round, not just in January. It's not easy for everyone to get to their GP, but it's important to have regular health checks in order to be diagnosed with any potential problems as early as possible. We would encourage as many Haringey residents to come and visit one of our health check sessions as soon as they can."
Midfielder Harry said: "Being a professional footballer, keeping fit and healthy is an important part of my job and I am lucky enough to have a medical and nutritional team around me to help me eat properly and keep me in good shape all year round. It's not as easy for everyone to do this, therefore it's fantastic that the Club, through its Foundation, runs free health checks at locations in the community to help residents have better access to professional healthcare and advice."
Tottenham Hotspur Foundation are running three Community Health Checks in January. There is no need to sign up and all sessions are free for Haringey residents aged between 40 and 74 without a pre-existing condition.
Saturday 12 January
10am - 5pm
Tottenham Green Leisure Centre (1 Philip Lane, London, N15 4JA)
Wednesday 16 January
11.30am - 5pm
Selby Centre (Selby Centre Selby Road, London, N17 8JL)
Wednesday 23 January
1pm - 7pm
The Gym Group (Sainsbury's Supermarket, Northumberland Park, Tottenham, N17 0TX)
Find out more about how the Foundation is helping the Club's local community keep fit and healthy.