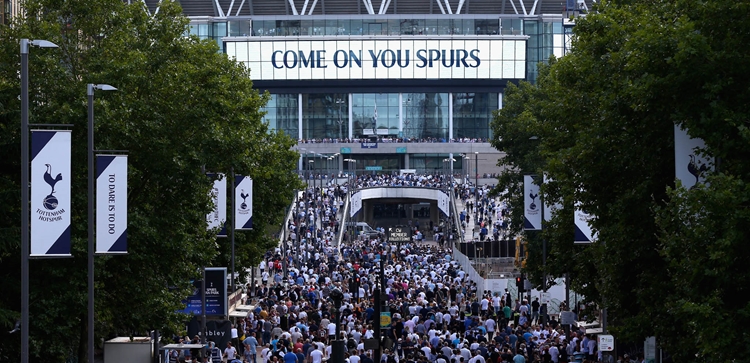 Spurs v Fulham - information for fans
@SpursOfficial
Thu 16 August 2018, 11:12|
Tottenham Hotspur
Information for fans attending our Premier League match against against Fulham at Wembley Stadium, connected by EE, on Saturday.
A reminder that we kick-off at 3pm.
Important ticket information
We should like to remind Season Ticket Holders that Stadium Access Cards for the 2017/18 Season WILL NOT work for this fixture.
Please do not bring any Stadium Access Card to this match. Entry to the stadium will be by means of paper or printed eTicket ONLY. If you have selected a print at home eTicket, please remember to print the ticket. You will not be able to access the stadium by means of showing a ticket on your phone.
Tickets selected as paper ticket at the point of purchase have been sent to the lead booker's address. Tickets selected as print at home (Ticketfast) at the point of purchase will have been emailed to the lead bookers email address. These tickets will need to be printed out on A4 paper to scale.
If you have issues with your print at home or paper tickets, then please CLICK HERE for information.
Network Rail - engineering works
As we reported in June, Network Rail have extensive engineering works that will affect supporters travelling on the West Coast Main Line in and out of London Euston station.
The closure will be in operation throughout the weekends of 18/19 August, 24/25 August and 1/2 September. Over these weekends, there will be no Virgin Trains or West Midlands Trains running between London Euston and Milton Keynes Central and no London Overground services between London Euston and Watford Junction. London Underground Bakerloo line services will terminate at Queen's Park. A rail replacement bus service will be in operation between Milton Keynes Central and Stanmore station, linking to London Underground Jubilee Line services.
This means there will be no Bakerloo or London Overground services calling at Wembley Central station on Saturday. Please use alternative London Underground services at Wembley Park or Chiltern Rail services from Wembley Stadium station.
Full travel information below...
Welcome your World Cup heroes home
Saturday is your chance to show your appreciation for our World Cup heroes.
In total, the Club had 12 players at the Finals in Russia – Toby Alderweireld, Dele Alli, Mousa Dembele, Eric Dier, Christian Eriksen, Harry Kane, Hugo Lloris, Danny Rose, Davinson Sanchez, Heung-min Son, Kieran Trippier, Jan Vertonghen – with an incredible nine of those still involved at the semi-final stage – more than any other club.
Hugo, our first World Cup-winning captain, and Harry, the tournament's Golden Boot winner, will be receiving special recognition ahead of kick-off with a pitchside presentation from former World Cup winner and Club legend Ossie Ardiles.
Remembering Gilly
Please note that we shall hold a Minute's Applause ahead of kick-off in memory of Alan Gilzean, our legendary former striker who passed away last month. The Scotland international scored 133 goals in 439 Club appearances between 1964 and 1974 and helped us win the FA Cup, League Cup twice and UEFA Cup.
Mido at half-time
Our Egyptian former striker Mido will be presented to fans and interviewed during the half-time break on Saturday.
Ticket latest
Tickets for Saturday's match are on general sale.
Prices start from £40 for Adults and £16 for Concessions.
'Unofficial' tickets
We strongly advise supporters not to purchase tickets from any unofficial sources – either via unofficial websites or from touts outside Wembley Stadium.
We are aware of supporters purchasing tickets for our matches at Wembley through unofficial means, which often results in disappointment at being unable to access the stadium.
Further information can be accessed via Ask Spurs - click on the link below - including a link to our official ticket outlet and a list of prominent unofficial sellers.
Avoid queues - arrive early/bag policy
We strongly advise supporters to arrive as early as possible at Wembley Stadium, connected by EE.
We recommend all fans arrive at a Wembley transport hub no later than 90 minutes before kick-off. For example, from arriving at Wembley Park station to passing through all increased security checks will take in the region of 45 minutes. These increased security procedures have been in place for some time and they will not be reduced or compromised in the event of queues forming before kick-off.
Turnstiles open 90 minutes before our 3pm kick-off against Fulham with Premium areas open at 1pm.
Every supporter entering the stadium will be searched before entry and this will not be compromised in the event of queues building, even if the match has started - there will be no exceptions.
Wembley encourage all supporters NOT to bring bags to the stadium wherever possible.
Small bags or rucksacks which are 30 x 30cm are permitted into the stadium.
Please be aware that there are no locker facilities to store items.
Please help the staff at Wembley get you into the stadium as quickly as possible by trying to avoid bringing bags and having your coat open ready to be searched, as well as having your tickets ready to be scanned at the turnstile.
Thanks, as always, for your understanding.
Cashless at Wembley
Please note that Wembley operates a cashless service, which will reduce your waiting time for all concessions and will enhance your matchday experience. The Wembley Store will also operate a cashless service for this match. Cash will not be accepted within this store.
Further details of cashless payments at our retail outlets in the retail section below.
Travel information - Spurs v Fulham
Wembley Stadium is a public transport destination.
We would recommend all supporters attending the match visit Wembley's 'Getting Here' page to get more information about travelling to the stadium, or download the Stadium Mobile App which provides a dedicated journey planner and live travel information.
More information about the various transport hubs can be found below...
As a public transport destination, the stadium is served by several major transport connections. It is an easy 10-minute walk from Wembley Park station, 12 minutes from Wembley Central station and very close to Wembley Stadium station.
All stations have direct services from Central London and connections beyond.
Wembley Park station 
Wembley Park underground station is served by both the Metropolitan and Jubilee Lines. On arrival at Wembley Park, stairs from the ticketing hall will guide you down onto Olympic Way from where the stadium will be clearly visible. A 10-minute walk will bring you to the front of the stadium.
Wembley Central station 
This station has both Underground and Overground services. It is served by the Bakerloo Underground line, London Overground and national rail services, and connects to stations including Euston, Watford Junction and Willesden Junction.
Unfortunately, due to engineering works, there will be no Bakerloo or London Overground services calling at Wembley Central station for Saturday's game against Fulham.
Wembley Stadium station
Wembley Stadium station is on the Chiltern train line. This line services the Midlands, Oxfordshire and Buckinghamshire. London trains on this line depart from Marylebone station. On arrival at the station, the stadium will be clearly visible. Lifts or stairs will take you from the platforms up onto street level.
London Underground information - Spurs v Fulham
Wembley Park 
Enhanced matchday Metropolitan Line services. Normal Jubilee Line services.
Wembley Central
Due to engineering works, there will be no Bakerloo or London Overground services calling at Wembley Central station for Saturday's game against Fulham.
Rail information - Spurs v Fulham
Greater Anglia have advised us of the following services operating in connection with Saturday's match at Wembley:
- Hertford East, Cambridge and Stansted Airport services will operate as the normal timetable
- Bishop's Stortford to Stratford services will operate as the normal timetable
- Southend Victoria services will operate as the normal timetable
- Braintree, Clacton-on-Sea and Colchester services will operate as the normal timetable
- Ipswich and Norwich services will operate as the normal timetable
Please check Greater Anglia's website or Twitter account @greateranglia for more timetable details and service updates.
Arriving by car
We strongly advise against driving to Wembley as there will be no parking available at the stadium or in the surrounding streets.
The limited parking spaces at the stadium are reserved for coaches, disabled visitors and event owners and are all pre-booked.
Brent Council operates a Wembley Stadium Event Day Protective Parking Scheme in all roads within an approximate 1.5 mile radius of the stadium. Operational on major event days only, the scheme is designed to minimise disruption and protect local residents and businesses from illegal parking from visitors to the stadium.
This means any visitors driving to events at Wembley Stadium will NOT be able to park in the surrounding streets. Brent Council has made it clear that illegally parked vehicles will be issued with large parking fines and will also be towed away.
In addition, Metropolitan Police may have security measures on approach roads on major event days which may also hinder a journey by car.
Car parking
If you are arriving by car, the car park lay-out at Wembley is HERE. If you're accessing the Yellow Car Park via the A406 North you should do so via Great Central Way or Drury Way. Vehicles accessing Red Car Park should do so via Neasden Lane.
The Popin Forecourt area will be used for spectator pick-ups/drop-offs for this fixture, the postcode is HA9 0HF.
Park & Ride
For information and availability on Park & Ride/tube/train opportunities please refer to the stadium's 'Getting Here' page HERE.
Bus
Local buses to the Stadium include 18, 83, 92 and 224.
Please note that London buses no longer accept cash, therefore any supporters travelling by bus will need to pay for the fare using an Oyster card or contact less payment card. A single adult fare is £1.45.
Spurs Respects
We are justly proud of our superb and loyal support at home and away.
We all have a responsibility to act as ambassadors of Tottenham Hotspur Football Club and to act as considerate neighbours and visitors to those who live and work in the areas we visit.
If you witness any form of anti-social, abusive or discriminatory behaviour, crime, vandalism, violence, the use of smoke bombs or pyrotechnics close to you at any of our matches, please send a text to 87474 along with your location (block/row/seat) and the location of the offence (block/row/seat).
Text 87474 with - FOUL (language & behaviour); RACISM (racist chanting & shouting); HPH (homophobic chanting); DRINK (drinking alcohol in view of the pitch); SMOKE (smoking in the stadium); STAND (standing up); PYRO (use of or intended use of any pyrotechnic or smoke bomb).
Retail information
Official Club merchandise will be available to purchase from a host of retail outlets at Wembley.
We strongly urge fans seeking to purchase Club merchandise on matchdays to do so only from the official retail units, official Wembley Store or the retail kiosks within the stadium.
We are aware of unofficial Club products being sold on matchdays and such items are likely to be made from inferior materials, failed to have had the appropriate health and safety testing carried out and are unlikely to have followed the acceptable manufacturing codes of conduct.
Official Tottenham Hotspur products will always feature one or a combination of official labels, tags and holograms. In addition, the words 'Official Merchandise' should be present on the packaging or label.
External shops and opening times
Wembley Store - level B1 east side of the stadium - 10am–7pm (open during the duration of the match).
3 x rapid retail units at Turnstile B, D and P outer concourse - 12pm-6pm.
Internal kiosks and opening times
Level 1
Blocks 108/128/137 - from when gates open until 6pm.
Level 2
Blocks 206/248 - from when gates open until 6pm.
Level 5
Blocks 509/ 517/ 536/ 544 - from when gates open until 6pm.
Retail corporate hospitality will not be available for this fixture.
Printing
Printing is available on all new Spurs 2018/19 kits in the Wembley Store only.
Customers will only be able to have the following printed on their shirts:
Premier League badges
Players names and numbers
Pre-printed shirts are only available in home and away in the Wembley Store.
Cash and cashless
Please note that the Wembley Store will be cashless on all Spurs products. Cash can only be taken on FA/England products. All Spurs products bought in the Wembley Store will be purchased via our handheld tablets.
All internal and concourse units will be able to take both cash and cards to purchase Spurs products - products in these locations will be the same as the Wembley Store. Any customers wishing to pay cash will be re-directed to these areas.
Gift cards
Spurs gift cards will be accepted at Wembley. These can only be redeemed on the handheld tablets in the Wembley Store.
Meet Allen, Sedgley and Beal at Wembley store
Get to Wembley early on Saturday (18 August) for a chance to meet some of our legends at the Wembley store.
Members of our 1991 FA Cup-winning side, Paul Allen and Steve Sedgley will be on hand along with former defender Phil Beal – seventh on our all-time record appearances list with 333 between 1963 and 1975 – to meet fans and sign autographs.
The popular trio will be present at the Wembley store between 11am and 12.30pm, ahead of our 3pm kick-off against Fulham in the Premier League.
Don't miss this great opportunity to pick up some official Club merchandise and have it personally signed by some of our all-time greats.